Illegal structures on right banks of Teesta river razed
The court, while issuing the order, had expressed concerns of crowding, particularly in view of the mounting cases of Covid-19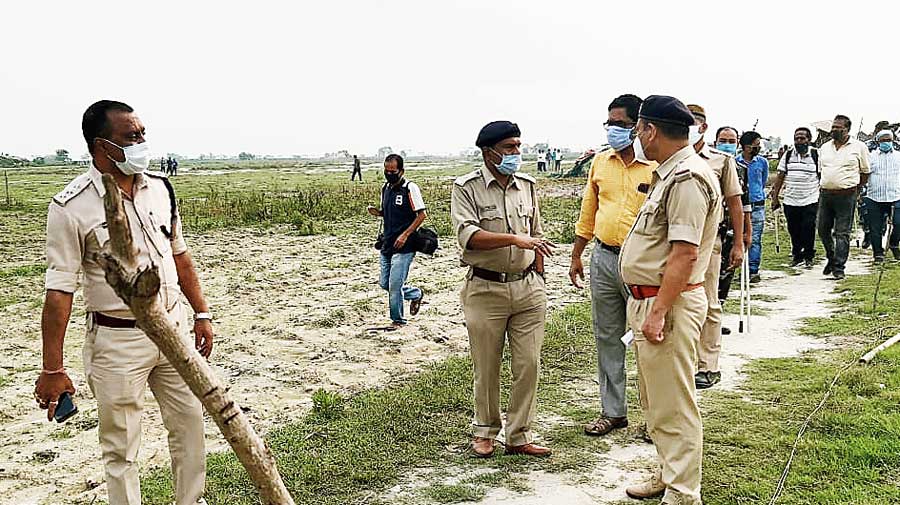 ---
---
The district administration and police in Jalpaiguri on Wednesday acted on the order issued on Tuesday by a single bench of the circuit bench of Calcutta High Court to clear illegal structures on the right banks of the Teesta rover near Jubilee Park of Jalpaiguri town.
The court, while issuing the order, had expressed concerns of crowding on the banks, particularly in view of the mounting cases of Covid-19.
In the morning, a team of police officers, along with officials from the district administration reached the spot close to the residences of Calcutta High Court Judges. They were accompanied by other policemen, workers and excavators.
At Jubilee Park area, a resort, some cottages, houses and shops that had mushroomed on the riverbank were demolished.
Though none of the affected residents protested, some have demanded rehabilitation.
"I used to run a small stationery shop that was demolished. I am clueless as how to run my family. The administration help us in our rehabilitation," said Malati Roy, one of those to be affected by the demolition.
On Tuesday, Justice Rajarshi Bharadwaj of Calcutta High Court had taken suo motu cognisance of the crowding of people at the Teesta river bank.
In his hearing, he observed that every evening, over 500 people assemble in the location, and that such gatherings were precarious when Covid-19 cases were on the rise. He had instructed the administration and the police to clear illegal structures within 24 hours and submit reports to him on Wednesday.
Subir Kumar Saha, the additional government pleader, on Wednesday submitted the reports filed by the district magistrate and the superintendent of police of Jalpaiguri before the single bench.
Justice Bharadwaj, after hearing the case, said that state authorities had initiated steps to maintain Covid protocol. He also ordered the registrar of the circuit bench to send all the records of the case to the registrar general of Calcutta High Court, who in turn, would place the records before the Chief Justice, said sources.
The development earned appreciation from a number of Jalpaiguri residents.
Rajesh Dutta, a resident of the town, said it was needed to clear the area. "Hundreds would turn up at the site every day…which was not only a health hazard amid Covid-19 but also polluted the riverbank," he said.