IITian's mission: a book for a brick
In a world of start-ups built around big-bang ideas and bigger funding, an IITian entrepreneur has raised an empire of hope from a brick wall, 100-odd books, an atlas, a light bulb and Rs 15,000 as seed capital.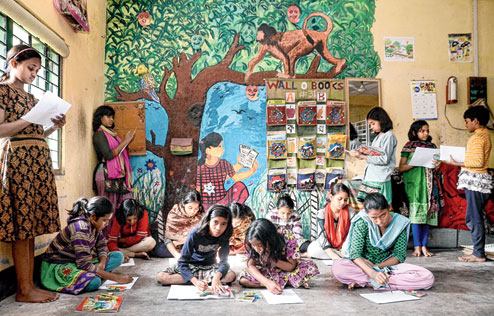 ---
---
MISSION 'WALL O BOOKS' SPREADS THE GOOD WORD WITH 100 LIBRARIES (AND COUNTING)
In a world of start-ups built around big-bang ideas and bigger funding, an IITian entrepreneur has raised an empire of hope from a brick wall, 100-odd books, an atlas, a light bulb and Rs 15,000 as seed capital.
Sanjukt K. Saha, 40, has opened a window to a brave new world for thousands of children with his Wall O Books libraries, a one-of-a-kind initiative for kids who have never had access to even a comic book.
Kajal Singh, a student of Jaiswal Vidyamandir in north Calcutta, hasn't stopped borrowing books from the library at the Calcutta Rescue centre ever since she first flipped through the pages of an Amar Chitra Katha and was struck by how the colourful illustrations brought stories from the Panchatantra to life.
Shalini Raut, Kajal's classmate, loves reading short stories and sharing them with her mother. "I have picked up many new words. I go home and even enact the characters from the stories that I read in the library and my mom enjoys seeing me do that," she said.
At any Wall O Books library in the city, storybooks ranging from The Arabian Nights to Abol Tabol can be seen stacked neatly inside jute pouches fixed to a painted wall. With bare-bone resources and some help from the kids, Saha and his associates convert a messy and pencil-scribbled wall into a modular knowledge hangout in just two days. The walls are embellished with colourful papier mache art and the jute shelves for the books are stitched by local tailors, their size depending on the width of the wall.
"We have set up more than 100 such libraries in different schools and NGOs of the city and its vicinity, catering to 10,000 young minds. The response has been exceptionally good so far. Apart from books in native languages, the kids are encouraged to read English and a third language too," Sanjukt, whose love of books goes back to his childhood, told Metro.
Like most young people with an IIT degree, Sanjukt had been part of the "rat race" until he realised that the sense of fulfilment he had been seeking lay elsewhere. "With an IIT-Kanpur tag and an MBA from Germany, taking up a job seemed to be the most obvious thing to do. But something seemed amiss," he said of the turning point in his life.
A decade into his corporate career, Sanjukt gave it all up. That was in 2008. "I quit my job to start One Billion Minds, a consulting firm that offers scientific and technical solutions to top business enterprises, including Tata Steel and Unilever," he recalled.
One Billion Minds is now the major source of funding for his dream project: the Wall O Books libraries. "This is a dream I had been nurturing since my childhood. There are children, especially in the age bracket of eight to 15, who barely get to learn beyond textbooks. My plan was neither a brick-and-mortar set-up nor an online initiative. I simply wanted to reach out to them with Sukumar Ray and Munshi Premchand," Sanjukt said.
Growing up at Deothang in Bhutan, around 290km from the north Bengal town of Alipurduar where he was born, some of Sanjukt's best moments had been spent in the company of books. It helped that his father was the principal of Deothang Primary School, which would receive books as donations from different countries.
"Stacks of books would be kept in a storeroom and I remember sneaking into the dusty domain to lay my hands on copies of Rusty, Huckleberry Finn and The Adventures of Tom Sawyer. I have wanted to build organised libraries of my own since those days," he recounted.
Sanjukt's brainchild saw the light of day in 2013 at the All Children Together Trust, an orphanage based in Lake Gardens. The first library, with 100 books, was funded by Pranab Kumar Choudhury, chairperson of Peerless Financial Services.
Choudhury had been the first to write a cheque when Sanjukt approached several NGOs and individuals with his idea. "I visited his office and found out that he and his team were genuine people trying to implement a novel idea. I have since been trying to do my bit for Sanjukt's libraries," said Choudhury, who remains involved in the campaign.
News about Sanjukt's initiative spread by word of mouth after the first couple of libraries, making resourcing easier. Friends, relatives and acquaintances helped with book donations, too.
"Since our donated books come from all kinds of sources, their diversity is really amazing. Other than that, we buy books with stories and fables that we have grown up on, ones that come with a moral lesson," Sanjukt said.
In increasing the span of his initiative to 100 Wall O Books in less than three years, the IIT graduate has learnt things he was never taught in the classroom. "In engineering, we are taught about the essential use of technology in every sphere. But I found out ways to get things done without it. Maximum utilisation of minimum resources and space is something that my curriculum did not teach me, but that's the best engineering experience I have had so far," he explained.
Sanjukt's approach in getting children to read - and love - books is uncomplicated. "I give them colourful storybooks, read out chapters to them and ask them to write down the moral of a story. Soon they start reading out stories to one another."
For Sushmita Sarkar, a student of The Park Institution for Girls on Raja Dinendra Street, the small hostel library with 104 books has shaped her academically as well as personally. She had been instrumental in setting up the library and her friends at the institute have since elected her as the librarian.
"From adorning the wall to arranging the books, I have had an enriching experience helping my teachers with the project. These books are my window to a world I didn't know existed," Sushmita said.
Wall O Books isn't just about the printed word. It also gives young members their first brush with democracy - when they elect a librarian from among themselves. Eight-year-old Saina is the elected librarian at the Wall O Books in Tiljala for now, although her choice of career would require her to protect more than just the books after she grows up. "I want to be a police officer. Crime is growing so fast in our society. I want to put all criminals behind bars," smiled little Saina.
A team of coordinators and teachers oversee the functioning of the Wall O Books libraries and occasionally organise letter-writing and storytelling sessions to build the students' skills. Ruma Banerjee, who is the "ambassador of smiles" for the project, said: "We inspire kids to exchange letters in English with their peers in other centres. It is a way of improving their vocabulary."
Like any library chain, the books are circulated within the centres. "We cannot afford an expensive encyclopaedia or a National Geographic edition for each centre; so circulating them helps. Right now we are asking people across Calcutta to contact us and share with us their old storybooks. Think about it," Sanjukt appealed.
He and his colleagues do not intend to limit their work to Calcutta. "We have a dream to build Wall O Books centres across India - 100 in each state by next year to give one million children a new way to read, learn and connect," said Swastika Gurung, the CEO of the project.
Swastika isn't just the executive head of the initiative, she is one of the founding pillars of the Wall O Books. The Kurseong girl had once wanted to be an airhostess, only for a tattoo on her elbow to ground her sky-high ambition. "The airline didn't like my tattoo. In hindsight, I feel so relieved. I would have probably never got around to doing this had I joined an airline," Swastika quipped.
Wall O Books is currently collaborating with 59 organisations, including Calcutta Rescue, Sanlaap, CINI, Loreto Rainbow Homes, Women's Interlink Foundation, Women in Need, the Calcutta Muslim Orphanage and Ramakrishna Vivekananda Mission.
For Sanjukt, who describes himself as "Daddy of the Cool" on the One Billion Minds website, the dream grows bigger with each passing day. "I am 40 now and still driven by hope... although it is not about me but the hopes of thousands of kids."
What message do you have for Sanjukt? Tell ttmetro@abpmail.com