IIT help sought on sweet packaging
The initiative followed an instruction from Mamata Banerjee who felt the sweets could have markets beyond Bengal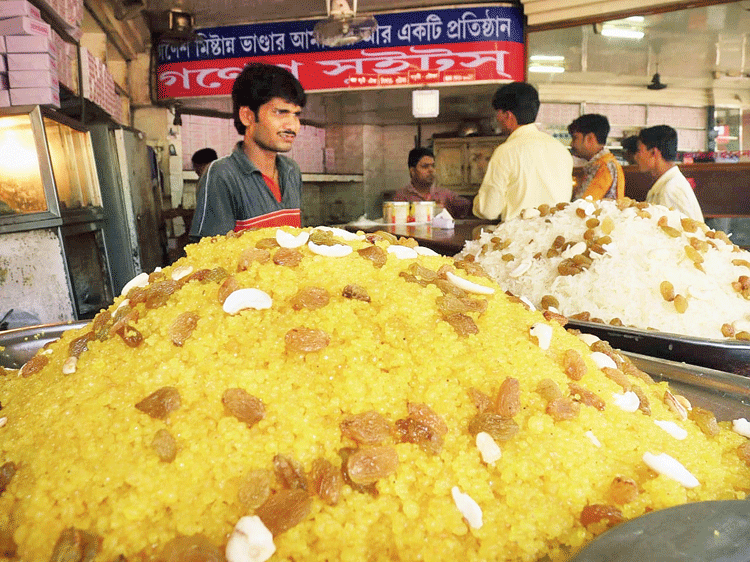 ---
|
Burdwan
|
Published 24.01.20, 06:39 PM
---
The Mamata Banerjee government has sought IIT Kharagpur's technical support for proper preservation and packaging of Mihidana and Sitabhog so that the popular sweets from Burdwan can be exported to domestic as well as international markets.
Sitabhog and Mihidana are two popular Bengali desserts made in Burdwan. Sitabhog is made of flour and cottage cheese vermicelli. Mihidana is made from powdered basmati rice and mixed with gram flour and saffron.
Sources said the initiative followed an instruction from the chief minister who felt the sweets could have markets beyond Bengal as they enjoy the geographical indication tag.
The sources said the food technology department of IIT Kharagpur had already submitted a draft proposal and the estimated cost for providing the technical know-how to the East Burdwan district administration.
"We have got the report and we are looking into it on how to implementing the proposals," East Burdwan district magistrate Vijay Bharti said.
He said the sweets needed proper preservation and packaging to maintain quality before selling them beyond Bengal.
An expert team headed by IIT Kharagpur professor H.M. Mishra had visited Burdwan three months ago and met representatives of the sweet manufacturers' body.
The sources said the primary experiment at laboratory to preserve the sweets for three months was done successfully. Now, the plan is to train the sweet manufacturers in preservation and packaging. "Negotiation is on with IIT Kharagpur on cost involvement," said a district administrative official.
The representatives of the Burdwan Sitabhog Mihidana Traders' Welfare Association approached chief minister Mamata Banerjee in October last year to help them in packaging and preservation, following which the district administration got in touch with the food technology department of IIT Kharagpur.
Pramod Kumar Singh, secretary of the association, said individual customers did carry the sweets beyond Bengal, even abroad, though the sellers couldn't guarantee freshness of the products.
The association participated in three international food fairs in Mumbai and Delhi since Sitabhog and Mihidana got GI tag in 2017.
"The demand for Sitabhog and Mihidana increased after attending the food fairs. Many export agencies approached us for the marketing of the sweets abroad but we couldn't proceed because of absence of the know-how to preserve and package the sweets," said Singh.