I have written to Narendra Modi two-three times for Dhankhar's removal: Mamata Banerjee
The chief minister says the governor is BJP's man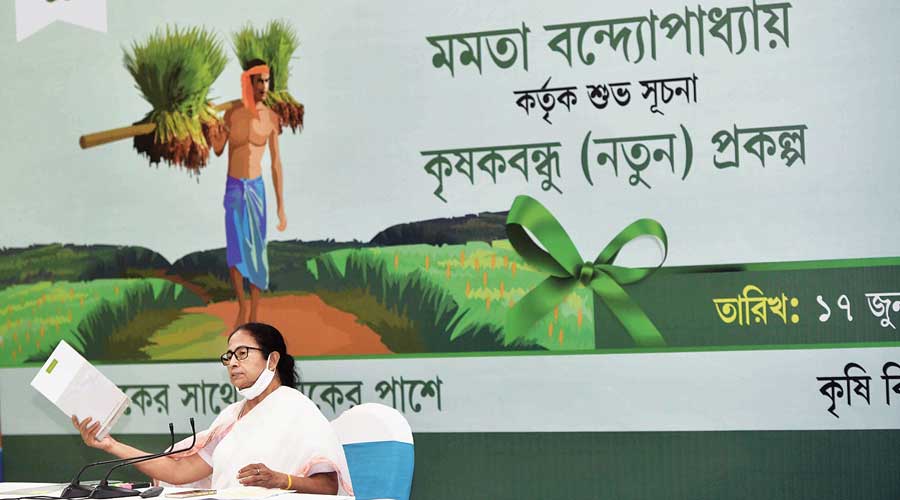 ---
Calcutta
|
Published 18.06.21, 01:37 AM
|
---
Mamata Banerjee on Thursday said she had written to Narendra Modi "two-three times" demanding the removal of Jagdeep Dhankhar as Bengal governor and underscored that "he is their man", on a day the Raj Bhavan occupant met President Ram Nath Kovind and Union home minister Amit Shah.
In response to questions on Dhankhar's visit to the national capital, the chief minister refused to comment on speculation over his removal by the Centre, saying the convention of consulting the state government over such matters had been done away by the BJP regime.
Asked if Mamata, whose testy ties with Dhankhar since his arrival in Bengal two years ago are no secret, wanted him to stay on as governor, she said: "What I want, how do I tell you?"
"I have written to the Prime Minister two-three times, so that he is withdrawn."
When it was pointed out to her that Dhankhar had been meeting a number of people on his trip to Delhi, the chief minister said he was free to meet whomever he desired to.
"He can meet (Shah)… whom he (Dhankhar) will meet is his business. Uni toh odeyri lok (He is their man)," said Mamata.
Asked to respond to conjecture over the possibility of Dhankhar's removal — although his term ends in 2024 — the Trinamul Congress chief said: "How will I know?"
"When he was made the governor, I was not consulted. The rule implies that the state has to be consulted before the appointment… but it was not done. If he is going now, I haven't been asked. So, how will I know? Asha jawar gaanta orai ekai gaay (Only they sing the song of arrivals and departures)," she added.
Dhankhar has — according to Mamata and her party — been acting as a mouthpiece and instrument of the BJP since taking charge on July 30, 2019, courting numerous controversies without shying away from being seen as an integral part of the saffron ecosystem.
Before the Assembly elections, Dhankhar had publicly called for change in the state. Since the historic mandate against the BJP — that brought Mamata to power for a third consecutive term with a landslide of a victory —, Dhankhar has, according to Trinamul, upped the ante.
Just before his visit, Dhankhar held a controversial meeting in public view, in the portico of the Raj Bhavan, with 50-odd BJP MLAs and issued statements endorsing the party's claims regarding post-poll result violence in Bengal, going on to shoot yet another missive to the chief minister about it.
Asked about the portico meet, the chief minister said: "Why are you trying to get me to speak? In this matter, speech is silver, and silence is golden."
"If everybody is saying so (that Dhankhar's conduct |does not behove a Raj Bhavan occupant), what need is there for me to say it? Everybody is, indeed, saying it. Because everybody is saying so, their saying so is my saying so. What is new in this that needs to be said?" Mamata asked. "If it's a child, he can be scolded into silence."
Since the results, which the BJP seems to be living in denial of, the saffron echo chambers have been levelling countless outlandish allegations of Mamata overseeing a "retributive Hindu genocide" in the state after winning her third consecutive term.
In the saffron echo chambers, there has been deafening noise from the chorus of outlandish demands ranging from the imposition of Article 356 in Bengal and "reducing it Kashmir-like rubble" to even a "third Partition" of the state (culling out parts in the north and the west that voted in favour of the BJP and giving them separate BJP-led governments).
Against this backdrop, Dhankhar's role has allegedly been dubious.
While the BJP claims there have been 41 deaths in post-poll violence in Bengal between May 2 and June 17, sources at Nabanna said that a total of 16 people had died between May 2 and 4.
"Eight victims were from Trinamul, while seven belonged to the BJP. One victim was a supporter of the ISF. The families of the victims have been given a compensation of 2 lakh each," said a source at the state secretariat.
A senior government official said there might have been some other incidents of violence in the state since, but none was a political clash. "So, the victims, if any, were not counted among those who died under post-poll result violence," he said.
Asked about Dhankhar's alleged echo of the BJP's charges of continuing post-poll violence, Mamata said: "Can you see any (political violence)? You all are journalists from here, can you see any? You would have seen before me…."
"You cannot see, but… if someone wilfully cannot see, what can I do?" she asked.
Referring to the various directives and visits from various national bodies and agencies to Bengal since the results, Mamata said anybody could go anywhere.
"But they should have gone to places like Uttar Pradesh, Madhya Pradesh and Gujarat a bit more…. Despite being trounced in the Bengal election, by the mandate of the masses, they (the BJP) have no shame. Getting all agencies at the Centre's disposal to do these things," she said.
"This is the BJP's habit, their plan. Everything is pre-planned. There is no incident now after polls. Post-poll violence, at the time of the election, while it (the administration) was under the Election Commission of India, there were some sporadic incidents. But all were not political, there were some personal enmities also. But while the matter is sub judice, I will not speak regarding it," she added.
Mamata once again reaffirmed that she did not condone violence and the police administration had been instructed to come down heavily on any incident of violence.
"I think, whatever they are creating, the atmosphere… that violence, violence, violence… there is no violence like that. One-two sporadic incidents, we took stern action, we condemned the violence," she said.