How we voted
Trinamul Congress may have retained the Barasat seat in the recent Lok Sabha elections but the Bidhannagar Assembly constituency once again sided with the BJP.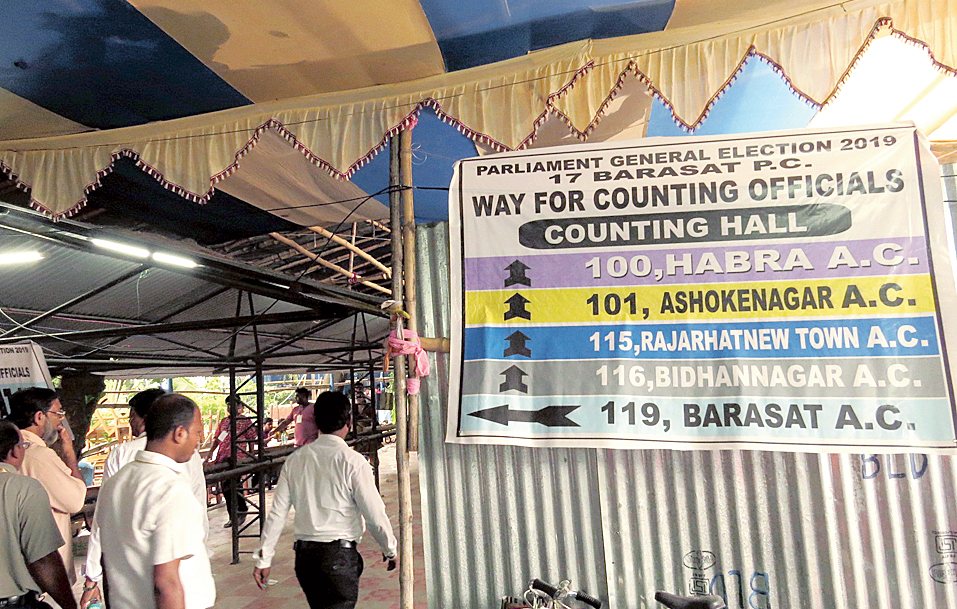 Officials walk into the counting centre at Barasat College on May 23.
(Sudeshna Banerjee)
---
Published 30.05.19, 05:53 PM
|
---
The Telegraph Salt Lake brings you a booth-by-booth analysis Voters Too few
The least populated polling station in our immediate neighbourhood is Part 201. Red Cross Building in Sector V is where as few as 176 voters were scheduled to cast their vote. A predominantly office area, DN Block has as few as 11 voters while EP and GP blocks together have 10 voters!
It's a Tie!
Counting for the P&T community centre in CC Block threw up a tie, with both BJP and Trinamul getting 50 votes each. Congress got nine and Forward Bloc five votes.
Highest margin: 2,258 votes at Ward 31 (BE, BF, CE, CF, DE, DF, Central Park, AE) in favour of BJP
Lowest margin: 71 votes at Ward 35 (Sukantanagar, Nalban, Nicco Park, Sector IV, Milannagar, Nabapally) in favour of BJP 
Nod to NOTA
NOTA (none of the above) got the maximum votes — 229 — at Ward 36 (comprising (Chhainabi, Kulipara, Uttargarumara, Durgabhasan, Chakerbheri, Ghoshpara, Khasmahal, Trinath Pally, Naobhanga, No 4 Bheri, Shantinagar, Makalpota etc).
Jump in margin
In 2014, the BJP's lead in the Bidhannagar Assembly constituency area was 6,489. This time, they have almost trebled the lead in the area by getting a margin of 18,916 votes over Trinamul Congress.
Shift in fortunes
In the Barasat seat, from an over-all third in 2014, BJP has increased its vote share to become the party with the second largest support. If Forward Bloc bagged 3,52,246 votes in 2014, this time it got 1,24,068 votes. Congress had got 40,660 votes in 2014 and this time 37,277.