How Make-A-Wish Foundation brought cheer to ailing kids
Thalassaemia kid goes home with giant teddy, chemotherapy patient is promised a bicycle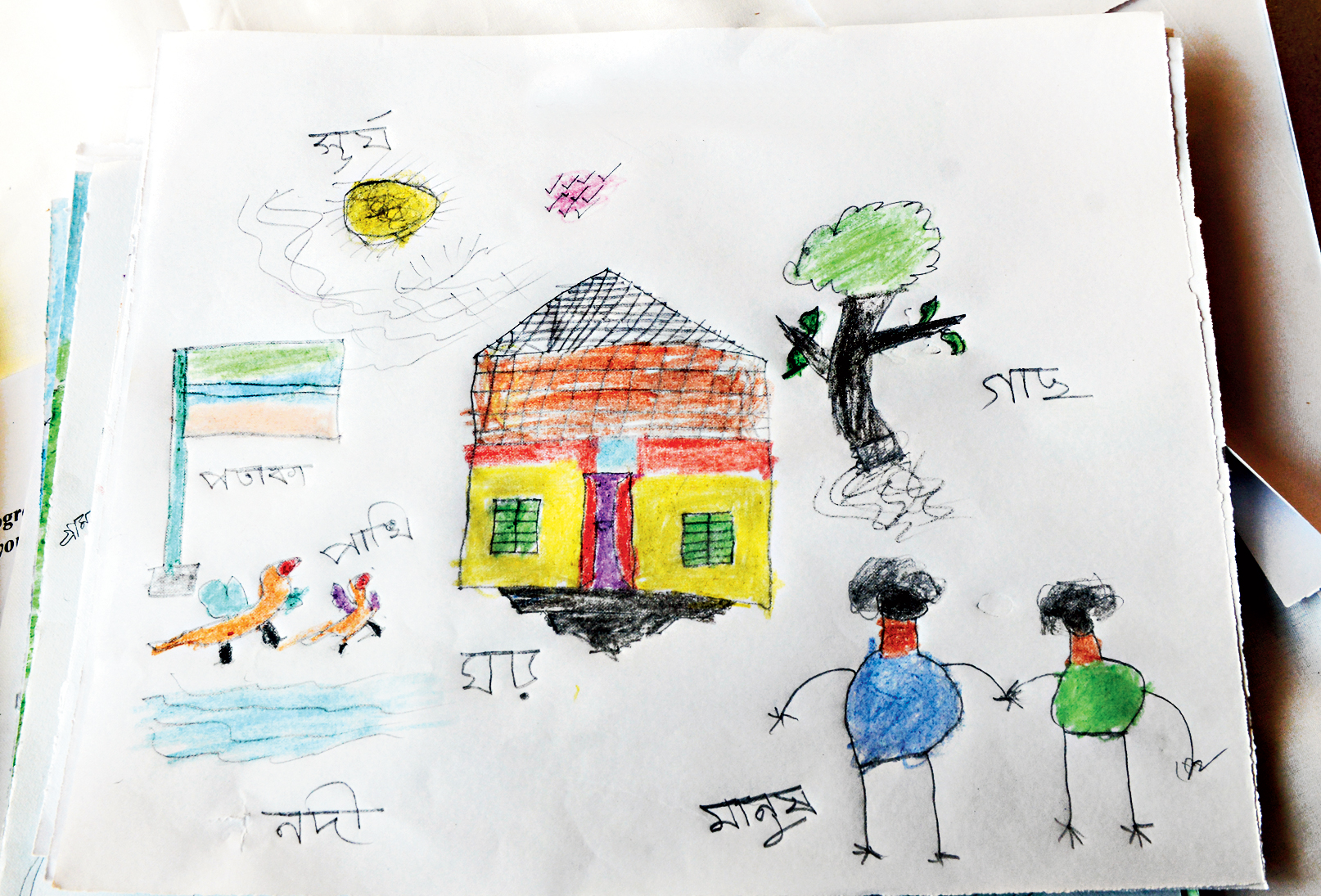 A painting submitted by a participant at the sit-and-draw competition held at Netaji Subhash Chandra Bose Cancer Hospital in Garia on Monday.
Bishwarup Dutta
---
Calcutta
|
Published 31.12.18, 09:19 PM
|
---
A 10-year-old girl from East Midnapore who had gone to a hospital in Garia for treatment of thalassaemia went home with a giant red teddy bear and a smile on Monday.
A six-year-old boy from Hooghly undergoing chemotherapy, has been asking his father, who tills other people's land, for a bicycle for two years. He was told his wish will be granted in a fortnight.
The two are among five children with thalassaemia and leukaemia who were asked to share the wish closest to their heart on Monday.
Make-A-Wish Foundation Calcutta, which is dedicated to granting the most cherished wishes of children aged three to 18 living with life-threatening illnesses, will make sure the five get the gifts of their dreams.
The girl from East Midnapore, who had gone to the hospital for blood transfusion, was gifted a "bigger teddy than I have ever seen", a Barbie set with a two-storey furnished house and a football to play with her 14-year-old brother.
The rest will get the gifts on their next visit to the hospital.
The five were among 28 children with thalassaemia and leukaemia running around the lobby of Netaji Subhash Chandra Bose Cancer Hospital in Garia and posing with Santa Claus.
The children, aged one to 14, also participated in a sit-and-draw competition and picked up a few magic tricks during the daylong celebrations.
"I have seldom seen my son so happy. All his friends have bicycles but I have not been able to buy him one as I have run up debts for his treatment. Many times he has ended up in tears when I told him I can't get him one," said the Hooghly boy's father, a share-cropper who also has a daughter.
The boy, who has been undergoing treatment for Acute Lymphoblastic Leukaemia (ALL) for the past two years and is being administered oral chemotherapy, did not have to think twice when a volunteer of Make-A-Wish Foundation Calcutta asked him about his wish. "A red (bi)cycle," he said.
He has been promised one in 15 days.
The favourites in the wish list were bicycles, footballs, Barbie dolls and teddy bears. A three-year-old diagnosed with blood cancer and currently admitted to the hospital asked for "a pink dress and a colouring set".
"We organise these activities for children who go through so much pain because we want to seem them smile. We want them to realise that they are as good as anyone their age," said Ashis Mukhopadhyay, the medical director of the hospital.