Hooghly hamlet seeks Mrinal Sen archive
filmmaker had shot Aakaler Sandhane at a zamindar home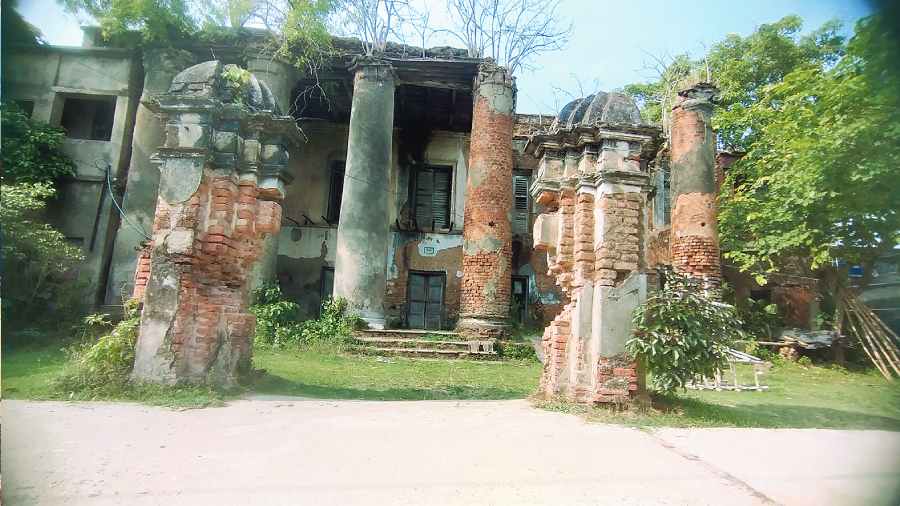 The dilapidated Radha Kunja zamindar palace in Sukharia village, Hooghly, where Mrinal Sen filmed Aakaler Sandhane
Sourced by The Telegraph
---
Calcutta
|
Published 19.05.22, 01:55 AM
|
---
Residents of Sukharia, a hamlet in Hooghly's Balagarh, have demand an archive in the memory of filmmaker Mrinal Sen by restoring at least a part of the rundown zamindar's palace Radha Kunja, where he had shot his acclaimed film Aakaler Sandhane.
Paying tribute to Sen on his 99th birth anniversary on May 14, with support from the local college Balagarh Bijoy Krishna Mahavidyalaya and social organisation Prabaho, at the now-dilapidated palace, residents demanded that the state government take up the matter with the present-day owners of the palace so that a space could be given for the archive on the premises.
Residents and college authorities have given a memorandum  to the Balagarh block development officer, asking for the archive.
They have also appealed to the district administration to include the proposed archive in a circuit tourism package, along with Sabujdweep and Anandamoyee Kali temple.
In 1980, Sen had gone to Sukharia to make Aakaler Sandhane (In search of famine), a movie with
 a story-within-a-story
format.
Aakaler Sandhane showed a film crew arriving at a village to make a film about the famine in Bengal during 1943 in which nearly 50 lakh people starved to death.
Smita Patil, Dhritiman Chatterjee, Dipankar De, Rajen Tarafdar and Sreela Mazumder starred in the film that released in 1980 and received the National Award for best feature film in 1981. Sen was also awarded best director and screenplay writer.
Speaking at the anniversary event, Balagarh Bijoy Krishna Mahavidyalaya professor Partha Chattopadhyay said: "Sen had a long association with Radha Kunja. He stayed here during the shooting of the film. Even afterwards, he kept in touch. People in the village, even after four decades, speak of him fondly. The demand by residents for an archive at the mansion is genuine."
Local residents claimed that the Radha Kunja mansion, which was once owned by Bhujendranath Biswas, has had a long legacy of art and culture in Bengal.
"In 1855, the first printed collection of poems in India written by Krishna Kamini Mitra Mustafi, a homemaker of this family, was published from this mansion. Moreover, playwright Bhujendranath wrote his books including Prasun, Bilati Chitra, Bin Kasim, Sindhu Bijoy and Pratarito from this mansion. Radha Kunja has a cultural legacy that long precedes Sen's film," said Alok Modak of the social outfit Prabaho, which had co-organised the birth anniversary programme.
Organisers said they had got in touch with the present-day members of the zamindar family but got little response from them.
Bhaskar Biswas, a civil contractor and one of the present owners, told The Telegraph: "The villagers have made a good proposal. Personally, I have no objection. Since it is a joint property a collective unanimous decision is needed. I will talk to other owners of the property and announce our decision during Durga Puja when we will assemble at the house as is the family tradition."
A senior official of the Hooghly district administration said: "We will definitely talk to the family for their consent (for an archive). If they are not willing, a small plaque identifying the association of Sen with Radha Kunja will be placed near the venue."