Hole under the Hooghly
A portion of Calcutta's East-West Metro line is under the Hooghly river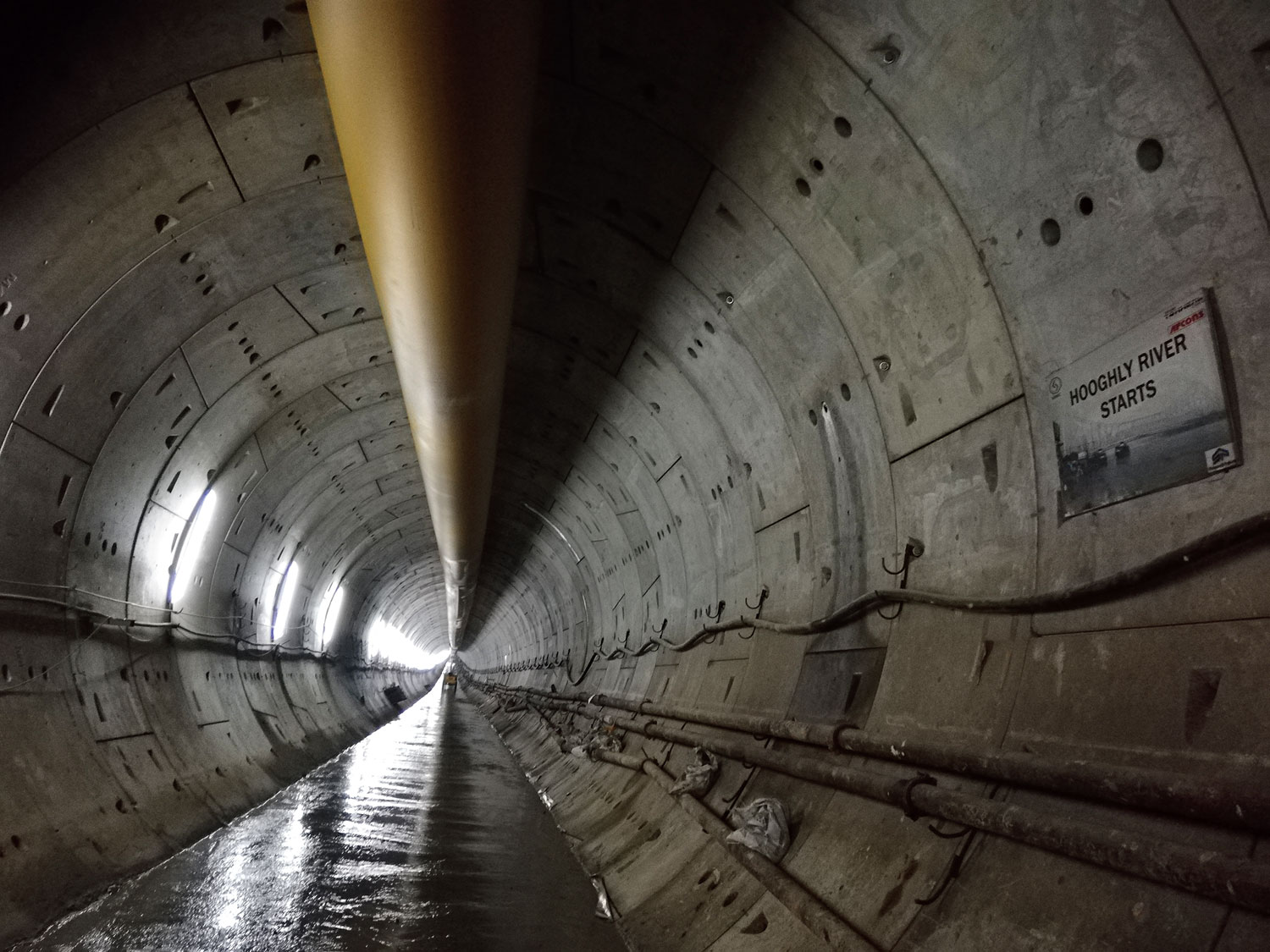 ---
---
The distance between Howrah Station and Calcutta's Dalhousie Square is two kilometres. On a given day with regular traffic on the road, this commute takes nothing less than 20 minutes. Once the East-West Metro line becomes operational, it will take commuters five minutes to cover this stretch between stops Howrah and Mahakaran. A portion of this metro route, about 500 metres, is under the Hooghly river. The train will run 26 metres below ground level — below 13 metres of water and 13 metres of clay. This means, for that half-kilometre stretch, commuters will burrow 100 feet below the surface — about the height of a 10-storey building, only flipped. Moumita Chaudhuri and Manasi Shah pick a side each and tunnel down. Here's what they see...
Dalhousie Side
Every day I cross the Hooghly at least twice. As bus stops go, that would be Howrah Maidan, College Bus Stop, Aath Number, Fish Market, Howrah Station, Rajakatra, Tripal Patti, Canning, Tea Board, Writers', Dalhousie. But today I am going to get to the bottom of it all, literally. Right opposite the Currency Building in Dalhousie is a large barricaded area. This used to be the Dalhousie bus terminus not long ago.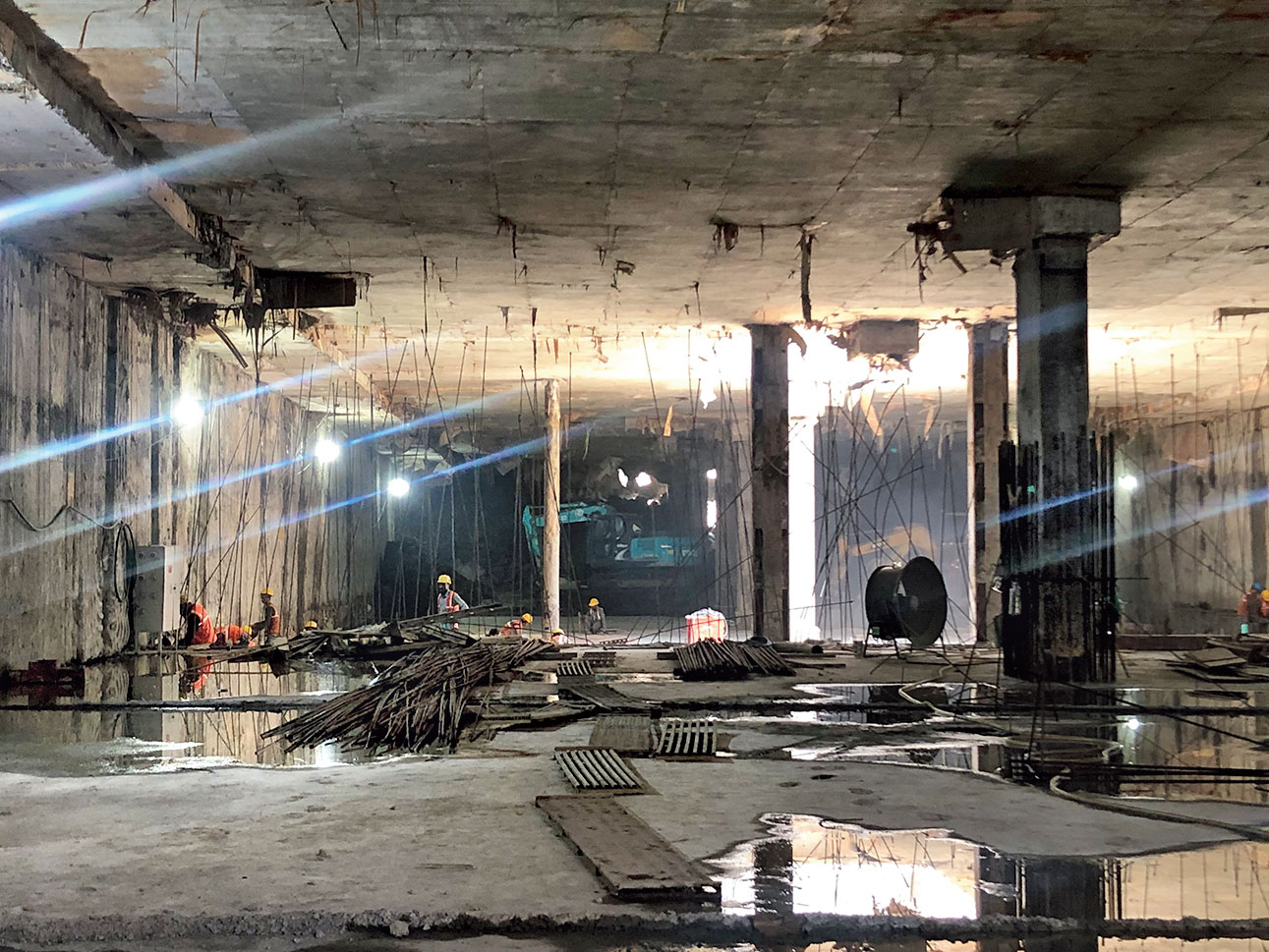 If you are travelling by bus, you can look out of the window and see the ongoing Metro construction work at Mahakaran. Apart from the 19th century Currency Building, the area has two other heritage structures — both synagogues. It has been reported that the East-West Metro had to sweat for permissions and convince authorities that no harm would be caused to these. Even the century-old tram depot here had to be shut down to allow for Metro construction.
The watchman at the entrance to the barricade lets me into the 6,000 square feet enclosure after I have signed a register. No sooner do I enter the cobalt blue space than I hear a hum; it is from the drilling work. It's itinerant, annoying and continues at varying volumes through the duration of my stay at the site.
Standing at this level, I see giant cranes and excavators and about 50 construction workers performing different on-site tasks in differently coloured hard hats. White hats for visitors and senior officials, blue for engineers and supervisors, yellow for workers, violet for contractors and red for electricians. Warning signs abound — swing radius area, harness area, danger.
The office of the Kolkata Metro Rail Corporation's deputy general manager (civil), Amit Sinha, is right there, a stark room full of maps and drawings marked with fluorescent green, orange and pink. He tells me, "This line will connect Salt Lake Sector V with Howrah Maidan. We are going to be the first in the country to connect two major railway terminals — Howrah and Sealdah." The site supervisor enters the room bearing a pair of oversized shoes, a white helmet and a netted jacket.
There are levels to a Metro site — roof, upper concourse, lower concourse and base. I am on the roof and the base is where the tracks and the trains will be. "Today, we completed the first level," says Sinha, with pride. First level? Only? So how will I meet up with my colleague who is probably walking the tunnel from the Howrah side of the country's first underwater Metro line? Seeing my expression, Sinha says. "First level is around 5 metres underground. No small deal." I start the descent hoping at some point I would be able to see her at least, if not meet her.
The descent is one long staircase and a combination of straight and spiral stairs. One, two, three and turn and then again, one, two, three, turn… Drrrrrr goes the drill, unrelenting. There are nets dropping downwards from all sides. The brightness, decreasing. My head starts to spin.
After three minutes that seem as long as 13, I find myself in a huge wide space. It could be the parking lot of a mall minus cars, with a couple of sandbags here and a pile of iron rods there. There are a few men at work, in orange hats. They are unaffected by visitors. There are gaps or opening holes in the structure to make way for further excavation. Sunlight is tumbling down the holes on the roof; it intersects with shards of halogen light emanating from twin lamps fitted high on the walls.
Sinha points to a corner where there are five standing fans. He says, "It is so hot and humid. We have constructed these labour sheds. In case our workers feel dehydrated or tired, they can relax here." Even five metres down into the earth, I can hear the sound of traffic overhead and there is a smell akin to petrichor.
As we walk over the rubble and beneath a layer of concrete, I ask Sinha where my colleague might be. "You are standing two levels above her," he says with gravitas. And when do I get to see her? "Here, inside," he asks. And then replies grimly, "That will take another eight months."
(Manasi Shah)
Howrah side
The Howrah-Tarakeshwar local will leave from Platform No. 14 at 10 hours 15 minutes," the microphone crackles alive. A group of men hurriedly starts to load wicker baskets full of fresh vegetables on to the train. The Howrah Metro construction site is adjacent to Platform 14 of the Howrah Station. As I approach the site, I can see the head of a single crane, a parked payloader and hear the ghrrr ghrrr of a concrete mixing machine.
Close to the mouth of the stairs in one corner is a white railway wagon. "That is the East West Metro corridor site office," says site in-charge Ayan Mukherjee. I am somewhat disbelieving, but once ushered inside I find a full-fledged office set-up with a resting area, an air conditioner, a hospital bed for emergencies, a table with papers stacked on it and several plastic chairs.
A Metro employee hands me a pair of heavy and oversized boots — which I stuff with paper — a jacket and a white hat. I am ready to go down. One hundred feet down. And I am thinking somewhere down there I will meet my colleague walking through under the Hooghly from the other side, perhaps doff a hard hat to each other from either side of the tunnel.
Senior engineer Bappaditya Mondal explains to me that this 100 feet of depth spans five levels including roof and base. The first stretch of descent from roof to upper concourse is 32 feet, which equals three storeys. The wide concrete stairs paradrop into a pool of darkness.
After every 13 stairs there is a landing. There are five such flights and four such landings. It takes me about seven minutes in all. At every landing I turn back to gauge the depth I am at. As I go deeper and deeper, the daylight becomes a speck and the yellow halogens loom into view.
Where the upper concourse begins, there are standing boards with emergency contact numbers and floor maps. Below, I can see iron rods jutting out from here and there. There is a shaft for a lift being readied, another flight of stairs is going down. There are rows of pillars at attention. Buckets descending from the roof are hurriedly collected by men in red hats. Two men are holding a measuring tape. There are giant caterpillar pipes along the walls. "For water, for ventilation, even gas pipes," says Mondal.
I cover the length of the upper concourse, 40 metres. At the other end is an iron staircase, a foot-and-a half wide, angular, leading to the lower concourse. This is the level where the platforms will be. The stairs are wet with rainwater seeping in through gaps in the concrete. The railings are caked with mud. There is no hurrying down this path. The lower concourse is still under construction, so this descent feels more stark. It is also more steep; it feels like I am falling into an abyss of darkness. For the first time I start to perspire. It is only around 30 stairs but they span about 64 feet. At every step I am asking Mondal if this is safe. What happens if the Hooghly is flooded?
The lower concourse is missing a concrete base. I land on iron planks connected to the mouth of the tunnel with a single flight of stairs. And I am now at the very spot through which the train will pass. This is nothing like I have seen before. A mouth of a cave, only made up of perfect circular rings that disappear into infinity. There is a signage that says "Hooghly River starts". I keep walking for about 400 metres. I look at my phone out of sheer habit. Not a single bar on it and I am supposed to meet my colleague any time now.
Where is she, I ask Mondal.
(Moumita Chaudhuri)