The Rath of the gods
In celebration of the core idea of the chariot festival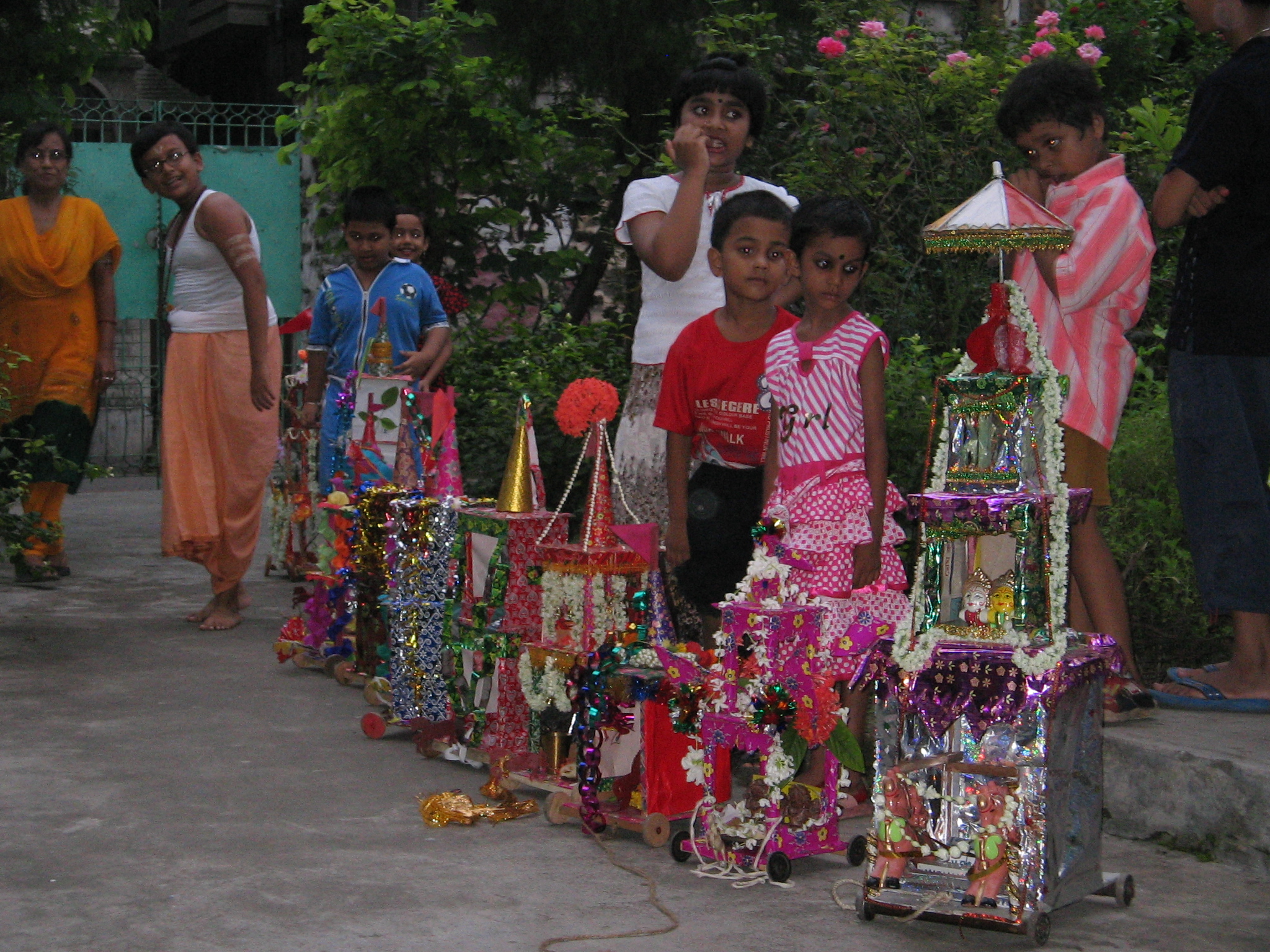 A file picture of children with raths
(Bitan Bhattacharya)
---
Published 06.07.19, 08:26 PM
|
---
Come July, India descends on Puri. Thousands brave the rain, the crush of bodies and the sevayats — the most formidable challenge — to get a glimpse of the Lord of the Universe as he, along with his brother and sister, trundles down the streets on giant, decorated chariots on the occasion of Rath Yatra.
Mini Puris blossom in other corners of the country around this time. Nabadwip's Mayapur, the Iskcon headquarters, is Bengal's answer to Puri. In a country once singed by a chariot-borne politician, Mayapur remains the torchbearer of the spirit of inclusion that makes the Constitution a wondrous document. This year, Nusrat Jahan, the actress and newly-minted parliamentarian, had been invited as a special guest to the Iskcon festivities for standing up to the troll army to defend the idea of an inclusive India.
For those like me who grew up in what was once a suburb of Calcutta in the 1980s, July came with the promise of a trip — a different kind of journey altogether. The distance was not great, for the destination was neither Puri nor Mayapur. It was Rathtala that beckoned me and my wide-eyed friends. During ordinary times, Rathtala could send a shiver down the spine. It lay next to a river that had turned into a canal bearing dark, putrid waters. An old, supposedly haunted, temple stood next to it. Completing the eerie setting was an equally spectral tree and the skeletal structure of a rath, awaiting, like me, the onset of wet July.
Rathtala, given its distinct subaltern sights and smells, could not hope to compete with Mayapur. However, it did turn into a mayapuri during the festival. And like every Dreamland, it had its own dream merchants.
There was, for instance, the jilipiwala. A wiry man who took care to sport a tiki and his sacred thread in a futile search for dignity, he held aloft a magical brass pot containing a mysterious dough-like substance. He briskly moved this ghoti with perforations in its belly in a circular motion over a korai of scalding oil, and lo and behold, crimson, concentric, treacly rings of pure delight — jilipis — would appear within moments.
The jilipiwala could have been Gabo in disguise. While frying his sweets, he would tell us tales of distant lands. If we snuggled too close to the pan of boiling oil, he would whisper the story of the child who fell into the oil and emerged as a jilipi, and was promptly bought and eaten by a customer. Jilipiman sold his wares in front of a shop lined with clay dolls. I remember two dolls from Krishnagar — a bamun and a bamuni — nodding their heads vigorously on hearing these sweet-bitter stories. A rather reticent pnapor-seller used to set up his stall next to Jilipi Márquez. But his business was modest; for he had no stories to tell.
The "doll house" was our next destination. Enchanting figurines — tigers, parrots, bauls, gods — jostled for space on the racks. After pocketing Jagannath, Balaram and Subhadra, we would head towards our pit-stop: the pet stall with its despondent creatures — puppies, rabbits, white mice, birds, turtles and the occasional mongoose.
Then came the last stop in Wonderland — the stall that sold raths. Painted in garish orange, pink, yellow or red, each chariot sported a tin flag on its crown. The flag never fluttered even on the balmiest of evenings, but our hearts did as we gaped at the imperious height of raths. The four-storey ones were the most expensive.
The pocket-friendly midget raths fit our pockets perfectly.
A friend of mine once bought a chartola rath. Having decorated it with coloured paper, plastic flowers and an incense stick — the last was stuck to the tin flag — my friend strutted about the neighbourhood like a proud hen. The three principal deities occupied the first three decks. The fourth and upper-most deck of her luxurious rath, however, was empty.
The competitive spirit had been imbued in young minds even in pre-liberalised India. Having spotted the empty chamber, we started teasing her — quite insensitively — about it.
My friend listened to our sly comments patiently. Having heard us out, she replied, quietly but firmly, that the fourth — and highest — section was not empty. It was meant to accommodate, symbolically, all that was sacred from every faith.
Iskcon would surely have sent her an invitation to be a special guest had they heard her.