HC nod to case against govt over Sukanta Majumdar arrest
The BJP leader was arrested from the Vidyasagar Setu toll plaza on Saturday after he had tried to violate prohibitory orders in Howrah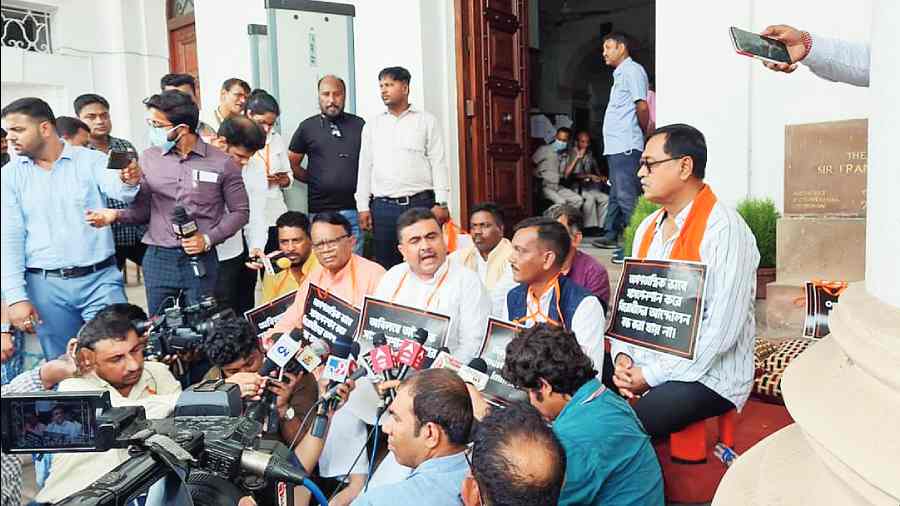 BJP MLAs shout slogans against the state government outside the Assembly on Monday.
---
Calcutta
|
Published 14.06.22, 02:17 AM
|
---
Calcutta High Court on Monday allowed an advocate to move a case against the Mamata Banerjee government over the arrest of state BJP president Sukanta Majumdar and restricting the movement of Opposition leader Suvendu Adhikari.
Justice Shampa Sarkar allowed advocate Aditya Mondal to file the petition after he referred to the incidents in her court.
Majumdar was arrested from the Vidyasagar Setu toll plaza on Saturday after he had tried to violate prohibitory orders in Howrah, where violence had erupted over derogatory remarks against Prophet Mohammed by now-axed spokespersons for the BJP.
Adhikari was stopped from moving out of East Midnapore for several hours on Sunday after he had announced on social media that he intended to visit torched BJP offices in Howrah, a district that witnessed violent protest over the derogatory remarks.
The government has clamped prohibitory orders under Section 144 of CrPC in parts of Uluberia, which falls under the Howrah rural police district. According to sources in the police, that was why the two BJP leaders were prevented from visiting those areas.
Both the leaders had said they would move court against the state government's alleged alacrity in acting against the BJP's leadership.
On Monday, BJP MLAs protested inside and outside the Assembly against the state administration's behaviour towards Majumdar and Adhikari. Besides, they shouted slogans demanding the revocation of suspension of seven MLAs, including Adhikari, and alleging a breakdown of the state's law and order.
While on his way to Calcutta on Monday, Adhikari spoke to BJP workers in Uluberia. He stopped his vehicle on a bridge and exchanged pleasantries with BJP supporters standing underneath.
"Stopped by to pay homage to the wrecked Howrah (Rural) District Party Office at Mansatala; torched by arsonists. Interacted with BJP District President Sri Arun Palchowdhury & other Karyakartas from the flyover as Police have blocked all entry & exit points & imposed Section 144," tweeted the Nandigram MLA.
"I assured them that, very soon I would be stepping into the Party Office, with Ganga Jal, to purify the premises of the misdeeds of the scoundrels. We regard our Party Office as a sacred place like our holy Temples. We would rebuild it as early as possible," he added.
Adhikari then joined the other suspended MLAs in front of the Assembly and participated in shouting slogans against the state administration.
Later, the BJP legislative party organised a march from the Assembly to the Gandhi statue on Mayo Road, where they participated in a sit-in protest, which began on Sunday and is likely to continue for some time.