Growers fear 75% loss in Malda mango and litchi production
Cyclone Amphan, lockdown and series of storms cause irrepairable damage to 'mango economy'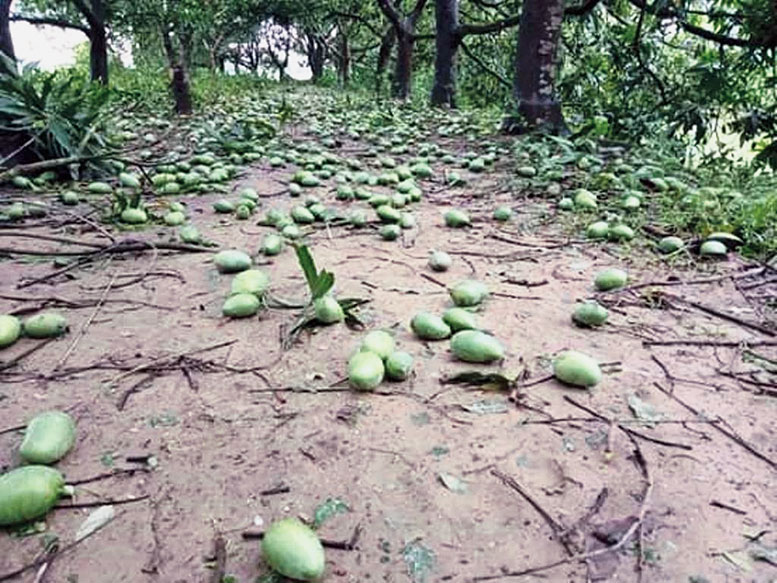 Mangoes fallen in Cyclone Amphan in Malda district
Telegraph picture
---
Malda
|
Published 31.05.20, 07:19 PM
|
---
Fruit merchants fear production of mango and litchi in Malda district in the current year will come down to just one-fourth of the average annual yield because of triple factors of labour crunch caused by the coronavirus-induced lockdown, Cyclone Amphan and a series of storms.
Approximately, 80,000 people own mango orchards of different sizes in Malda, while litchi growers number around 10,000. "Nearly 4.75 lakh persons are directly or indirectly dependent on mango cultivation whereas production, processing and marketing of litchis provide livelihood to 2.5 lakh people," said Rahul Chakraborty, assistant director, state horticulture and food processing department.
Mango is cultivated in about 31,000 hectors and litchi in 1,380 hectors in the Malda district.
"Ten metric tons of mangoes are expected to be produced per hector. Previously, mango production was a biennial phenomenon. The production used to be high in alternate year. There were 'on year' and 'off year' for mango production. With invention and introduction of modern agricultural techniques, mangoes now have a uniform average production of 3 lakh to 3.5 lakh metric tons every year," Chakraborty said.
But, he said, the litchi production entirely depends on favourable weather conditions.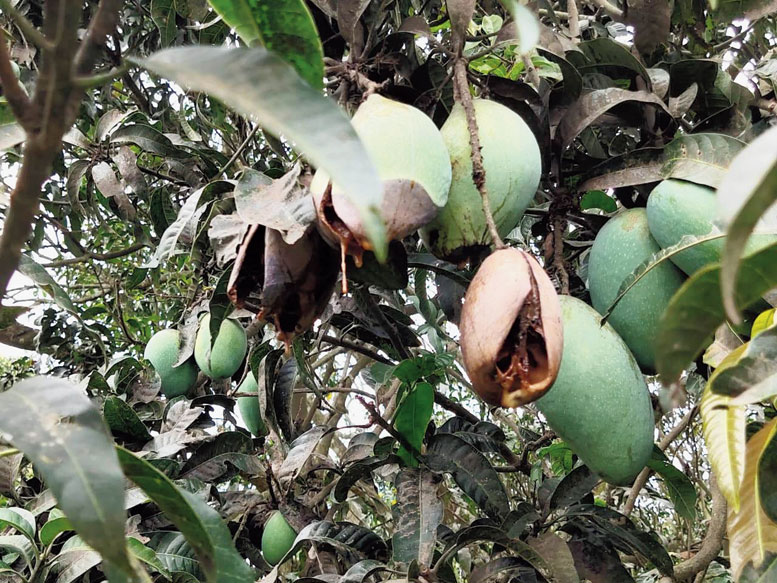 Uzzal Saha, the president of the Malda Mango Merchants' Association, claimed fruit traders had expected mango production to be of 4.5 lakh metric tons this year. He said the estimate had been that litchi production would be 17,000 metric tons.
"Insecticides and pesticides could not be sprayed in orchards as labourers were unavailable because of the lockdown. So, the lockdown has had a disastrous effect on mango production," Saha said.
He said the horticulture department had provided technical know-how to the cultivators to salvage the mangoes, but didn't work.
Ujjwal Chowdhury, the secretary of the association, said the growers had thought they could reap whatever fruits which had matured. "Then came Cyclone Amphan which felled a great number of fruits. After the cyclone, there have been one after another hailstorms and a severe storm that has blown over the district for nearly 18 hours. We are now afraid that maximum one-fourth of the usual mango and litchi production will happen in the district this year," said Saha.
Additional district magistrate (development) Arnab Chatterjee said loss of mangoes and litchis in the storms was beyond anticipation.
While Laxman Bhog, a popular variety of Malda mango, is sold at Rs 7 to Rs 9 per kilogram in the wholesale market every year, it's price is Rs 18 to Rs 20 now.
The orchard owners said central and state governments should compensate the losses they had suffered this year.
"Malda has its own economy known as 'mango economy.' Production of mangoes and litchis determines the trend in the market. If central and state governments do not offer compensation to the fruit producers, the situation would further worsen," Chowdhury said.