Grim tales in child rights report
Survey based on interviews of 162 kids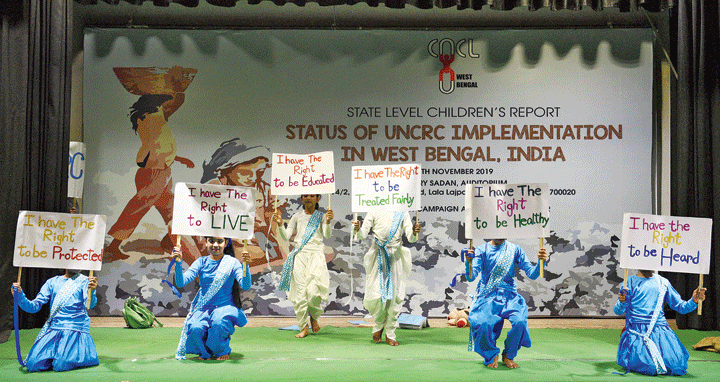 ---
|
Calcutta
|
Published 18.11.19, 08:25 PM
---
Physical punishment in schools, unclean toilets, inappropriate touch and not getting three meals at home every day — these are some of the truths that a survey across eight districts of Bengal has revealed.
A report on the condition of children in the state and implementation of the rights accorded by the United Nations Convention on the Rights of the Child was published on Monday.
The survey, conducted by Campaign Against Child Labour (CACL), an association of NGOs working for uplift of children, was based on interviews of 162 children, including school kids, street children, child workers, children living in tea gardens and children with disability.
Many of the respondents said they had seen child marriages in their neighbourhoods.
Another key finding was that corporal punishment still continues in some schools — children are asked to stand on the bench holding ears or outside the classroom holding ears, beaten on palms, insulted and called names.
Prabir Basu, the convener of CACL's Bengal chapter, said the survey and the report were aimed at assessing the progress in achieving the rights of children listed by the United Nations Convention of Rights of the Child (UNCRC) signed in 1989.
Basu said all signatory countries, including India, have to submit situation reports every five years.
"We have compiled the report on our own. The UNCRC welcomes reports from civil society organisations, besides those from the governments. Our report is part of the civil society initiative," he said.
The last such report had been submitted in 2014. "There has not been much progress between then and now. Complaints of physical punishment in schools were prevalent in 2014 as they are now. Poorly cleaned toilets is another complaint common to both reports," Basu said.
To conduct the survey, 29 children were first trained as leaders. These child leaders, in turn, interviewed several other children. They took part in the survey themselves as well.