Green race at school to protect environment
Sports meet in Haldia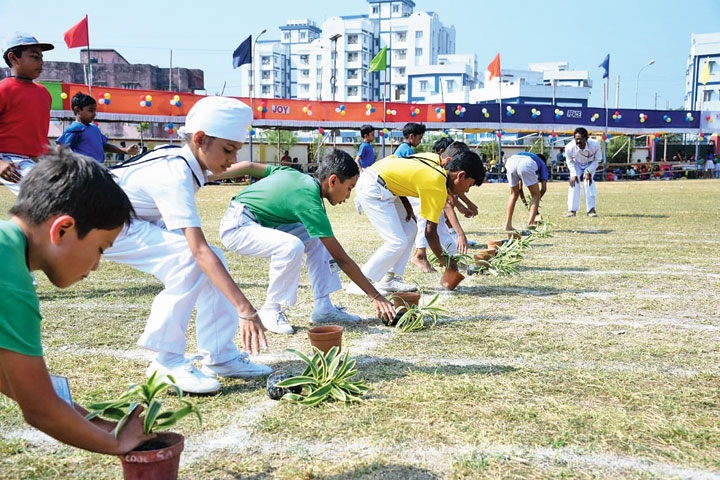 Students plant saplings in the hurdle race in Haldia on Saturday
Telegraph picture
---
Calcutta
|
Published 07.12.19, 09:26 PM
|
---
Students planted saplings to finish a race and put vegetables in a cloth bag in a hurdle race.
A Haldia school had environment as the theme of their annual sports day on Saturday where more than half of the events for students was about raising awareness on how to protect the environment.
Students of Bhavan's Netaji Subhash Chandra Bose Vidyaniketan, Haldia, participated in races where each event would be complete only if they were saving water, using a cloth bag or purifying the air around them by planting saplings.
The school, which has a strength of 1,000 students, saw it as an opportunity to spread the message on a day when most parents would come to see their children perform.
"People are now are talking about the environment whether it is water conservation or air pollution and we felt that this awareness has to go deeper. Hence made it part of our sports day," said G.V. Subramanian, director, Bharatiya Vidya Bhavan Calcutta, the trust that runs the school.
During a walkathon students carried posters saying "Air purification must start from your home" and walked with basil, areca palm, peace lily, aloe vera, and money plant.
In another event, they had to go and stop water overflowing from an earthen pot to spread the message of water conservation. In an event, students of classes II, III and IV ran up to a midline, planted a sapling and then completed the race.
"People have a habit of using plastic bags when they buy vegetables. If they see this event they will also learn to take cloth bags to shop and not use plastics," said environmentalist Ramesh Chandran, founder of Vinisha, an environment awareness initiative.
Chandran believes in mobilising young students because children are the "best crusaders".
"We have to start with schoolchildren. So we keep on encouraging schools to get into the act of protecting the environment. When a child tells his or her parent not to use plastic or not to pollute, they will adhere to it. The idea is also to keep on repeating this message so that people will be forced to listen to you," he said.
Senior students felt that such events like planting a tree was more meaningful than a "frog race or one with a spoon".
"It is the first year that we had so many green events and it has really made us think that it is no longer enough to sit back but do something about it. We have to act upon things that will help us keep the earth healthy and in turn us," said Class XI student Madhubanti Chowdhury.