Great divide as unquiet flows the Don
Read more below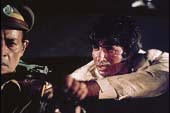 ---
---
don (1978)
GenX: Sorry, but Chandra Barot's Don was no classic, even by lenient Bollywood standards. It was a one-line idea — Javed Akhtar's words: "tala bandh, chabi phenk di" — developed into a three-hour movie.
Coincidences galore with characters suddenly bumping into each other at crossroads, it was a 180-page screenplay of convenience. How could the Bihari Vijay talk and walk like Don overnight? Why wouldn't DCP D'Silva, so proud of his honest squad, tell the others in his team about the Vijay-Don swap and yet disclose it to a rank outsider like Roma?
Then you have a ham-ham-thank-you-ma'm Pran with a misfit of a golden wig and too much mascara. Check out the scene where Jasjit turns down Narang's offer by saying "Koi chance nahin…" And the less said about the catch-the-red-diary-contest climax, the better.
But then, Don had Amitabh Bachchan, who not only had Zanjeer, Sholay and Deewar under his belt, but had Trishul, Muqaddar Ka Sikandar and Kasme Vaade released in the same year. It also had some amazing music by Kalyanji Anandji. Not just Khaike paan Banaraswala, Yeh mera dil and Main hoon Don, but the background score can have Salim-Sulaiman sweating even today.
And most importantly, it had some of the best one-liners in Bollyspeak. From "mujhe uske jootein pasand nahin" to "Aunty apni uncle-on ko saath layee hain" to "Don ko pakadna mushkil hi nahin namumkin hai", when AB the Don spoke, you listened. Period.
If you rewind, the old Don was the first half hour — till Don is dead — plus Khaike paan Banaraswala.
GenEx: Yes, it was a plot that called for a lot of willing suspension of disbelief, and it had all the liabilities of its time (from Pran to technology). Yet, it was an Amitabh movie that gave ample screen time to the man we all flocked to see and threw in more twists and turns than films in those days saw. For us, it remains a good film to go back to and watch in parts (every part with Amitabh, that is).
do you know
Amitabh Bachchan took Rs 2.5 lakh for the role of Don while Pran, a bigger star during the making, took Rs 5 lakh. Zeenat Aman didn't take anything because of the producer-camerman Nariman Irani's sudden demise.
• The Khaike song was choreographed in the original by PL Raj, the mentor of Saroj Khan who has choreographed the same song in the new Don.
• Director Chandra Barot got the idea of making Amitabh eat 40 paans before Khaike shoot from Anandji (of Kalyanji-Anandji) who was a paan addict.
• The role of Iftekhar was first offered to Rajendra Kumar but he wanted his character of DCP D'Silva to be garlanded at the end of the film by Bachchan's Vijay, which the makers did not agree to.
• Farhan Akthar's Don is not the first remake of Don. It was first done by Kawal Sharma in his film Dav Pech in 1989 starring Jeetendra as the main character. It flopped in a big way.
• The idea of remaking Don was conceived when Farhan was listening to a remixed Don song while travelling in a train from Delhi to Dehradun.
• Farhan began writing the script with Hrithik Roshan in mind for the role of Don.
• Shah Rukh, Priyanka and Arjun Rampal took extensive martial arts training under the guidance of experts from Shaolin Temple.
• SRK actually jumped from a height of 15,000 feet for a scene. It was done under the guidance of Hollywood stunt expert Joe Jennings who was involved with Charlie's Angels, XXX and Air Force One.
don (2006)
GenX : Farhan the fan fights Farhan the film-maker and the film wins. The 32-year-old director has turned a formula film of good defeats bad into a modern-day neo-noir movie where bad fights bad. And that's good news because the sinister Don was so much more attractive than the paan-chewing Vijay.
The new Don is more of a remix than remake with the scratchy edges smoothened out with grunge grooves and blistering beats. Farhan changes the backdrop and the background and yet manages to keep the original sequences and lines. And it sure needs a gifted writer to execute what his dil chahta hai.
First, the wish fulfilments. 1. The invincible Don doesn't die within 30 minutes. 2. The villain is not an innocuous balding bum. 3. There is no forced love story in the middle of a dark thriller.
Now, the add-ons. 1. Don meets his nemesis in DCP D'Silva all right, but he is not playing by the law. 2. Roma doesn't learn to fight overnight to take revenge of her brother's death at the hands of Don, but is a natural who doesn't shy away from displaying her dashing skills. 3. And the mother of all twist moments before the end credits makes Don — in Farhan's own words — an "individual entity".
Farhan also scores where he is expected to — eye-catching locations, cinematography and production design. Don looks sumptuous. Add to that the breathtaking chase and action sequences and Farhan again breaks new grounds on the Indian big screen, just like he did with the war in Lakshya. In the new Don, you never know what's about to happen next. And that's the way we like it, aha!
GenEx: Come on, give us a break. We know we may be passe, but we still have a voice (or so we hope!). Replacing a diary with a disc does not a modern remake make. The new Don is all style and little substance, redeemed only by the final twist in the tale and Boman Irani. A full 150 minutes of video-game-like moments from Barot and Bond, Con Air and cartoon is painful to sit through. Worse, it's boring. If you survive the ordeal, a surprise awaits you at the end that spells part paisa vasool (the ticket is Rs 200, remember?).
khaike (1978)
GenX: Thank god Barot added this song after Manoj Kumar couldn't go for a loo break in the action-packed second half during a test screening of Don. After a dismal first week, it was Khaike which changed the fortunes of the film. And why not? Along with Rang barse, Mere angne mein and Pag ghungroo, this was easily one of Bachchan's best 'item' songs. With his towering presence and trademark moves, he made Khaike into one helluva rollercoaster ride, while Zeenat smiled coyly. Kishoreda behind the microphone did the rest.
GenEx: Fun song, but overrated.
khaike (2006)
GenX: Shah Rukh Khan hasn't danced like this in a long, long time. Sure he knew what he was in for. What he misses in stature, SRK makes up with energy. Look at him move and shake like a man possessed. Saroj Khan's steps are just what the Don ordered — very, very filmi and just what Shah Rukh needed to add his three-bit to it. Udit Narayan does a decent job and the music is mast. Yes, surprise, surprise, the new Khaike is as good as the old one!
GenEx: Full marks to Farhan and Shah Rukh for pulling off the Khaike act. It sure pumps up the volume and gets the foot tapping to the SRK-Priyanka antics.
zeenat aman
GenX: Roma was unlike anything that Bollywood actresses needed to play during those days. And that's why Zeenat Aman fitted the role to the tee. The eternal rebel, Zeenie Baby flitted from cold to cool to warm to hot at will. Not only did she quite look the avenger angel, but she slipped into Vijay's arms as convincingly. The only problem: her squeaky voice.
GenEx: Zeenat made a classy, cool Roma of her time.
priyanka chopra
GenX: If there's one thing flawless about the new Don, then it has to be Piggychops. After the disappointing Krrish, Priyanka is in prime form here. The cold stare, the measured smile and the killer kick... man, she rocks! If you can't imagine anyone playing Don apart from SRK, it is impossible to visualise anyone else as Roma. The magic lies in how Priyanka never loses her feminine touch even as she breathes fire. And you have to go back to catch her coming out of the waters one more time in that wet swimsuit. Go, junglee billi (that's what Don calls her), go!
GenEx: Priyanka is a SAD act. No comparisons here, this junglee billi is just not up to scratch.
yeh mera dil (1978)
GenX: Helen's hips and Bachchan's glare... Yeh mera dil was like a ball of fire seducing a slab of ice. And how! Helen was eight years older than Bachchan when she danced around him in Mehboob Studios on the first day of Don shooting in 1974.
Every time you watch this act, you are mesmerised by Helen's swivelling hips, her legs flashing from that slit skirt, that crawl across the carpet, and Amitabh's silent intensity in slowburn.
We talk of Rakhi Sawant and Mumait Khan as item girls today. When you think Helen in Don and Sholay, well, you just take a deep breath.
GenEx: Ditto to that!
yeh mera dil (2006)
GenX: Farhan feels just like Helen, with Kareena, no matter how little clothes she wears she doesn't look vulgar. He is right on that count. But where Bebo misses a beat or two are the steps. She is not as gifted a dancer as Helen. While it's spellbinding to watch her seduce Shah Rukh, her hips do lie. The new Yeh mera dil cannot carve out its own identity and depends too much on the Helen factor to work. SRK's Don does give it his own twist by giving in to Kamini/Sonia's moves, till the Uncles spoil the steamy party!
GenEx: Bebo's bodyline moves are fine, but where is the sex appeal, pray? Forget seducing Don, her turn-on is a con.
amitabh bachchan
GenX: When you draw up a Favourite Five list of Amitabh Bachchan's movies, you seldom keep Don out. It is because the film revolved around him from the first frame in the rear-view mirror of the car to the last frozen frame. No Shashi Kapoor, Dharmendra or Mithun Chakraborty to snatch screen space or time from the Big B here.
No actor in Bollywood history has used his height and voice quite like Bachchan. And in Don, he thrives on both.
Whether it's that famous scamper across dhobi ghat or the Khaike song, his stature makes all the difference. Look at the camera angles in the Main hoon Don song and you know Mumbai ka king kaun...
And the dialogue delivery... Phew! We all remember and recite "Don ko pakadna mushkil hi nahin namumkin hai", but don't miss him tell Helen: "Mujhe do tarah ke ladki pasand nahin. Ek jo mere paas aane mein der lagaye aur doosri woh jo mere paas jaldi aa jaye." Mindblowing!
And when he became Vijay, Bachchan went back to the fumbling-bumbling routine he was an absolute pro at. Don't miss his trademark "aayein" between two sentences when the ganwar Vijay converses with DCP D'Silva.
Don is Bachchan and for 28 years it was impossible to imagine someone in his shoes. And despite Shah Rukh trying his best, the Big B still remains the Don.
GenEx: The generation gap is bridged by the Big B. Amitabh was, is, will be, Don.
shah rukh khan
GenX: A few minutes into the new Don, you see Shah Rukh sitting in his foamed bathtub and watching Tom & Jerry, having bumped off a few dushman in Paris and Malaysia some moments back.
Anybody else trying to do this would have been blasphemy given what the word Don spells for Bollywood fans. But King Khan manages to pull it off.
With a blend of inspiration and innovation, Shah Rukh delivers as Don. The way he throws legendary lines like "Don ko pakadna mushkil hi nahin, namumkin hai" is homage and history in a single snap.
Yes, SRK struggles in stature and voice but makes up for it with his sinister demeanour and cool quotient (wardrobe, watch, shades, cellphone). He looks foolish but forced as the ganwar Vijay but thankfully it's a blink-and-you-miss role before it's the dark Don again.
And the energy is infectious. The way he moves around and snaps back, almost like a rattle snake, is frightening at times and that air of scare helps the thriller move along at a feverish pace.
SRK always wanted to play James Bond and here he is doing the shaking and stirring. He may not be on the right side of the law but then unlike most superstars on the Indian screen, he was born on the dark side — in Baazigar and Darr.
GenEx: Would Don '78 have worked without Iftekhar and Pran? Of course. Can Don '06 work without Boman Irani and Arjun Rampal? Of course not. That should say it all. If Don then was an Amitabh Bachchan film, Don now is a Farhan+SRK +Boman+Arjun+techno+... film.