Grammy winner returns to his 'best' audience
Violinist Shenkar performs at Calcutta concert after gap of 15 years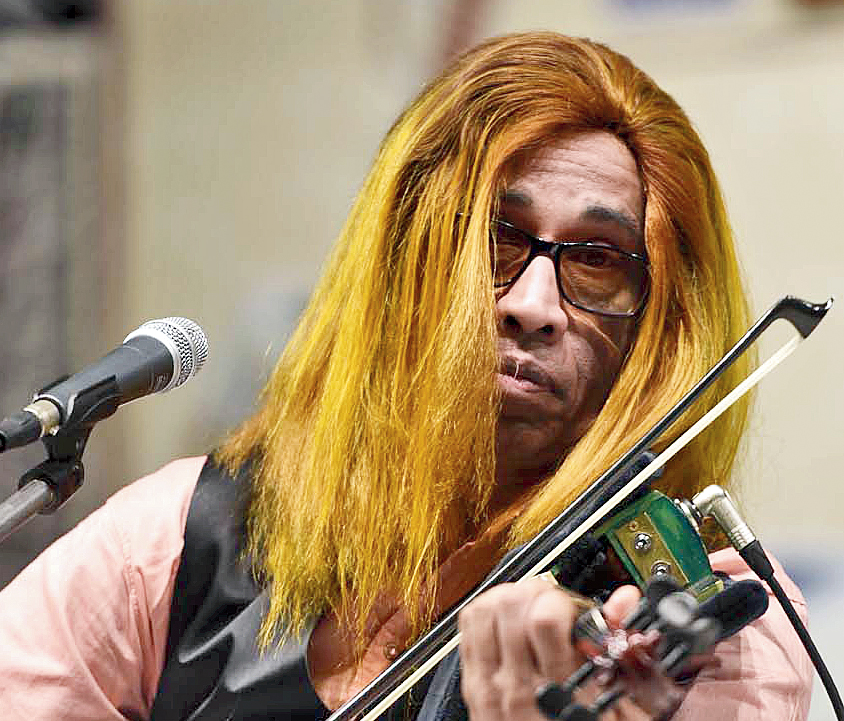 Shenkar performs at the Behala Classical Festival, in association with The Telegraph, on Sunday.
Picture by Sanjoy Chattopadhyaya
---
Calcutta
|
Published 06.01.19, 10:42 PM
|
---
Grammy-winning violinist Shenkar, whose pioneering fusion band Shakti with British guitarist John McLaughlin was all the rage in the 1970s, is back in Calcutta after a gap of 15 years to perform for "audiences that understand quality music and are appreciative of it".
At 68, Shenkar retains his uniqueness both in musical ability and appearance. His 10-string stereophonic double violin is an instrument that he designed himself and his fashionably tousled orange hair reflects his stage persona.
In Calcutta, the Chennai-born musician feels he can be sure his music will always come first. "During all my performances at big concerts in India, I have seen that the audience in Calcutta loves its music the most. Political people or people with the love for the flashy do not come to classical music concerts in this city," Shenkar said before his concert at the Behala Classical Festival, in association with The Telegraph, on Sunday.
Shakti, which Shenkar and John formed in 1974, had a Calcutta connection as well. "The original name of the band was Turiananda Sangeet, a name given by a Bengali guru named Sri Chinmoy in Queens, New York. He was John's spiritual guru," Shenkar said. According to him, the band's name translated into "music of transcendental pleasure". Turiyananda Sangeet became Shakti after a year because the band members wanted an easier word that listeners in the West could relate to.
Shenkar remembers Shakti playing in the city — Zakir Hussain (tabla) and Vikku Vinayakram (mridangam) were part of the band — and going back impressed with how knowledgeable and "humble" the audience was.
While Shakti did not last beyond five years, Shenkar would make three more visits to perform at concerts, including the Dover Lane Music Conference in 1984 before it moved to Nazrul Mancha from Singhi Park.
Shenkar comes from a family of musicians and has been performing on stage since he was seven. He became a teacher of classical music at Wesleyan University in Connecticut at 18 and has spent most of his years abroad since, writing and composing songs and producing several solo albums and collaborating with artistes like Michael Jackson, Madonna and Phil Collins.
Shenkar, a.k.a. L. Shankar, won a Grammy in 1988 for his original soundtrack in Martin Scorsese's The Last Temptation of Christ.