Governor's choice for vice-chancellor turned down
Soma Bandopadhyay appointed VC of Diamond Harbour Women's University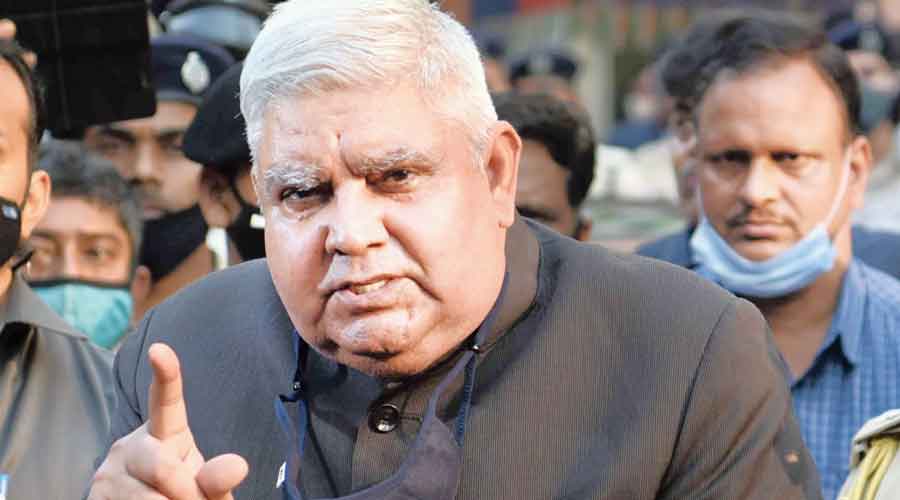 ---
Kolkata
|
Published 15.01.22, 07:38 AM
|
---
The state government has decided to "give the charge of the office of the vice-chancellor of Diamond Harbour Women's University" to Soma Bandopadhyay, rejecting a name proposed by governor Jagdeep Dhankhar.
An order issued on Friday evening said she (Bandopadhyay) would hold charge until "the appointment of (full-term) VC" besides her normal duties as the VC of the West Bengal University of Teachers' Training, Education Planning and Administration.
Anuradha Mukhopadhyay, the former VC of the Diamond Harbour Women's University  has been appointed the first VC of Sanskrit College and University, a post that was being so far helmed by Bandopadhyay in addition to the teachers' training university job.
The order came hours after governor Jagdeep Dhankhar, the chancellor to the state-aided universities, said in a tweet that he had decided to appoint Tapan Mondal, a dean of the university in Diamond Harbour, as its VC, striking down education minister Bratya Basu's proposal of making Bandopadhyay the VC.
Mondal, however, expressed his unwillingness to take the job, an education department official said.
Dhankhar claimed in his tweet that he objected because: "She (Soma Bandopadhyay) thus already has dual charge as VC of the two universities (WBUTTEPA in addition to Sanskrit College and University)."
The department's order, however, said the proposals of making Bandopadhyay the interim vice-chancellor of Diamond Harbour Women's University and Anuradha Mukhopadhyay as the first vice-chancellor of Sanskrit College and University were placed before the governor on January 13. 
"The Honourable chancellor took a contrary stand and appointed Dr Tapan Mondal… as VC of Diamond Harbour Women's University…. not in conformity with the provision of rule 9 of the West Bengal State Universities Rules 2019 and whereas Prof. Tapan Mandal has expressed his unwillingness to accept the position of the VC….," reads the order.
Minutes after the department's notification, education minister  tweeted: "I will still appeal to the honourable 'nominated' chancellor, to cooperate with the state government that has been thrice voted to power. Always on the warpath, don't impose your whims on the education department. We welcome the vice-chancellors appointed in keeping with the rules".