Government jamboree on Bengal culture
Sources in the government said the ruling establishment wanted to tap into Bengali sentiments to counter the BJP's surge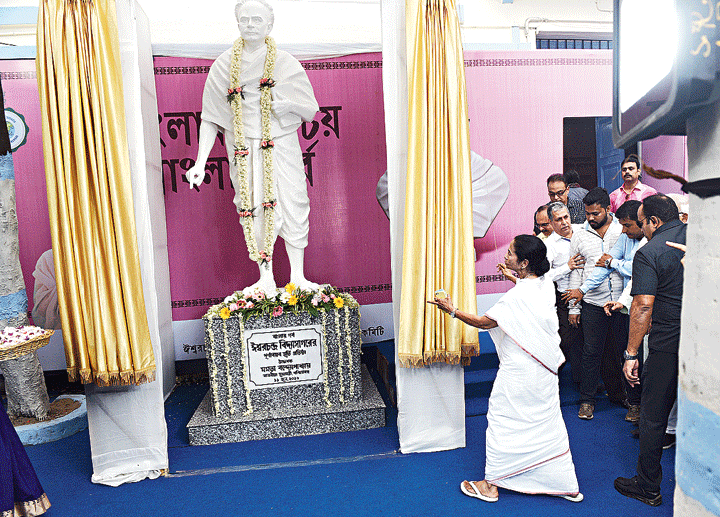 Mamata unveils the statue of Ishwarchandra Vidyasagar at Vidyasagar College in Calcutta on June 11
File picture
---
Calcutta
|
Published 21.11.19, 07:30 PM
|
---
The Mamata Banerjee government will organise a first-of-its-kind cultural extravaganza across the state called "Bangla Moder Garbo (Bengal is our pride)".
According to the plan, the government will hold cultural programmes, mainly based on Bengal's art and culture, in all districts by January. Each programme will be held over three to five days.
While local artistes will play a key role in the programmes, popular performers from Calcutta will also be invited.
"One such programme will be organised in each district. In some districts such as Alipurduar and Jalpaiguri, indoor programmes will be organised. In the remaining districts, outdoor programmes will be held," an official said.
Sources said that though a detailed expenditure plan was yet to be drawn up, primary estimates suggest that the
government would require at least Rs 10 crore to organise the programmes across the state.
An official said the event was planned about a month ago after the initiative to observe "Vidyasagar Week" from September 20 to 26 to commemorate the 200th birth centenary of Ishwarchandra Vidyasagar received an overwhelming response from all corners of Bengal.
"As the Vidyasagar Week had been planned to appeal to Bengali sentiments in the aftermath of the vandalism of a Vidyasagar bust in Calcutta allegedly by BJP workers in May, the tremendous response once again reinforced the pride of the people in Bengal's rich history and culture. The government wants to present the rich culture of the state before common people through this new initiative," the official said.
Although the Trinamul government has been holding festivals and fairs across the state since coming to power in 2011, it had never organised such a centrally co-ordinated programme.
"So far, different departments and local bodies had been holding cultural programmes separately…. But such a centrally controlled programme to focus on Bengal's rich art and culture had never been planned before. The only example was Pragati Utsav, which promoted Bengal's development projects under the Trinamul government," a source said.
Sources in the government said the ruling establishment wanted to tap into Bengali sentiments to counter the BJP's surge.
According to the sources, the organisers (the district authorities) had been told to focus on different forms of Bengal's art and culture like Baul and Chhau.