34,000 of 40,000-odd complaints genuine
Govt focus: Tame cyclone of mismanagement
34,000 complaints genuine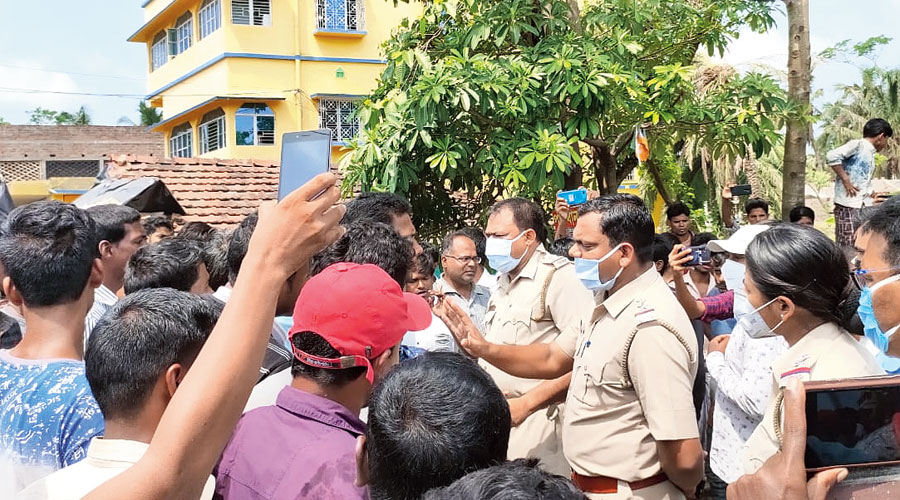 ---
|
Calcutta
|
Published 03.07.20, 04:09 AM
---
An inquiry into 40,000-odd complaints about irregularities in the distribution of the Amphan house-building relief has revealed around 34,000 of them were genuine, the finding revealing the volume of mismanagement in giving the dole.
As an immediate damage-control, state secretariat Nabanna has decided to sanction fresh compensation to each of the 34,000 complainants.
Trinamul insiders said that the number of complaints received by the state government were a cause of concern. "Agitations over compensation in districts like South 24 Parganas, North 24 Parganas and East Midnapore, strong Trinamul bastions over the years, suggest that the actual number of deprived victims could be much higher. Immediate steps to regain the faith of common people are a must," said a minister. "We cannot overlook a single complaint ahead of 2021 Assembly polls."
According to officials, these 40,000-odd complaints, of which 34,000 were found genuine, came from Howrah, East Midnapore, North and South 24 Parganas, and Nadia. Numbers varied between 4,500 to 7,000 in these districts.
Each complainant had acted on chief minister Mamata Banerjee's advice in June-end to go to the police and file a grievance. "Every complaint was verified. About 34,000 of the 40,000 complaints were found to have merit," said a source at Nabanna. "This high rate of irregularity has come as a surprise for the government. Compensation for all the 34,000 genuine complainants will be sanctioned from Nabanna and funds will be sent to the districts soon."
A sum of Rs 6,800 crore was released by the state government within a few days of the May 20 devastation to be given to compensate all those whose homes were damaged.
So far, more than 10 lakh people have received compensation for rebuilding or repairing their homes. But widespread protests by villagers that Trinamul panchayat leaders were favouring "their people" on beneficiary lists at the expense of genuine victims prompted the chief minister to launch a slew of steps, including asking villagers to go to the police officials directly and officials to screen claims afresh.
A senior bureaucrat admitted to "mistakes at the block level as officials had to draw up the list of victims within 48 hours". He added: "The influence of local ruling party leaders in preparing the lists cannot be ruled out too."
Sources said that the state government was adopting a two-pronged strategy to solve the problem. First, it will ensure compensations for all the left-out people. Second, it will take action against all those who adopted unfair means to claim funds to repair homes.
In Nadia, bank accounts of about 100 panchayat functionaries of the ruling party, who received Amphan relief wrongfully, were temporarily frozen. A ruling party MLA said it was done to restore the image of the party. "Once leaders refund money, their accounts would be freed.
The government top brass will take steps to ensure that agitations over Amphan compensations don't snowball like the cut-money row in 2019, an insider said. "The chief minister wants us to nip the problem at the bud. We allowed to take steps against ruling party leaders if they are found guilty," said an official.