Go-slow warning at arm-rip spot in Calcutta
The signage is part of the Lalbazar traffic guard's drive to warn bus drivers of the dangers of speeding down the stretch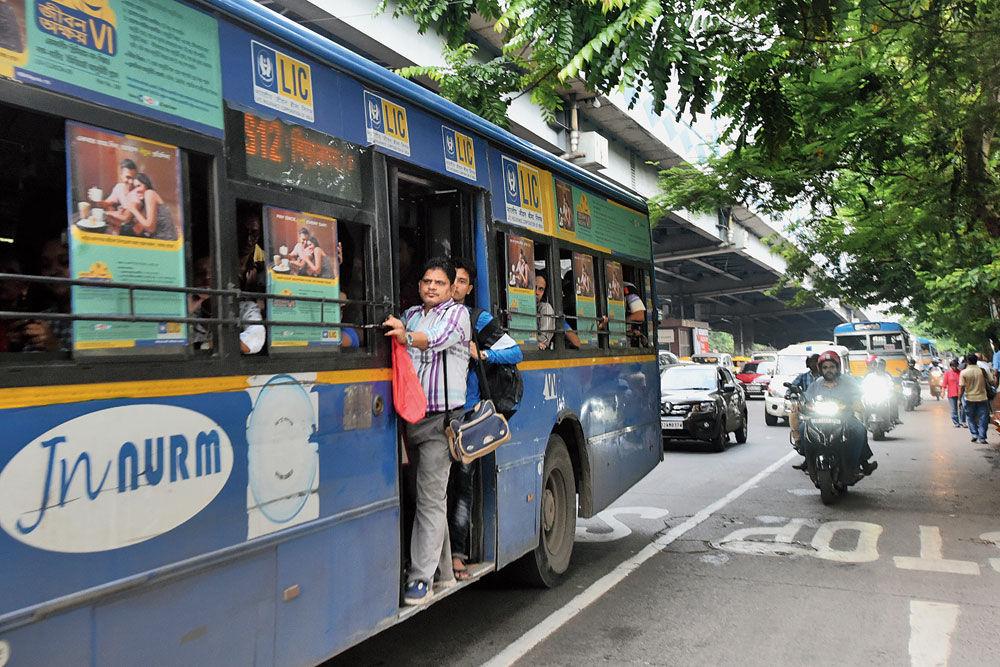 ---
|
Calcutta
|
Published 26.07.19, 08:07 PM
---
A go-slow board went up on the pillar of a building on Mahatma Gandhi Road at Karunamoyee in Tollygunge on Friday, a day after a bus passenger lost his left arm elbow downward when it hit the concrete structure.
The signage is part of the Lalbazar traffic guard's drive to warn bus drivers of the dangers of speeding down the stretch.
Utpal Karmakar, 45, was standing on the footboard of a bus and trying to balance his swaying sling bag as the vehicle swerved dangerously and hit the pillar on Thursday.
The stretch of Mahatma Gandhi Road where the accident occurred is nearly 20ft wide but lacks a median divider. During morning and evening rush hours, buses, minibuses, vans and Matadors often jump lanes to gain speed. The government bus in which Karmakar was travelling is also said to have been speeding.
"The 'go-slow' signage will force all drivers headed towards the Karunamoyee crossing from Haridevpur to slow down around this point," said an officer of the Thakurpukur traffic guard. "Since there is no footpath on either side of the road here, it always gets risky for pedestrians as vehicles tend to speed."
Karmakar, who runs a tailoring shop at Kalighat, told Metro that he had thought there was enough space between the edge of the building's pillar and the bus when he was standing on the footboard of the crowded bus till something hit his elbow and he lost consciousness.
Police officers on traffic duty in the area said such an accident had been waiting to happen with vehicles speeding past the pillar. "We have also put a reflector tape on the pillar so that drivers can spot it in the dark from a distance," said an officer.
The transport department has suspended the driver and initiated departmental proceedings against him. Police said they would speak to the driver after the formalities of the departmental inquiry were over.
The driver of the bus has admitted to senior officials of the West Bengal Transport Corporation that he had been speeding on Thursday morning.
He told officers that the bus was already packed when it left the depot around 9.10am and he wanted to ensure that the passengers reached their place of work on time.
A team of transport department officials met Karmakar in hospital on Friday and offered him a compensation package of Rs 50,000. "This is part of the cash relief to accident victims involving state-run transport and non-transport vehicles," said an officer. "We would also talk to the family to find out if there is any other demand."
The eldest of three siblings, Karmakar has a younger brother and a sister besides ailing parents. Members of Karmakar's family told transport department officials that his wife ran a small part-time business to help the family meet the expenses of treating the couple's only son.