GNLF warms up to Trinamul, says Mamata 'keeps promises'
The GNLF statement comes days after the Gorkha Janmukti Morcha announced its decision to quit the NDA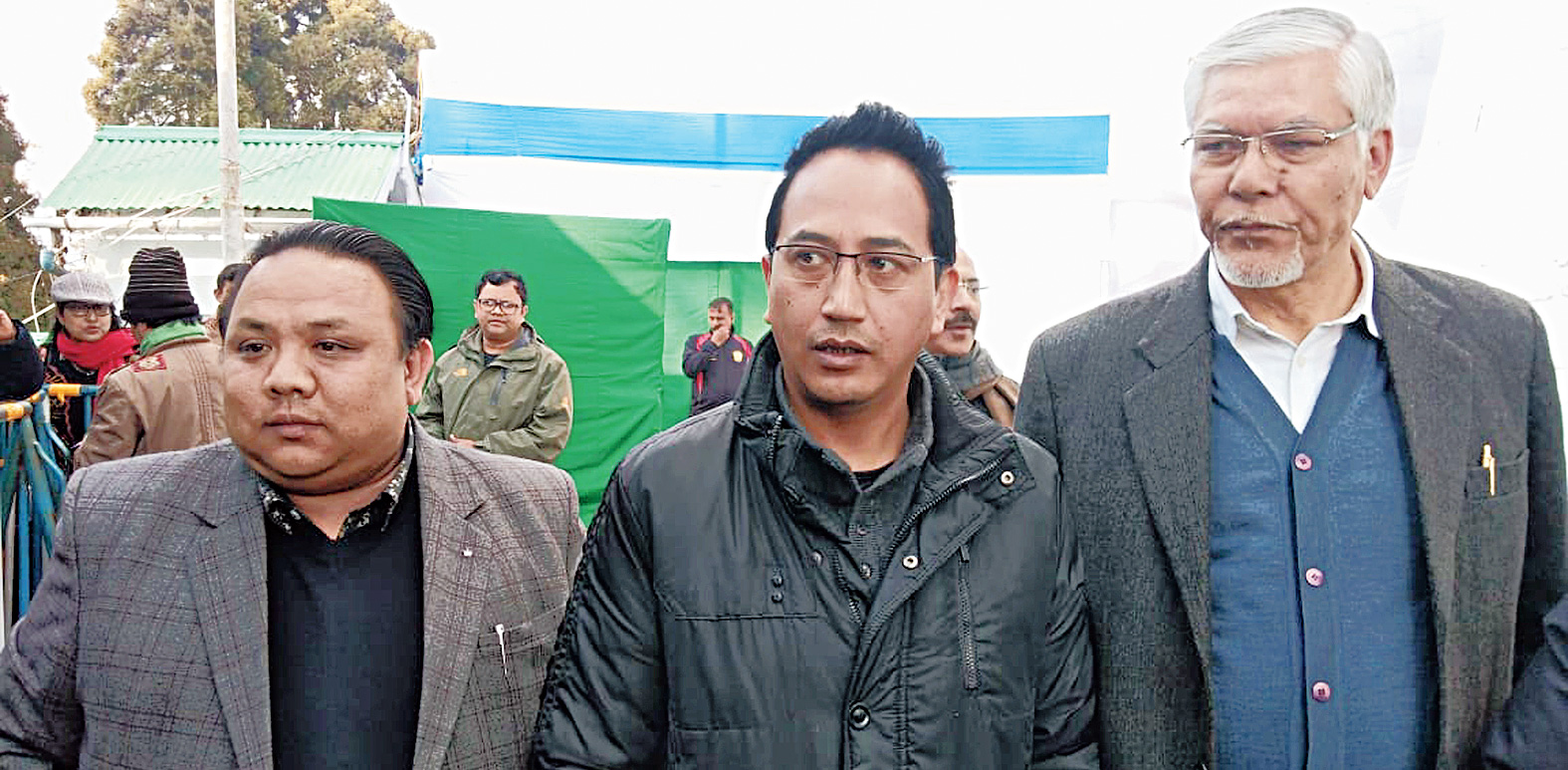 Mann Ghisingh (centre) and other GNLF leaders after their meeting with Mamata on Tuesday.
Passang Yolmo
---
Darjeeling
|
Published 22.01.19, 08:11 PM
|
---
The Gorkha National Liberation Front has signalled a tilt towards Trinamul, saying Mamata Banerjee "fulfils promises" while Narendra Modi doesn't.
"If Mamata Banerjee promises something, she will do it. If Modi promises something, he will never do it. That's what we feel," Neeraj Zimba, a GNLF leader said on Tuesday after talks with Mamata along with party chief Mann Ghisingh.
The GNLF statement comes days after the Binay Tamang-led Gorkha Janmukti Morcha announced its decision to quit the BJP-led NDA and suggested it could join the Opposition front being spearheaded by Mamata.
In Darjeeling on Tuesday, Zimba and Ghisingh were part of a four-member GNLF delegation that met Mamata Banerjee at Richmond Hill.
"We talked about the Darjeeling hills. The talks were fine, positive. There will be more in the coming days," Ghisingh said, adding "no talks were held about elections".
However, Zimba, a GNLF steering committee member, said his party was not "averse to the Centre or the state but had enough of false assurances and promises".
"The BJP had categorically said it would fulfil the Gorkhas' aspirations. What happened? Ten years is a long time," Zimba said, alluding to the two straight BJP wins in the Darjeeling Lok Sabha seat.
The GNLF has demanded that the Darjeeling hills be brought under the Sixth Schedule of the Constitution, which allows more autonomy.
The GNLF had supported Trinamul in the 2014 general election but ties have not been smooth since. Ghisingh had stepped down as the chairman of the Hill Area Development Committee, set up by the Mamata government.
On Tuesday, though, the two sides appeared ready for a fresh start.
Sources said Mamata had asked the GNLF leaders in the meeting what the BJP had done for the hills.
Aroop Biswas, senior Trinamul leader and minister accompanying the chief minister, said after the talks that "we were together and we are together".
During the day, Tamang also called on Mamata with Morcha colleagues. "We want to see her as the Prime Minister," said Tamang, who had attended last week's Opposition rally in Calcutta convened by Mamata.
Tamang said the state government would hand over Pahari Bhavan, a government complex at Matigara in Siliguri, to the Tamang-led Gorkhaland Territorial Administration (GTA).
"This facility can be used by (hill) people going to Siliguri for treatment and by students studying at the North Bengal University," Tamang said.