Girl gets a toilet, returns to school in Murshidabad
Girl's mother sold a pair of her gold earrings and the family's goat to raise Rs 11,500 for the construction of a toilet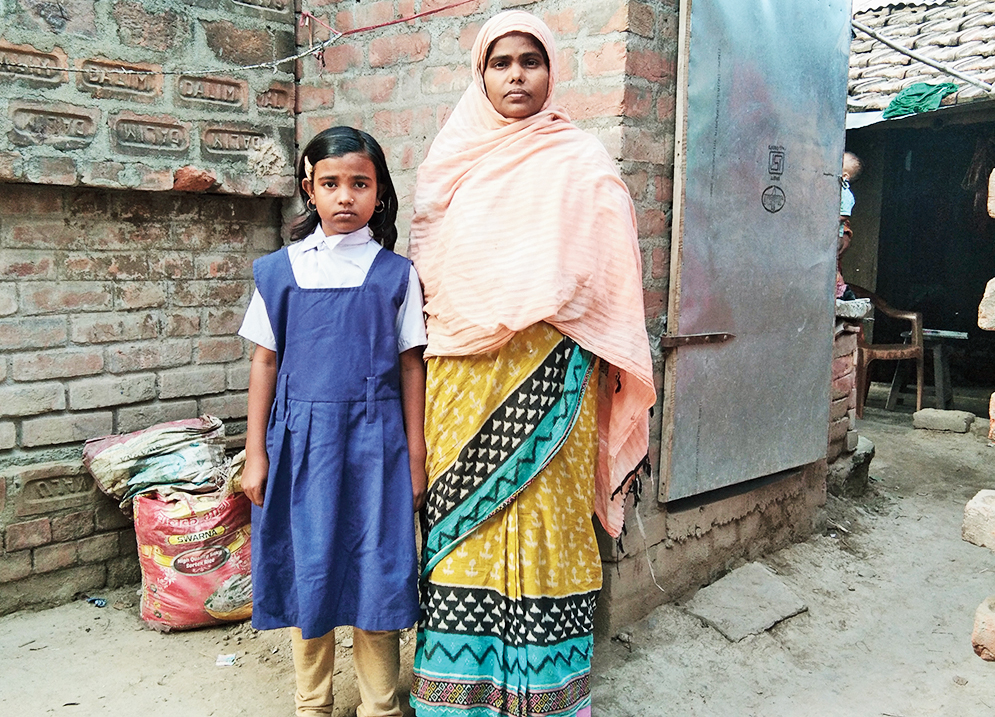 Sushma with her mother Sayema at their home.
Picture by Samim Aktar
---
Murshidabad
|
Published 16.11.18, 08:07 PM
|
---
Nine-year-old Sushma Khatoon, a Class IV student of Nimtita Boys' Primary School (co-educational) in Murshidabad's Sherpur, went back to school in late-October after the Puja holidays.
It was, however, after a gap of almost one-and-a-half months. The daughter of widowed beedi worker Sayema Bewa had stopped going to school in early September after being ridiculed by classmates for not having a toilet at home.
After receiving an ultimatum from her daughter, villagers said, Sayema sold a pair of her gold earrings and the family's goat to raise Rs 11,500 for the construction of a toilet.
After also taking a small loan and drawing from personal savings to raise another Rs 3,000, Sayema could send her daughter back to school in late-October with her head held high.
The family lives in a two-room brick settlement with a makeshift tile roof. Sayema earns around Rs 2,000 a month.
The story of Sushma is a classic example of how awareness on sanitation and hygiene is trickling down to the remotest corners of Bengal.
Mission Nirmal Bangla was launched in 2014, in tandem with the Centre's Swachh Bharat Mission, with the aim of giving Bengal ODF (open defecation-free) status by 2019. In 2015, Nadia was the first district to achieve this recognition.
Sushma said: "Often we were asked by the headmaster after prayers at school as to who all had toilets at home. Those who did not had to raise their hands. Gradually it turned out that it was only me who did not. My classmates used to taunt me and I felt humiliated. So, I stopped going to school. I told my mother that I would not go to school until a toilet was built at home."
Dwaipayan Krishna Maji, the headmaster, said: "We had instructions from the government to conduct a campaign at schools. We refrained from interfering to bring Sushma back to school because we wanted her guardian to understand the need for a toilet."
Sayema insists, however: "We are poor. We should have received government assistance in constructing a toilet at the very beginning."
A district official hoped Murshidabad would be declared ODF by the end of November.