'Genuine 2,358' receive Amphan dole
714 people got the full home-repair fund of Rs 20,000 each, and 1,644 others a partial fund of Rs 5,000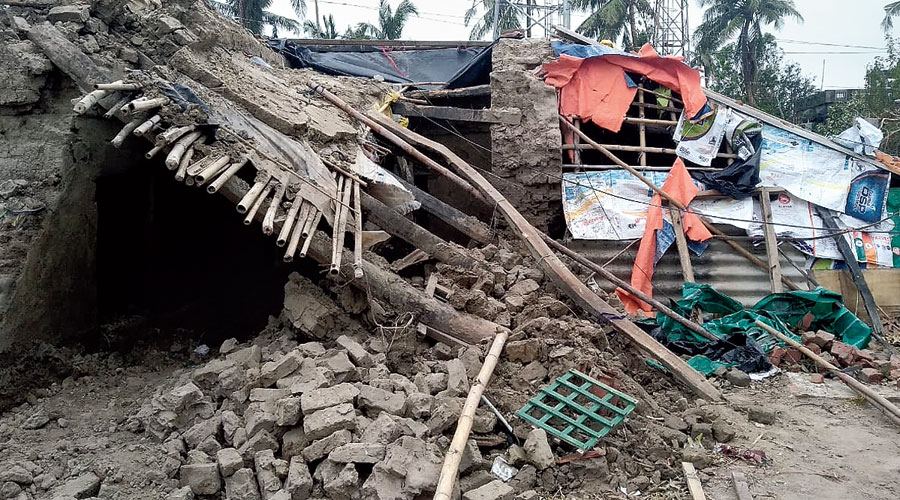 A house in East Midnapore's Khejuri damaged in Cyclone Amphan
Anshuman Phadikar
---
Tamluk(EastMidnapore)
|
Published 18.07.20, 02:39 AM
|
---
The East Midnapore administration, which so far has found only 2,358 of 15,000 Amphan aid complaints filed at police stations in the district to be genuine, distributed the doles on Friday.
A block official said that Rs 2.35 crore was disbursed among 2,358 beneficiaries. Of them, 714 persons received the full home-repair dole of Rs 20,000 each after verification, and 1,644 others a partial dole of Rs 5,000 each, the official said.
But the number of complainants rejected in East Midnapore alone — over 12,000 — appears far higher than what chief minister Mamata Banerjee had said on Thursday.
She said her government had rejected 6,000 applications of 40,000 complaints in police stations claiming Amphan compensation after the claims were probed. "Of 40,000 applications (across the state), who claimed they were deprived of compensation, 6,000 have been rejected as investigations revealed they were not entitled...because they were not affected by the cyclone at all," she had said.
District disaster management official Mrityunjay Haldar clarified that 2,358 names cleared for compensation from among 15,000 claimants received from state secretariat Nabanna were done after "rigorous verification".
"We weeded out the names that had been repeated on the lists. We also added names of persons whose claims were genuine but had not made it to the initial lists made by panchayats," the official said.
It was Mamata who had asked people with Amphan dole grievances to complain at police stations after reports of corruption emerged at panchayat and block levels in early June. The complaints with the police were reviewed by Nabanna and then sent back to respective districts this month. Then, "stringent verification" of claims was done by respective district magistrate and a team of BDOs and four additional district magistrates.
A source said that while 15,000 had complained at police stations in East Midnapore, around 55,000 others had separately submitted complaints at block levels in the district. "Verification of complaints at block levels is being done and will be over in a week," the source added.
Among the 55,000 complainants is Sheikh Nazrul, a resident of Nandigram's Bhekutia. "On June 29, the block administration published verified beneficiary lists but I and some of my friends did not see our names on it. After we complained to the BDO, a team inspected our homes last week. We are now hoping to get compensation," he said.
Reacting to the disbursement of compensation on Friday, CPM district secretary Niranjan Sihi said that the attempt to give doles as fast as possible led to the mess and related corruption. "This is for the first time that people had to lodge complaints at police stations to get their dues from the government. People could have been spared this harassment had the government done its due diligence before handing out doles."
Vice-president of BJP district unit Praloy Pal said he was "happy people were getting their due".
"Pending payments should be made without further delay," he added.