Garbage piles up in Siliguri
The situation was so miserable at markets that shopowners and traders joined hands to clean their areas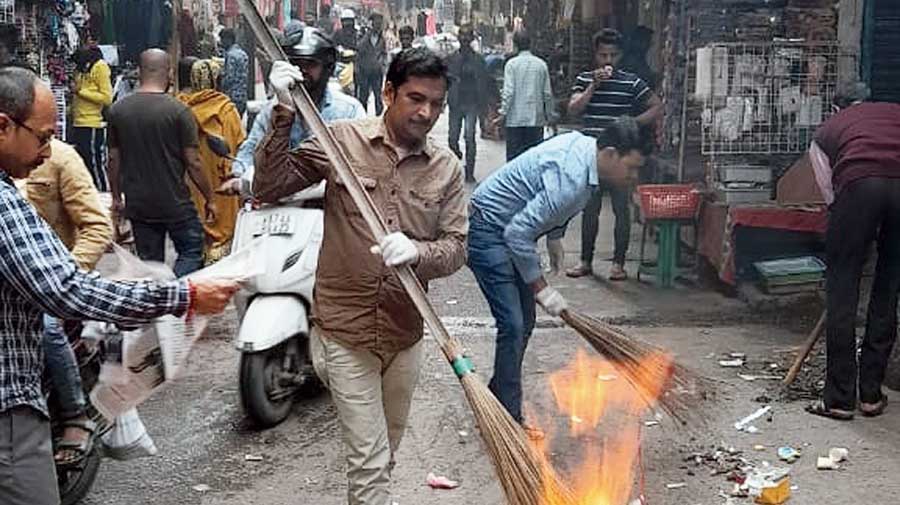 Traders burn trash at the Seth Srilal Market in Siliguri on Thursday.
Passang Yolmo
---
Siliguri
|
Published 19.02.21, 02:51 AM
|
---
Residents of Siliguri continued to bear the brunt of the garbage lying in heaps and piles and the obnoxious smell emanating from the trash for the second day in succession on Thursday as conservancy workers of the Siliguri Municipal Corporation (SMC) went ahead with the ceasework.
The situation was so miserable at markets that shopowners and traders joined hands to clean their areas. In residential areas, heaps of garbage piled up on almost every street, much to the inconvenience of the people.
Every day, 2, 571 workers are engaged to clear around 3.5 tons of garbage from across the civic area. On Wednesday, they stopped joining their duties, demanding that they be provided with permanent jobs at the civic body.
To end the stalemate, Asok Bhattacharya, the chairman of the board of administrators at the SMC, held a meeting with a delegation of the workers on Thursday and urged them to resume their services.
The workers, however, demanded that even if their jobs were not made permanent, they be given a hike of 20 per cent in wages with effective from next month.
"We have requested the civic authorities to increase our wages by 20 per cent and it should be implemented from March. We will not join the work unless our demand is met," said Kiran Routh, president, Uttarbanga Safai Karmachari Samiti.
The conservancy workers, sources said, not only continued their ceasework but even stopped a couple of dump trucks from carrying the garbage to the dumping ground.
Bhattacharya, who is also the Siliguri MLA, said the BoA didn't have the authority to increase the workers' wages.
"We have told the conservancy workers that the BoA cannot make a decision. When the elected civic board was in power, a decision was made to increase the wages by 10 per cent from April this year. They are demanding that the hike be doubled and made effective from March. This is beyond our capacity. We hope they will understand the situation and withdraw the ceasework," Bhattacharya said.
People from across the society sounded disgruntled over the halt in conservancy services. Khokan Bhattacharya, president, Seth Srilal Market Byabsayee Samiti, who along with others, took the task of cleaning the market on Thursday, said the workers might have some demands but they should resolve it through talks.
"The way they carried out their movement by preventing the dump-trucks and dumped the waste on the streets is unacceptable. We appeal to the civic authorities to take necessary steps for the restoration of the garbage collection and disposal service," he said.
Sources at the SMC said state tourism minister Gautam Deb was likely to have a meeting with the workers on Friday.
"There might be some positive developments at the meeting," said a source.