Bengal government plans jab awareness drive on Calcutta High Court order
Campaign is being designed around double-vaccinated devotees with negative RT-PCR reports being allowed to visit Gangasagar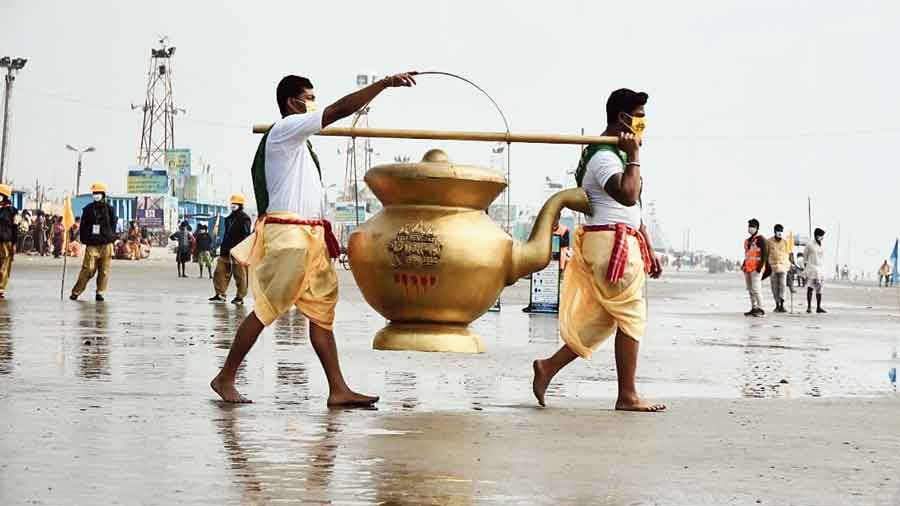 Devotees on Tuesday carry one of the giant kamandalus (water pots) containing the holy water of the Ganga for journey across 23 Bengal districts.
Mehaboob Gazi
---
Kalyani
|
Published 12.01.22, 02:40 AM
|
---
The Bengal government decided to undertake a large-scale awareness campaign on Calcutta High Court directive that those who received two doses of Covid-19 vaccine and produced negative RT-PCR reports not older than 72 hours be allowed into the Gangasagar Mela in South 24-Parganas.
The district administration has still decided to comply with the order "in toto" and reportedly planned to set up a large number of testing kiosks in the vicinity of the fair.
"We realise that complying with these directives fully will be quite a task. So, we are going to conduct an awareness campaign across all platforms on the court order. Our hope is that people who cannot meet the criteria of the double-vaccination and the negative RT-PCR test results would come to know about the directives before landing up at the Mela," said an official.
"We have no option but to adopt a preventive strategy to ensure safety from Covid," South 24-Parganas district magistrate P. Ulaganathan told The Telegraph.
"We have decided to undertake a massive publicity drive regarding the Calcutta High Court order as far as possible using all media. Our objective is clear.... We want to make interested people know that what the court has ordered is a mandatory precondition to visit Gangasagar Mela," the DM added.
Around one million pilgrims are expected to visit Gangasagar on Thursday and Friday on the occasion of Makar Sankranti for a holy dip. Sources said there was a "strong possibility" that a huge number of pilgrims could ignore the court directives and try to "sneak" into the Gangasagar Islands. So, preventing their entry and getting their RT-PCR tests done subsequently would pose an administrative challenge.
"The court has asked us to entertain only RT-PCR tests. We have set up large numbers of kiosks to check the reports and vaccine certificates. But in case an RT-PCR test is required anew, one has to wait at least for two days to get the report. This might create chaos and overcrowding at certain points. Moreover, it will be quite difficult for us to arrange for manpower to handle a huge number of people. So, we have decided to adopt a preventive strategy," a senior official said.
Ulaganathan, however, said: "We have approached the health department seeking manpower and doctors to man the kiosks. We have to obey the high court order at any cost...."
The government on Tuesday afternoon sought clarification from the high court over its directive. "Most of the visitors who have arrived so far have come with a double dose vaccination certificate. We sought to know whether we would allow people either with the double dose vaccine certificate or with the negative RT-PCR test reports or both," said Ulaganathan.
The DM also said: "We have already noticed a fall in the number of visitors. We were prepared for 30 lakh visitors. Now, we expect around 3 lakh pilgrims on Friday. We are ready to handle any amount of visitors."
"There will be no slackness. Organising safety, security measures, and putting all machineries in place has become a big challenge for us. Above all, last minute arrangements to comply with the court order have put a massive stress on us. But we have to deliver at any cost," the DM added.
He said a letter was sent to the commissioner of the Calcutta Municipal Corporation requesting him to arrange for RT-PCR tests on pilgrims arriving at Sealdah railway station, Outram ghat, Bangabasi stadium and Babughat.