Raging Ganga devours 16 homes in Murshidabad
Erosion threat to 25 other houses in Hossainpur, 41 families in relief camps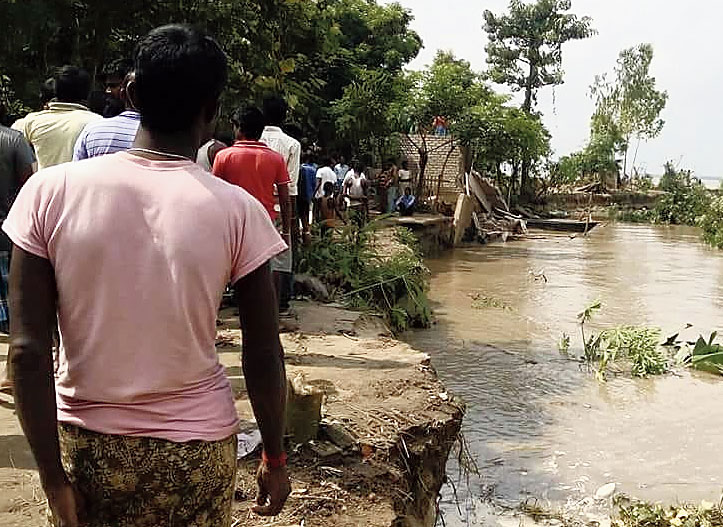 ---
---
The raging Ganga has eroded its banks at Hossainpur near here, gobbling up 16 homes and posing threats to 25 other houses.
A part of a metalled road running parallel to the riverbank was also eaten up by the waters cutting easy access to the village. Now, an 8km detour is required to reach the village.
The 41 families were shifted to relief camps on Wednesday.
The block development officer of Farakka, .A.M Ansar, and other administrative staff reached Hossainpur and distributed tarpaulins and food.
Sonamukhi Singha, a Class XI student, said her house was about 100m from the riverbank.
"From yesterday (Tuesday) evening, a small scale erosion was taking place. We considered that our house was quite far from the riverbank and thought we would shift in the morning. Everyone living near the riverbank remained awake to keep an eye on the erosion," she said.
Around 10pm, there was a large-scale erosion and her house along with 15 other homes — a mix of tiled roofed and concrete houses — sank in the waters.
"Our family could not save anything. My books, school uniform, clothes as well as furniture, everything went into the river," said Sonamukhi.
Electricity connection also snapped as the only transformer linking the village went into the river.