Funds proved a tougher challenge than peaks
Satyarup Siddhanta had a higher mountain to climb before scaling the highest peaks in the seven continents - raising funds to reach his dream goals. But no hurdle appeared insurmountable to the software engineer from Calcutta.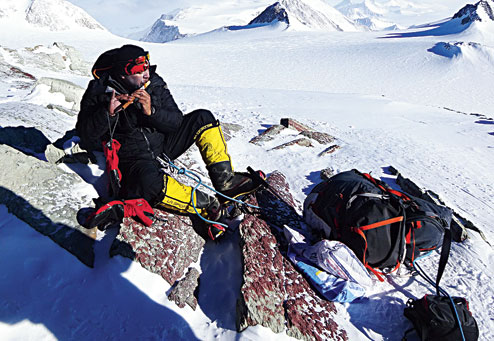 ---
Calcutta
|
Published 02.01.18, 12:00 AM
---
Calcutta: Satyarup Siddhanta had a higher mountain to climb before scaling the highest peaks in the seven continents - raising funds to reach his dream goals. But no hurdle appeared insurmountable to the software engineer from Calcutta.
"Arranging money for climbing mountains is at times more difficult than the climb itself.... But it is worth it," said Satyarup, for whom a successful climb of Mount Everest - the world's highest peak - was not just an end in itself but a gateway to the greater glory of conquering the Seven Summits.
The 34-year-old realised his dream on December 16, the day he scaled Mount Vinson - the highest point in Antarctica, 4897m - becoming the first civilian from Bengal to reach the highest peaks of all seven continents.
Satyabrata Dam, an officer of the Indian Navy with roots in Bengal, had earlier achieved the rare feat.
Mountaineering is a costly passion, especially for someone like Satyarup who left a stable job before his first Everest attempt in 2015. Since then he has been working for two firms as a consultant. He leaves home at 9.30 in the morning and returns around midnight.
"It's difficult but I don't mind because the jobs help me fund my expeditions," Satyarup told Metro over satellite phone from Antartica, a day after descending from Vinson.
The Vinson climb called for an expenditure of around Rs 70 lakh, which included the cost of gadgets and equipment.
Satyarup took four personal loans totalling Rs 27 lakh and raised another Rs 30 lakh through sponsorships from Sikkim Manipal University (his alma mater), Trip360 (an online platform that aggregates adventure tour suppliers across the globe) and Favre-Leuba (a Swiss watch brand).
He was even thinking of auctioning his trophies and mementos but his friends dissuaded him after reading about his desperation on his Facebook page.
The friends arranged a crowd funding, which helped Satyarup raise around Rs 9 lakh.
Another Rs 7 lakh came from his credit card.
"It is sad that unlike cricket or football, mountaineering does not draw enough sponsors. Lack of funds forces climbers to cut corners, which often results in fatal consequences," Satyarup said.
Satyarup left Calcutta for the Vinson expedition on November 30. He first flew to Chile via Mumbai and Amsterdam.
From Punta Arenas in Chile, he took another flight to reach the Union Glacier in Antarctica on December 7.
Apart from Satyarup, the team comprised Craig Crosse and Suze Kelly from New Zealand and Rebecca Heah and Gary Lewis from Australia. The expedition leader was mountaineer Guy Cotter from New Zealand.
There were also teams from Russia, China, Norway and the US.
After flying to Vinson Massif base camp, Satyarup took one week to adjust with the cold weather. Even in summer, when the sun is out all 24 hours, the maximum temperature hovers around minus 20 degrees.
"It becomes difficult to track time as the sun is always overhead," said Satyarup. "The good thing about Antartica summer, in regard to our expedition, is that we do not need to carry headlamps. So we can save on batteries."
Pitching tents on the snow in the base camp - on the Branscomb Glacier, at 2,100m - was difficult. They had to first flatten the ground with shovels and tuck the edges of the tents deep into the snow to protect them from being blown away by rough winds.
They cut blocks of ice and built snow walls around the tents as a shield against snowstorm. "We always had the fear that if our tents broke down, our expedition would come to an end," Satyarup said.
The team had to encounter such a situation at the first high camp, which sits at 2,700m. A second high camp comes at 3,850m, from where the summit push is launched.
"While we were in the first high camp, a snowstorm started. We were inside the tent. The storm usually comes from one direction. But there were crosswinds that day. Winds came howling at 95kmph and the poles of three of our tents broke. We were forced to come out of our tent. The temperature was a freezing minus 25 degrees but we had no option but to build a stronger snow wall. Suddenly, a gust of wind came and blew away two tents of the Russian team," Satyarup recounted.
The next day, the wind stopped and the sky started clearing up.
For several days thereafter they had to make acclimatisation trips between the two high camps.
From the first high camp they had to climb a 1,200m snow arête (a narrow ridge of rocks separating two valleys), which rises at a 40 degree gradient. For 800m on the arête, the climbers were clipped to a fixed rope.
An arduous nine-hour climb led the group to the second high camp, which was nestled beside a rocky ridge adjacent to the main summit plateau.
The date of the summit push depended "on the whims of the weather", Satyarup said. After reaching the second high camp, they heard that the weather forecast for the next day was not encouraging. They decided to take a chance on December 15 after learning that the weather might clear up the next day.
"It was still cloudy when we started the summit climb but the weather gradually started improving.... We came across three or four false peaks before finally reaching the summit," Satyarup said.
"At the summit, where I stayed for around 45 minutes, I could see a rainbow for a few seconds. I was surrounded by pristine white snow far and wide. It seems I reached a different world."
At that point the realisation dawned on him. "Years of toil paid off. I could finally climb all Seven Summits. It was almost an impossible dream and it still gives me goosebumps to think that I have achieved it."
Satyarup knows from first-hand experience what it takes to climb Vinson compared with the other six summits. "While the other summits are more technically challenging, the cold and windy conditions make Vinson Massif the most difficult to climb," he said.
The only good thing about Vinson, Everester Basanta Singha Roy said, is that it is only 4,897m high and a climber doesn't need supplemental oxygen to scale it.
After coming down from Vinson, Satyarup rested for a couple of days before going on a South Pole expedition. From December 23, he skied the last degree to South Pole - from 89 degree south to 90 degree south - a distance of around 111km that he took six days to complete.
Satyarup now stands only one feat short of the Explorers Grand Slam, which requires a person to complete seven summits and both poles.
On December 31, he returned to Chile with plans to climb three more mountains: Mount Copiapo (6,052m), Mount Ojos Del Salado (6,891m, highest in Chile) and Mount Tres Cruces (6,749m).
Satyarup's climb of Tres Cruces will be a tribute to Malli Mastan Babu, the first south Asian to climb the Seven Summits (2006).
Babu died in 2015 during an expedition to Tres Cruces Sur because of bad weather.
Satyarup is scheduled to return to India on January 22.
When asked how he plans to repay the loans, he said: "Well I don't know how yet. But if I am unable to repay the loans, my stay and food will be free... they don't charge anything in jail, do they?... (smiles) I am optimistic. Who knows suddenly the state government or the central government might extend their support!"