Freight train overturns near Raghunathbari station
The South Eastern Railway had to cancel all trains between Digha and Haldia for Tuesday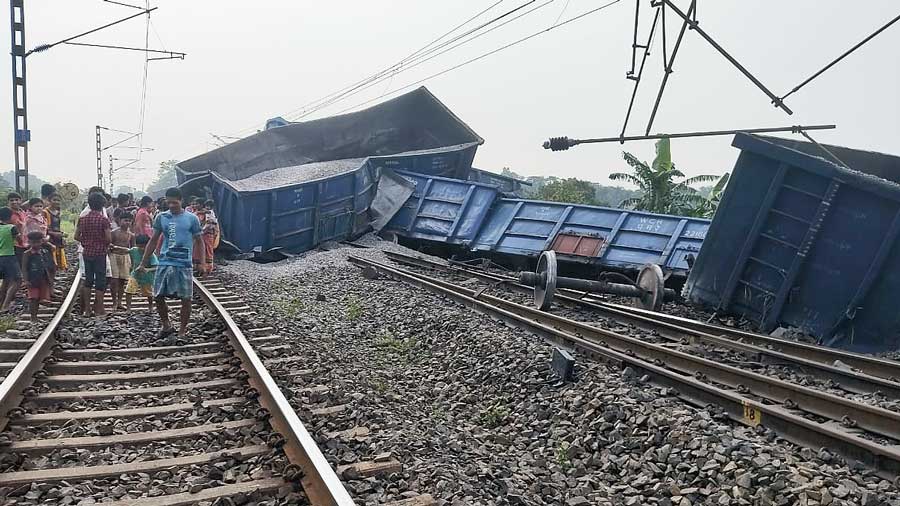 The goods train that derailed near Raghunathbari station on Tuesday.
Telegraph Picture
---
Tamluk(EastMidnapore)
|
Published 13.10.21, 12:21 AM
|
---
Tourists and residents bound for East Midnapore's Digha on the first day of the Puja were halted on the tracks on Tuesday morning when a freight train overturned near Raghunathbari station and stalled the movement of Howrah-Digha Tamralipta Express.
The South Eastern Railway had to cancel all trains between Digha and Haldia for Tuesday.
According to railway police, a coal-laden freight train from Haldia to Jharkhand overturned around 8am between Tamluk and Panskura. "The Tikiapara-Haldia special local train also got stuck near Panskura station and the Asansol-Haldia Intercity Express was left stranded near Kharagpur station," said a source.
Passengers on the Tamralipta waited expectantly for almost four hours before being informed that the train would be returning to Howrah, leaving holidaymakers with no alternatives given that the closest town, Mechheda, is poorly connected by road.
Kaustab Mukherjee, 42, a businessman from Ballygunge in Kolkata, said his two-year-old child and elderly parents were all going to Digha for a holiday.
"As the train was cancelled midway, we had to call off the tour and return home. It was not possible for us to walk on the road with children and the elderly," he said, adding that the area had no bus services. Other passengers tried to reach Digha by road. But the extra fare charged by private cars as well as the lack of seats on buses forced many to return to Howrah.
Navneeta Roy, a homemaker from Behala in Calcutta, said: "My husband and wife were going to visit Mandarmoni. As the train stopped in the middle, I tried to get into the long-distance bus from Mechheda. But the bus was so crowded that it was not possible to board. Private cars were asking for Rs 5,000-6,000. It was not possible for us to spend this money. So, we came back home. Saptami's joy turned to dust," she exclaimed.
Bipradas Chakraborty, joint secretary of the Digha Shankarpur Hoteliers Association, termed the situation "unfortunate". "The railways didn't give us a special Puja train. Instead, the freight train overturned and our only train service on the long route was completely stopped," he said.
A railway official said the freight train had overturned and had damaged the railway line and electricity poles as a result. "Once the line is repaired, train movement will be restored," said an official who could not give a time-frame for the return of normality.