Sovan backs 'well-wisher' Baisakhi, blasts wife
Former minister claims Ratna had said "so what if I love someone"; insists he still respects Mamata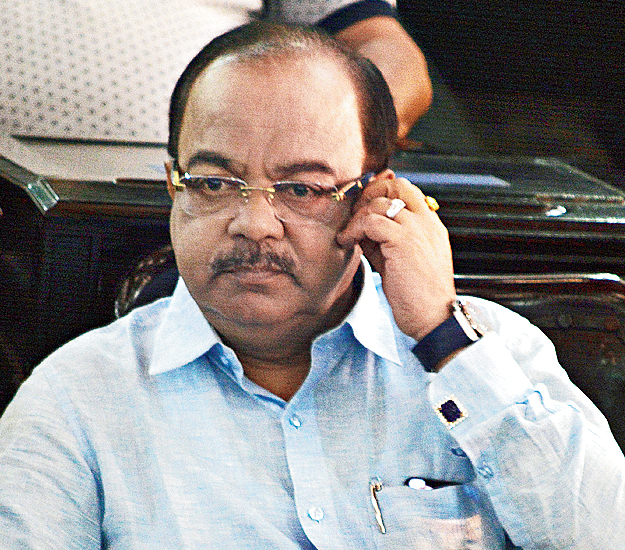 ---
|
Calcutta
|
Published 21.11.18, 10:01 PM
---
Sovan Chatterjee, who maintained the suspense on his continuation as mayor of Calcutta on Wednesday, said in an evening interview to ABP Ananda that he was sad his "well-wisher", college teacher Baisakhi Banerjee, was being blamed for his resignation from the Mamata Banerjee government.
The former environment, housing and fire services minister spoke extensively on his personal life and why chief minister Mamata is the one person he respects the most after his parents. Excerpts:
Baisakhi Banerjee
Baishakhi Banerjee is being dragged into this (the cause of his resignation) unnecessarily by the media. Those who are dragging her into this are not doing the right thing. She stood by me during my tough time…I sought Baishakhi's help in legal matters pertaining to the CBI and Enforcement Directorate's investigation (into allegations of financial wrongdoing). She helped me orient myself. I will give my well-wisher her due respect…she didn't mix with me with any intention of harming me…she is being made a scapegoat. Baisakhi's husband Monojit comes here, their child comes here.
I am sad and pained not for losing the minister's post, but for how Baisakhi Banerjee, her husband Monojit, their child and her mother is suffering (on being asked if he was tense).
'GCR'
A company was formed (allegedly by his estranged wife Ratna Chatterjee) without my knowledge. The name of this company was GCR. I asked, 'Who is GCR?'. She (Ratna) said GCR stood for Gopal, Chiku, Ratna. I asked who is Chiku. Chiku is a person named Avijit Ganguly. The company took a loan from the market.
I asked Ratna about this person. She replied that if I don't like it, I should divorce her. Ask her to deny this. This man had unrestricted access to my house, I came to know. Later, Ratna said, 'Besh korchhi prem korchhi (So what that I love someone?).'
Narada-Saradha
I am under investigation by the CBI and the Enforcement Directorate; so I have to prepare papers. That's when I got to know about GCR. The investigation will not find anything against me. But I am struggling to give replies regarding the actions of my wife (Ratna).
Mamata Banerjee
After my parents, if there is anyone I respect most and to whom I listen, it is Mamata Banerjee. But there is a way for everything. I pray to god to show me the right path, if I have slipped.... But I believe I have done no wrong. I have been with Mamata Banerjee since 1978-79, that was five-six years before she was elected (as an MP for the first time). Since then, there have been ups and downs in our lives. She was an MP, then for sometime she was not an MP….It's a relationship of 40 years. I have always given prime importance to what Mamata Banerjee says.
Dulal Das (father-in-law)
Dulal babu had nothing. I helped him get the nomination to become councillor. I proposed the name of Kasturi Das, Ratna's mother, for MLA. (Kasturi was the MLA from Maheshtala constituency till her death in February.)
'Supari' killer
A supari killer was hired to hurt Baisakhi and her daughter. I have complained to Calcutta police. I gave a written complaint. I still cannot believe my ears and eyes.
Poison in cake
A cake was poisoned and it was to be sent to me on my birthday. The police have recorded the statements of security personnel who knew this.
Resignation as mayor
You people are waiting. I am also waiting. Mamata Banerjee has asked me to resign. All the three sides are waiting. When the resignation is submitted, everyone will get to know.
Baisakhi Banerjee (in a picture from her Facebook album) has been described by mayor Sovan Chatterjee as his "subhanudhyayi (well-wisher)". She is the teacher-in-charge of Milli-Al-Ameen College For Girls in Beckbagan. Metro was unable to reach her for comment.
After joining Milli-Al-Ameen College as a lecturer of political science, Baisakhi had become an active member of the CPM-controlled West Bengal College and University Teachers' Association.
In 2013, when the late Trinamul MP Sultan Ahmed was the president of the governing body of Milli-Al-Ameen College, Baisakhi was served a suspension order that was later withdrawn. She went on to become teacher-in-charge of the college.
It was after her suspension that Baisakhi's association with Trinamul started. In 2013, she joined the Trinamul-backed West Bengal College and University Professors' Association and became its general secretary soon after. Baisakhi was recently removed from the post, allegedly at the behest of chief minister Mamata Banerjee.
Ratna Chatterjee's response on ABP Ananda
He has to answer for the allegations he made against me in the courtroom. All lies. He lied not only about me, but even about our children. When my children took a cake to him (Sovan) on his birthday, my son and daughter cut and ate it. My children didn't die. Then what kind of poison did I mix in the cake?
Sovan knew Avijit Ganguly very well. He has come to this house several times…. I still love Sovan Chatterjee.