Forced to be at home at a relief shelter
A mother wonders when the ordeal of floods will end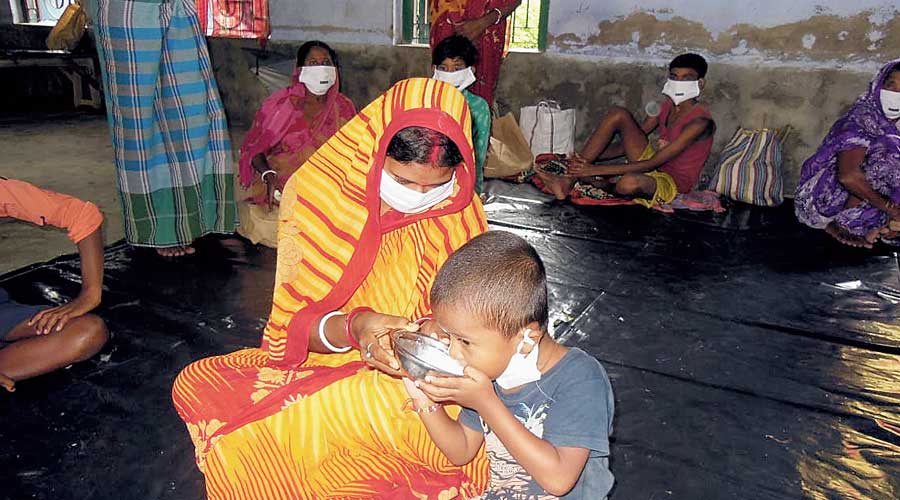 ---
Sagar
|
Published 05.10.21, 02:37 AM
|
---
Flood-hit Panchali Mondal, 27, a homemaker from Mandirtala of Ghoramara Island, glumly sat on the floor of a school converted into a safe shelter at Bamankhali of Sagar in South 24-Parganas.
As it rained without a break last week, the young homemaker had to shift to this shelter. Trying to feed her five-year-old son, she wondered anxiously how long she would have to stay at the government-run shelter.
It is for a third time since 2019 that Panchali has been forced to stay in a shelter.
It started with Cyclone Fani in 2019 that tore into Panchali's home. Then came Amphan, which damaged her home beyond repair and rendered her husband Parimal, a farmer, unemployed. Saline water affected the fertility of their land.
A couple of months ago, Parimal was compelled to move to Kerala to work as a construction labourer.
Panchali is one of the many residents of South 24-Parganas whose lives have been changed amid recurring natural calamities.
People living at vulnerable locations such as Ghoramara Island, Gosaba, Kakdwip in coastal areas of South 24-Parganas district are financially crippled as natural calamities like cyclones, high tides or heavy rain keep coming. This time, it was the deluge. .
Cyclones like Fani, Bulbul, Amphan, Yaas or the recent downpours have turned  people like her into refugees.
Rendered homeless without warning, months go by with people living at relief shelters. Livelihoods have been wiped out.
"The cyclones have robbed me of everything... I lost my house totally in Amphan. Whatever I managed to rebuild was further damaged in Yaas. Again, I managed to repair it somehow with the paltry amount paid by the government. But the recent spell of heavy rain has damaged it again. I don't know how to repair it this time. I am just penniless," Panchali broke down while holding on to her two small sons at the Bamankhali High School shelter in Sagar.
Panchali is one of the 35 families of the shrinking island Ghoramara who had been shifted to the school-turned-safe shelter by the Sagar block administration.
Is this the way to live, she wonders, looking at her sons.
"Natural calamities have become an unavoidable part of our lives. We live in fear of cyclones and high tides and floods throughout the year. Every time dark clouds gather in the sky we prepare to pack and move to a shelter. Our two sons are suffering. Their studies get affected every time there is a natural calamity," said Panchali.
Every new crisis breaks her a little, she feels.
"Even now, the worst is not over as our home is badly damaged. We also lose our farming income as saline water decreases the fertility of our land. My husband could not farm here. Repeated loss of income prompted him to go to Kerala to work as a labourer," the young woman added. "When will this end?"
Rama Mondal, her neighbour, and now in the same relief camp, shares her plight. Rama's husband has no job for months because salinity of their land has left it unsuitable for farming.
"Despite the calamity we are hopeful of returning to our homes. Still, there is a big worry. The administration will offer us ration but who will give us cash?" Rama said.
During the past few years, the weather alert and the evacuation procedure undertaken by the state administration have largely helped minimise deaths. As a result, even in the devastating cyclones like Amphan and Yaas, the toll remained low.
But economic loss has been heavy.
Biswambhar Mandal, a professor of Kalyani University's commerce department, said that technological advancement has helped society to get weather alerts and plan timely evacuation drives but at the same time a mechanism and infrastructure to minimise the economic loss of people living in the coastal belts must come up. "People should have an alternative means to survive," he added.
Sagar's block development officer Sudipto Mondal acknowledged the economic impact of repeated evacuations. "The problem is genuine. But saving lives is the priority. Apart from giving food, we do support people to revive their livelihoods. But it is true, much of it is not sufficient."