Football backpacker bound for Brazil - Calcuttan saves up for more than a decade for dream trip to World Cup
Read more below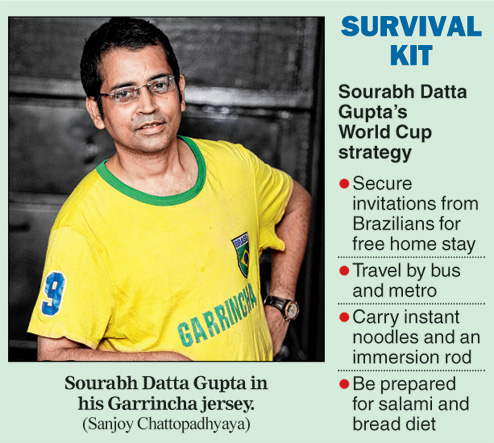 ---
Published 06.06.14, 12:00 AM
|
---
Pobre Indiano. Nao me roube (Poor Indian. Don't rob me)
Sourabh Datta Gupta's survival kit for Brazil includes these words in Portuguese that he has got custom-printed on a T-shirt bought at Maidan Market.
"People have been warning me about theft in Brazil. I thought it prudent to appeal to the better nature of potential strikers," said Sourabh, an employee of a state government undertaking who has been saving for more than a decade to fulfil his dream of watching the Fifa World Cup.
The 43-year-old's dream trip starts on Friday night with a train journey to Mumbai, from where he is scheduled to catch a flight to Brazil.
Sourabh's closest encounter with Brazilian football before this was in 2002, when he was based in Delhi.
He had read about Ronald Machado, the husband of the then Brazilian ambassador, playing with Garrincha and written to the embassy about his passion for the game and admiration for the World Cup-winning captain.
"The World Cup was on at the time and I got an invitation to watch the matches at the embassy with the other Latin American ambassadors and also attend their World Cup party," he recalled, narrating stories about Garrincha at Botafogo club that he had heard from Ronald.
The Delhi experience made Sourabh, who calls himself a "worshipper" of jogo bonito (the beautiful game) and maintains a large collection of football videos, contemplate the possibility of watching a World Cup in a host country someday.
"I couldn't go in 2006 as I hadn't saved enough and missed the one in 2010 because the recession had dragged down the value of my stocks. With this edition of the tournament happening in Brazil itself, I just had to go, even if it meant selling off an apartment that I had invested in," he said.
But Brazil, he soon realised, was a very expensive country to be visiting. He had saved around Rs 3 lakh for the trip while travel agencies were said to be charging Rs 6-9 lakh for two-week package tours. His plan to stay there close to a month made Mission Brazil look even more intimidating.
When he last checked, dormitory bunk beds were going for Rs 8,500 a night ahead of the "good matches". Fortunately for Sourabh, he had a friend's uncle to fall back on. Babu S.P. Narahari, a bachelor from south India, has been based in Santos since 1969 and will play host to Sourabh when he isn't travelling across south and central Brazil. "I take Babu Mama around whenever he comes to Calcutta, so he was there for me. But I needed accommodation elsewhere too," he said.
Out of desperation, Sourabh posted an appeal on the online forum of a global cultural exchange group. As a member of the group, he had previously hosted foreigners visiting Calcutta and thought that someone would do him a similar turn in Brazil.
Strong online recommendations from each of his guests in Calcutta, including by a Brazilian boy named Hugo Sampio whom he had taken to Mohun Bagan Football Club, clinched the deal for Sourabh. It was only after acceptances started coming in, leaving him spoilt for choice in some cities, that Sourabh started his preparations for Brazil.
His first attempt at buying match tickets was during a Fifa online lottery in end-January. It landed him a ticket to a Portugal-Ghana match. In March, another round of bookings opened on the Fifa site. "But our server was down for an hour and a half and by the time I could log in, tickets to the best matches were gone," Sourabh recounted.
He had to be content with tickets to three second-rung matches. Another Calcuttan whom his "Babu Mama" has agreed to host on his recommendation repaid the favour by helping him get a ticket for a match featuring Brazil.
Sourabh will put on his yellow jersey and cheer his favourite team as the Samba boys takes on Cameroon in Brasilia on June 23. Before that, he has dates with Belgium and Algeria on June 17 and Columbia and Ivory Coast on June 19. He will watch a match each featuring Portugal and England as well.
Until the start of the week, Sourabh had been spending nights trying to book long-distance bus tickets online. Portuguese posed the biggest problem before his newfound Brazilian friends pitched in. "I sent them an SOS on WhatsApp," he said of Douglas Moreira and Hugo, who taught him that todos meant all stations and comprer was the command to buy a ticket.
But when CSP turned out to be social security number, and CIP the zip code, he was again all at sea. "Rodolpho Cammarosano de Lima, one of my hosts in Brasilia, offered his own address and other details and it was 4am when I went to sleep after buying the first of the bus tickets," Sourabh said.
Till a couple of days back, he did not have a host in Rio de Janeiro. "I had written to a girl seeking accommodation in the famous hillside favelas. They are much better than our slums. The rent would be cheaper and I would get to stay where Garrincha did!" he said.
On Thursday, he got an invitation from Suhaila Terra Brito, a doctor's wife.
In Rio, he does not have a match ticket yet but has booked his place in a football match organised by locals for fans from across the world. "I would have to pay a fraction of the venue rent. I have told them that even if I get to tap the ball once, I am in."