Folk songs for TMC campaign
Trinamul Congress was employing music to assuage the rural populations' worries about the CAA and the NRC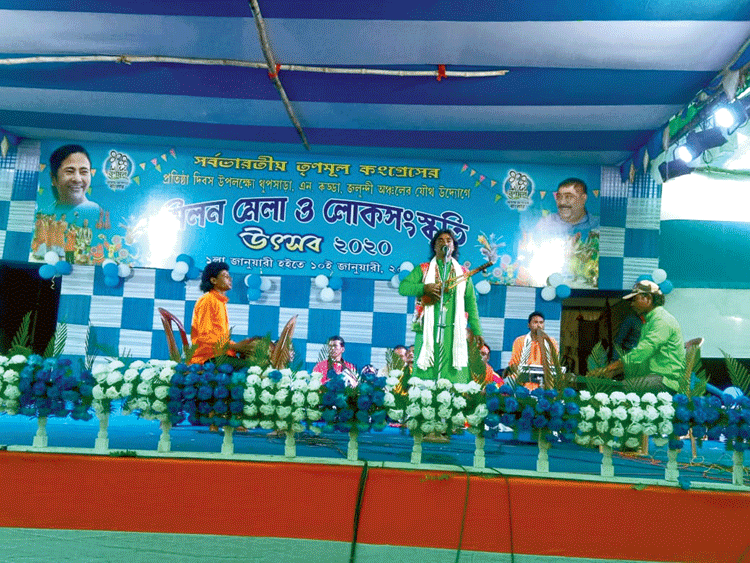 Folk singers at a programme hosted by Trinamul on the CAA and the NRC
Telegraph picture
---
Bolpur(Birbhum)
|
Published 03.01.20, 08:07 PM
|
---
Several district units of the Trinamul Congress in south Bengal have decided to field folk singers to further the party's campaign against the Citizenship (Amendment) Act and the National Register of Citizens.
Sources in Trinamul said other than spreading awareness of the harmfulness of the Centre's moves on citizenship, the party was employing music to assuage the rural populations' worries about the CAA and the NRC.
Senior Trinamul leaders said folk singers, accompanied by party workers, would visit different villages and perform anti-CAA and anti-NRC songs and programmes.
According to the leaders, several Baul, Fakiri and Bhadu singers in districts like Birbhum, Bankura and Burdwan have been asked to start composing tunes carrying the message. They said Jhumur and Tusu troupes of singers — who are popular in the Jungle Mahal — had also been enlisted.
"Central Bengal districts of Birbhum, Purulia, Bankura and Burdwan have a large number of folk singers who are also afraid of the CAA and the NRC. Hence, they welcome our effort," said Abhijit Sinha, the Birbhum district vice-president of Trinamul.
The Trinamul leaders said they had learned recently about the singers' attempts to craft new songs based on the NRC and the CAA. "We contacted and asked them to keep writing the songs while joining our effort," said a party source.
"They agreed because they want to caution villagers against the fallout of the CAA and the NRC," the Trinamul source said.
The Birbhum unit of Trinamul has organised a 10-day long cultural programme — Basapara Milan Mela O Lok Sanskriti Utsav — in Nanoor's Basapara, where around 50 folk singers have been invited to perform. The musical pieces also deal with chief minister Mamata Banerjee and other Trinamul leaders who are into the campaign against the CAA and the NRC.
"We have invited at least 50 folk singers of the district to perform at the cultural fest. We have organised the 10-day programme mainly to campaign against the CAA and the NRC. Residents of at least 100 villages were invited to the event," said Kerim Khan, Trinamul leader and a functionary of the Birbhum zilla parishad.
On December 30, Trinamul leaders in Purulia invited around 100 Tusu and Jhumur folk singers to an anti-CAA march led by Mamata.
"Tusu and Jhumur are popular in our district and we can connect people with those songs easily to explain the conspiracy of the BJP government. So, we have already asked folk singers who have written songs on the issue to take part in our coming campaign programmes," said Nabendu Mahali, Trinamul general secretary in Purulia.
Gorachand Banerjee, a Bhadu folk singer, wrote: "Ei matitey jonmo modeyr, amra Bongobashi/Debo na go hotey Banglay amra NRC (We were born on this soil, we are the people of Bengal/We will not allow the NRC in Bengal)."