Fixed by villagers, road awaits fitness report
Officials sit on inspection of stretch repaired by people's money, labour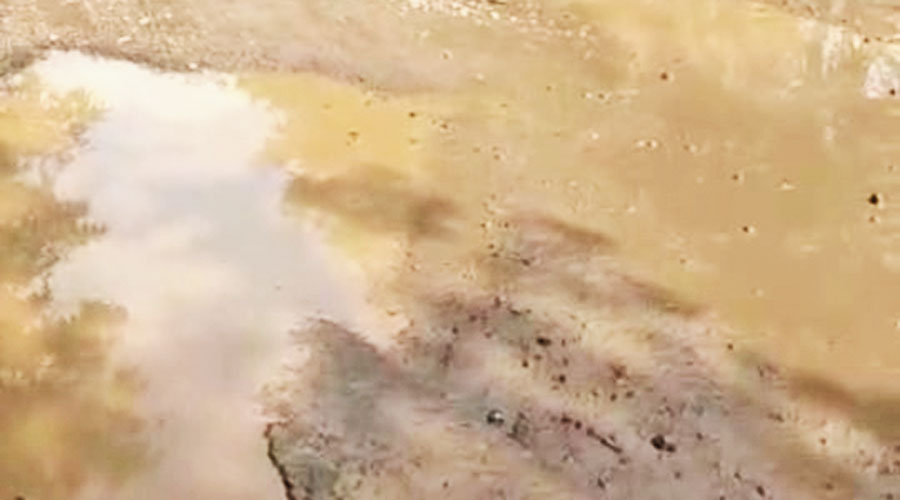 The damaged Jibanti-Sherpur Road in Murshidabad before repairs
Alamgir Hossain
---
Berhampore
|
Published 04.09.20, 02:55 AM
|
---
A 20km-long stretch of Jibanti-Sherpur road, repaired for Rs 80 lakh raised by villagers, remains closed over an administrative bottleneck.
Murshidabad district administration has refused to allow traffic there, citing the lack of an "inspection report". 
The road that links the district to Rampurhat in Birbhum was closed to traffic since June 3 as the administration felt allowing traffic on the crater-ridden stretch would lead to accidents.
The decision inconvenienced more than 1 lakh residents of the Jibanti-Sherpur area. When repeated pleas for repairs went in vain, villagers raised funds on their own, and repaired the road over a month ago.
"The government was supposed to do what the people have done with their own funds," a government official had admitted.
But asked why the administration was not allowing the road to reopen, district police chief, Murshidabad, K. Sabari Rajkumar said: "We don't have an engineer in police to certify whether the road is fit for movement of vehicles. We can't allow heavy vehicles on the road without a (fitness) report."
Atanu Sen, executive engineer of the public works department, which usually issues fitness certificates after roads are repaired, declined to comment. "The administration has restricted movement of vehicles on that road. I have nothing to comment regarding Jibanti-Sherpur road," said Sen.
But people are livid.
"Though the villagers spent Rs 80 lakh from their pockets, hired earthmoving machines and gave labour to repair the road a month ago, the stretch is closed because of administrative apathy," said a member of the Jibanti-Sherpur Sarak Unnayan Committee, formed to raise funds and facilitate the repairs.
Syed Mehboob Alam, secretary of the committee,  added: "Movement of vehicles was stopped as the road was full of potholes. Villagers repaired it with their own money, but a reluctant administration is not allowing vehicles to ply on the road. They can't even cite a proper reason for the delay." The villagers are livid as the administration sits on road inspection.
"We met the executive engineer of the public works department and district police chief on Wednesday. They assured us that the road would be opened after an inspection. It is over a month since we finished repairing the road, but the dilemma over an inspection continues," Alam added.
Some villagers also accused the police of extorting from truck drivers at points from where vehicles are being diverted towards Moregram and Berhampore.
"The delay to open the road is to ensure that the business of extortion can continue. The extortion amount ranges from Rs 4,000 to Rs 5,000 per truck," said Komal Sheikh, a lorry owner and resident of Mahalandi village in Khargram.