Fish vanishing, crabs lure crusader to peril
He demonstrated with his life the terrible reality of what he was fighting for when he was dragged away by a tiger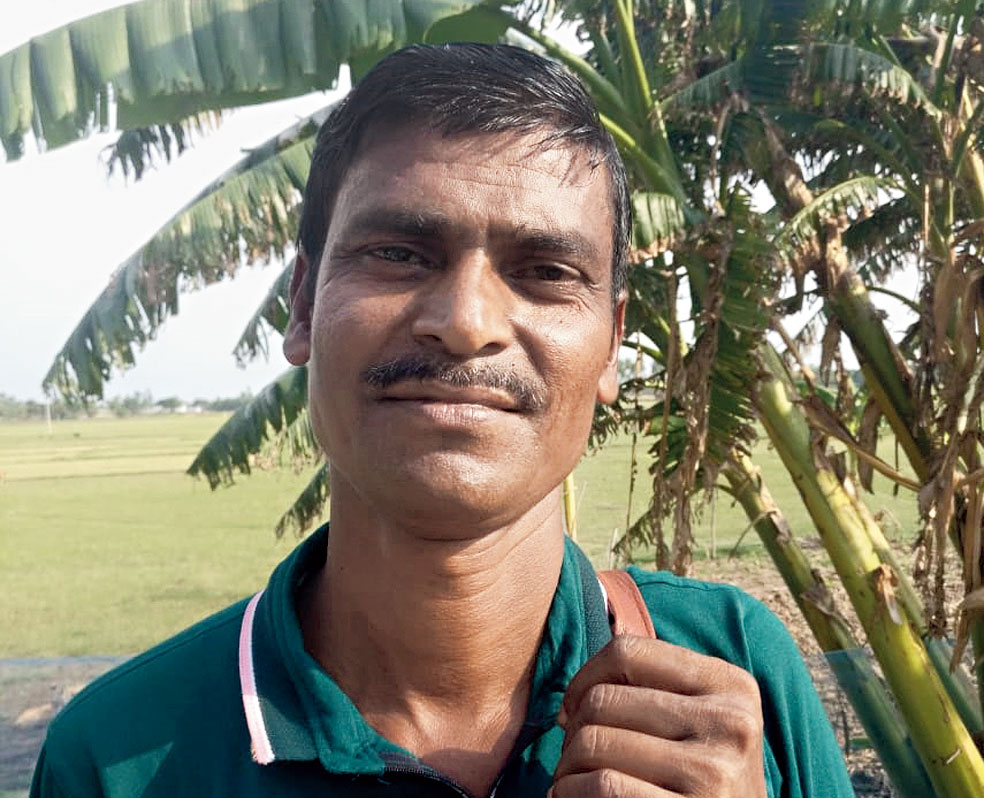 Arjun Mondal.
Picture by Jayanta Basu
---
Gosaba
|
Published 31.07.19, 09:06 PM
|
---
Arjun Mondal from Rajatjubilee village in the Sunderbans was fighting for the women who lost their husbands to tiger attacks. This Monday, two persons accompanying him reported that he was dragged away by a tiger.
Official word is still awaited on the fate of Arjun, in his early 40s and a tireless campaigner for the Sunderbans and human rights.
He was attacked by a tiger in the Pirkhali Gazi forest, near Sudhanyakhali. He had gone to catch crabs with two other men.
Married to Pushpo, Arjun has two daughters and a son. If the worst fears are confirmed, the wife of the protector of women whose husbands were taken away by the big cats also join the list of "tiger widows", a tag attached to those who lose their husbands to tiger attacks.
Crabs, available in the mud flats deeper in the forest, are now the most lucrative choice for Sunderbans fishermen. Fish are disappearing fast from the rivers close to the villages. Thousands of fishermen feel compelled to go deeper into the forest.
Dhrubo Mondal and Paritosh Mirdha, who were accompanying Arjun, said they got no chance to save Arjun.
"We started on Friday and spent all of Saturday and Sunday catching crabs. On Monday, at noon, we were setting up the fishing net in a narrow creek during low tide. Arjun was on one side and the two of us were on the opposite side of about a 20-ft-long boat," said Dhrubo.
"A strong wind was blowing and Arjun was facing the river to anchor the fishing net. The tiger appeared in a flash and took Arjun away… he had no chance. We initially thought about giving the tiger a chase, but did not as we also would have been at a risk."
On Tuesday, a group of local people and forest officials saw Arjun's trousers from a distance near the place of the attack but did not enter as "it was quite inside the forest", said Arjun's younger brother Ranjit, who accompanied the team.
"Our mother, all of us, repeatedly asked him not to go for fishing near the forest. Every time he used to say 'this is the last time' but again set out after some days. This time it really proved to be the last," said Ranjit who appears to have given up hope in spite of the absence of official confirmation.
"Arjunda had a meeting with us even on Friday regarding the possibility of mushroom culture," said Kaushalya Mondal from nearby Dayapur village, who had lost her husband in a tiger attack. She worked with Arjun, and was part of the team of women which visited Calcutta recently to draw the attention of the state authorities to their concerns.
"We don't know how to survive without Arjun," said Gita Mirdha, a relative and another tiger widow. "I know him for 20 to 25 years. His commitment, leadership and organisational skills were unparalleled."
"Arjun did not have much formal education but he was a true environmentalist and a social worker. With some money that we could provide, he formed a group of tiger widows in association with Sunderban Rural Development Society, which he had set up a decade back. He was also involved in mangrove plantation and managing plastic garbage in the area dumped mainly by tourists," said Sasanka Deb of the non-profit organisation Disha, with which Arjun worked for the past few years.
Arjun was instrumental in organising the Calcutta programme with the "tiger widows" to highlight their concerns at the state level.
Arjun, a lean man with the strong frame that comes from a life of constant and hard labour, struggled to make ends meet. He would work on his three-bigha agriculture plot, growing paddy and seasonal vegetables, earning about Rs 20,000 a year from this. He had also worked a while in Metro rail construction in Calcutta.
He saved some money after this and built his single-storeyed brick home in Rajatjubilee. The home was destroyed in Cyclone Aila in 2009 and had to be built again.
He earned a salary from Disha. But this was not enough and that was why he would go fishing. A foray into the forests could fetch Rs 10,000 to Rs 12,000 worth of crabs and fishes.
"Arjun always came with demands for others, particularly for tiger widows, but never asked anything for himself," said Deb of Disha.
On Wednesday, Arjun's relatives said the Sunderban coastal police station in Gosaba refused to accept the family's report on Arjun's death. The family is planning to go to the police superintendent's office in Baruipur on Thursday.
Arjun wanted his children to be educated, especially younger daughter Priyanka and son Rahul. Priyanka has passed higher secondary and Rahul completed secondary education.
Ashok Nayak of ActionAid, one of the organisers of the tiger victims' Calcutta visit, said: "The government should take immediate notice of the situation in the Sunderbans and arrange for compensation for the families of the victims."