Firhad Hakim slams TMC's 'dissatisfied souls'
The minister's remark came when asked about former party colleague Mihir Goswami, the Cooch Behar South MLA who defected to the BJP on Friday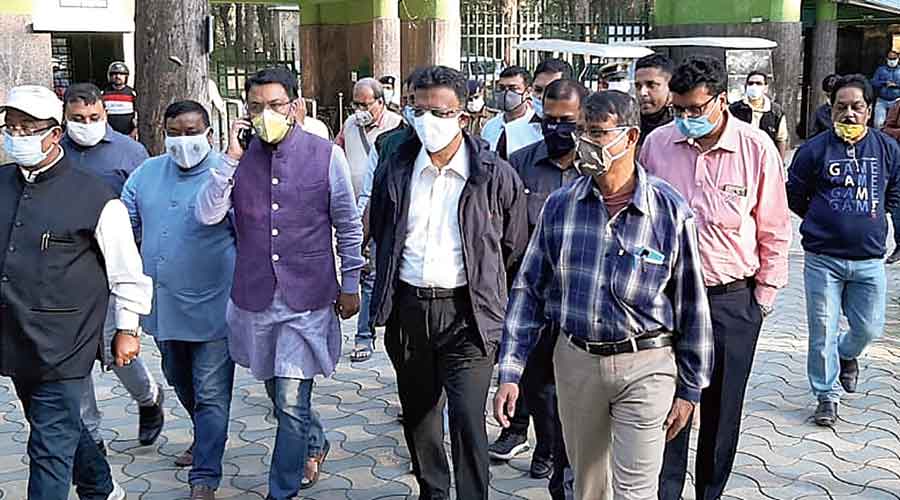 State urban development and municipal affairs minister Firhad Hakim at the Bengal Safari Park on the outskirts of Siliguri on Sunday
Passang Yolmo
---
Siliguri
|
Published 30.11.20, 02:48 AM
|
---
State minister and Trinamul leader Firhad Hakim came down on party leaders who defected to the BJP from Trinamul or were thinking of doing so, and labelled them "dissatisfied souls".
Hakim, who arrived here on Sunday for an event to be hosted by Siliguri Municipal Corporation (SMC) on Monday, said: "There are some dissatisfied souls who feel their aspirations have remained unfulfilled, after being elected as peoples' representatives and being put in the state cabinet. It is only because of Trinamul and Mamata Banerjee and people across the state know me. But some people who do not have any principles and are ready to compromise with their ideology are leaving the party or can think of leaving it."
The state municipal affairs and urban development minister's remark came when asked about former party colleague Mihir Goswami, the Cooch Behar South MLA who defected to the BJP on Friday.
Hakim dodged a direct reply on Suvendu Adhikari, the Trinamul stalwart who quit from the cabinet on Friday.
"He (Adhikari) is still in the party. I will not make any remark on him," Hakim said.
On Monday, Hakim will unveil a bust of Mahatma Gandhi at Kutcheri Road of Siliguri. The bust has been installed by the local civic body.
This is the first time that a minister of the Mamata Banerjee government will attend an event hosted by the Left-run civic body. Asok Bhattacharya, the CPM MLA of Siliguri and immediate past mayor, is at the helm of affairs at the Siliguri Municipal Corporation and chairs the board of administrators.
Bhattacharya had recently said he had invited three state ministers — the other two being Aroop Biswas and Gautam Deb — for the event.
Political observers pointed that it was indeed significant as during the past five years Bhattacharya and other Left councillors have been consistently vocal against the Trinamul-led state government, accusing the latter of bias against the SMC and not allocating it enough funds. State ministers, including Deb, accused the mayor and the Left-run board of trying to hide their own administrative failures through such excuses.
"It seems that the steady rise of BJP is one of the reasons that made Bhattacharya try and pass a message to residents of the city that they no longer maintain a distance with the Trinamul government," said an observer.
Hakim, when asked on the issue, ruled out the theory and said this was an official event where he would be present as a minister of the state. "It is an official programme where the state minister for municipal affairs and urban development will share the dais with the former mayor of Siliguri. The event is being organised by the civic body, there is no political element in it," he said.
After his arrival, Hakim also visited Bengal Safari Park. In the evening, Bhattacharya and some members of the board of administrators met Hakim and spoke on the region's infrastructure development.