Firhad Hakim asks Trinamul Congress dissidents to pull out of contest
The TMC leader said if the rebel candidates did not comply with the directive, they would be expelled from the party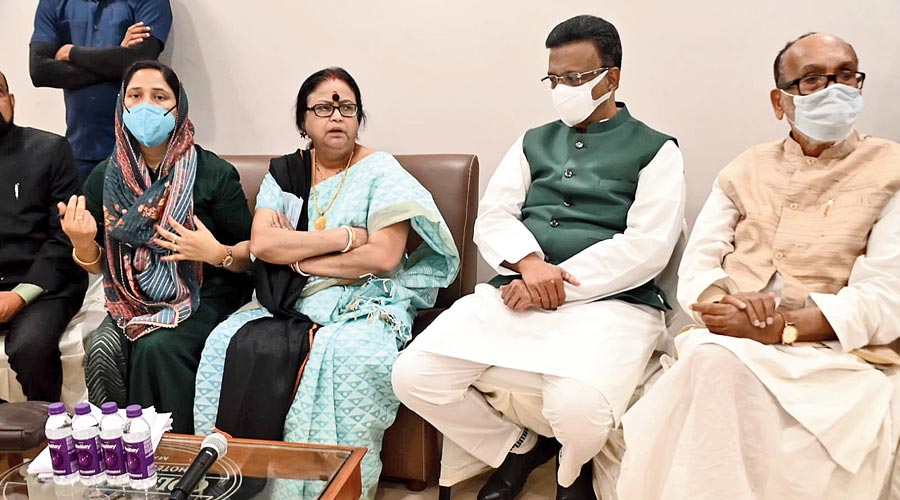 Minister Firhad Hakim with Trinamul leaders in Malda on Wednesday.
Picture by Soumya De Sarkar
---
Malda
|
Published 17.02.22, 12:41 AM
|
---
Bengal minister and Trinamul Congress leader Firhad Hakim on Wednesday said party dissidents contesting elections to two municipalities in the district could still evade disciplinary action if they extended support to official candidates. 
Hakim reached here on Wednesday morning to campaign for Trinamul candidates in Englishbazar and Old Malda municipalities (in Malda district).
"The time for withdrawal of nominations is over. However, there is still time for them (dissidents). They have to print and circulate leaflets in their respective wards, mentioning that they are abstaining from the contest, supporting Trinamul candidates and appealing to all to vote our candidates."
The Trinamul leader said if the rebel candidates did not comply with the directive, they would be expelled from the party.
"They should understand that it is not possible to give party tickets to everybody. It is a complete violation of the party's rules if one tries to defeat our official candidates by disguising as Independents," added Hakim, who is also the mayor of Calcutta.
In Malda, disgruntled Trinamul candidates are contesting in 14 wards of the two civic bodies as Independents.
"Leaders should understand the agony of independent candidates like us and the circumstances which compelled us to contest against the party. I am not sure whether any of the Independents will take the step suggested by Firhad Hakim. Almost all of us will support Trinamul to form the civic boards if we win in our seats," said an Independent contesting in Englishbazar.
The Malda district administration has issued a notice, mentioning that election for the vacant post of the sabhadhipati of zilla parishad will be held on February 23.
The post has been vacant since July last year when Gour Chandra Mandal stepped down as the sabhadhipati. Ahead of last year's Assembly polls, Mandal had defected to BJP. Trinamul sources said they had already announced the name of Abu Tayab Mohammad Rafikul Hossain, a senior zilla parishad member, for the post.
The BJP too, has decided to field a candidate for the post and will not let Hossain win uncontested, said sources.
Hakim on Wednesday met zilla parishad members of the party and asked them to support Hossain unanimously.