Passengers will be allowed into the terminal building of the city airport and to board a flight without any physical identity proof once a facial recognition technology is installed early next year, officials said.
A Tokyo-based company, NEC Corporation, has won the bid to set up the system, which passengers can avail themselves of only if they want to. A team from the company has inspected the airport ahead of the installation.
"We are expecting the first phase of the project to be implemented by February 2020. Initially, it will be set up in the domestic wing of the terminal. We will select two entry gates (for the installation of the facial recognition system)," airport director Kaushik Bhattacharya said.
Gates 2A and 2B or 3A and 3B are likely to be the ones where the system will make its debut.
"The existing system of entry and boarding an aircraft will not be discontinued because the facial recognition system will be optional," the director said. "At entry gates there will be two queues for the two systems."
The facial recognition system is part of the Centre's DigiYatra scheme.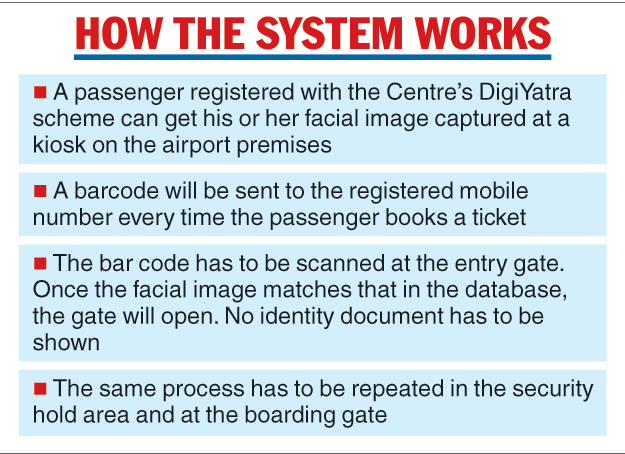 Telegraph picture
"Gates equipped with the technology will be set up at the entrance to the terminal, in the security hold area and at the entrance to aerobridges (through which fliers board aircraft)," said an official.
A passenger registered with the system can create a DigiYatra ID and get his or her facial image captured only once at a kiosk to be set up on the airport premises.
The passenger will receive a barcode on the registered mobile number every time he or she books a ticket.
"At the entry gate, the bar code has to be scanned. After the facial image matches that in the database, the gate will open automatically. No identity document has to be shown to the security person at the gate," the official said.
If the passenger does not possess any e-boarding pass, he or she has to collect a pass from the airline counter.
In the security hold area, the passenger will be frisked and hand-baggage screened. Here, too, one has to get the barcode scanned and undergo facial recognition before he or she is allowed to proceed towards the boarding gate.
The process will have to be repeated at the boarding gate, too.
The facility has been introduced on a trial basis at private airports such as the ones in Delhi, Hyderabad and Bangalore. Apart from the Calcutta airport, NEC is implementing the system at three other airports.