Express train damper for Digha tourism
Sources said this month the train had been 'running at a loss' and tickets were 'prohibitively expensive'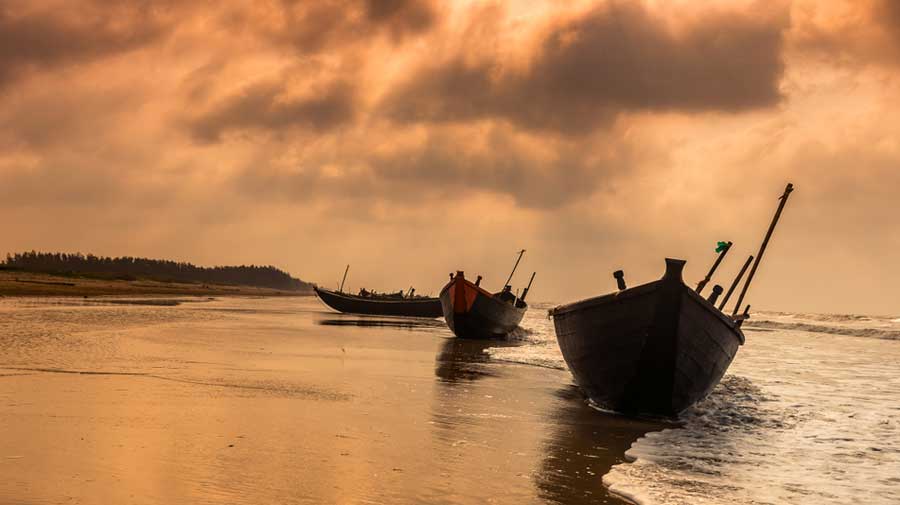 ---
|
Digha
|
Published 14.12.20, 01:16 AM
---
The South Eastern Railway has withdrawn services of the Howrah-Digha AC Super train since December 1, a move that has hit the flow of tourists to sea town Digha, which beginning March this year has suffered a series of lockdown-enforced hurdles.
The tourist resort, heavily reliant on local and express trains for ferrying tourists, received a shot in the arm with the resumption of the Howrah-Digha AC Super during Puja season in October but sources said this month the train had been "running at a loss" and tickets were "prohibitively expensive".
"The 450-seater chair-car was carrying less than 100 passengers a day for those months. It is because the round fare for that train was Rs 900 against the Rs 200 you would get for normal express trains," said a railway source on condition of anonymity.
Despite the high ticket prices, hoteliers in Digha had reported an uptick in their occupancies starting from Puja season. Now, passengers coming from Calcutta are compelled to opt for an alternative tourist destination or board local trains operating between Digha and Panskura or Mechheda or Santragachhi.
"The railway's decision to terminate the train from December 1 is affecting Mandarmani and Tajpur tourism as well. This is a tourist-reliant area, and cessation of express trains from Howrah has hit the industry hard. We are hoping for South Eastern Railways to take a positive step soon," said a member of the Digha-Sankarpur Hoteliers' Association.
The withdrawal of the Howrah-Digha AC has compounded the problem for tourists as the South Eastern Railway is yet to resume services of the Tamralipta and Kandari express trains that had stopped plying since the lockdown in March.
Many tourists from Calcutta and its surrounding areas are resorting to expensive private vehicles or buses for their weekend getaways.
Swapan Deb, 50, a lawyer from Tollygunge in Calcutta, travelled last weekend to Digha with four family members. Deb shelled out Rs 10,000 for hiring the vehicle when he was accustomed to booking the Tamralipta express for a tenth of the price for the whole family.
Sources in the hoteliers association said they were working on a formal proposal to submit to the Digha Sankarpur Development Authority (DSDA) on the resumption of the two express trains from Howrah.
"The current situation is a problem for tourists not only because there are no express trains from Howrah but also because of the timing of local trains. The last train reaches Digha now at 11.15am, which is inconvenient," said one hotelier. Tourists prefer arriving in the morning, not near lunch time.
DSDA vice-chairman Akhil Giri said the situation needed to be remedied given Digha's "paramount" importance in Bengal's tourism economy.
"Daily footfall reached 20,000 persons post unlock. Inconveniencing so many people does not make sense. We will appeal to railway authorities to resume express trains," he said. If Puri can have trains and buses, why not Digha," he added.
Railway officials said the decision to resume express trains was up to the Union railway ministry. "If the state government gives us a specific proposal regarding this train, we can forward it to the ministry," said divisional railway manager (Kharagpur), Manoranjan Pradhan.
"Covid protocols dictated these route closures. Additionally, the Howrah-Digha AC Super route was running at too huge a loss to bear," added another senior official.