Hills leader relies on social media mandate to decide party name
Ajoy Edwards, despite being actively involved with the GNLF for few years, has managed to create a strong base of well-wishers in the region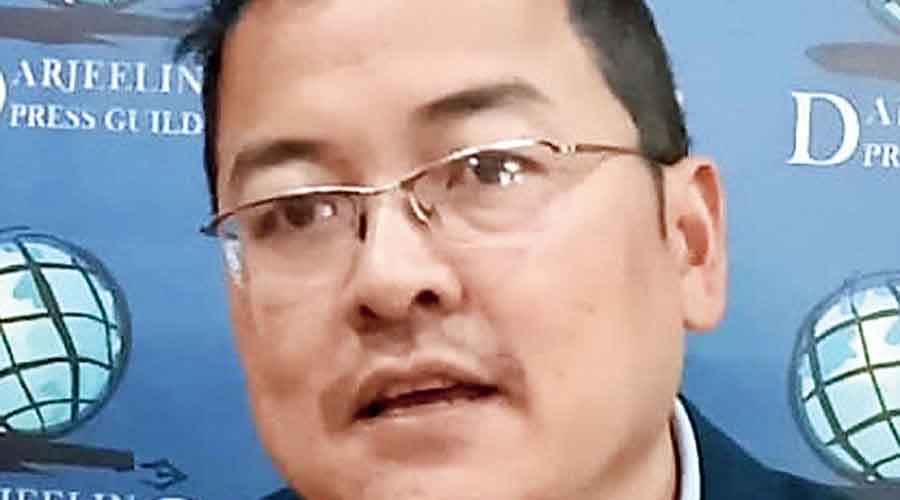 Ex-GNLF leader Ajoy Edwards.
File photo
---
Darjeeling
|
Published 20.11.21, 03:06 AM
|
---
Thousands from Darjeeling and across the globe are voting through WhatsApp, SMS, Facebook, Twitter, Instagram and email not for a reality show contest but to choose a name for a political party.
Ajoy Edwards, a former GNLF leader who has decided to launch his own party, has come up with an innovative and engaging strategy to formalise his party's name.
On Thursday evening, Edwards posted a video on his Facebook page and suggested four names and requested people to choose a name for the party.
 "This will be a party for the people and one that carries the people's vision," Edwards said.
He said that he had sought suggestions for the party's name and received a total of 122 suggestions from people. Of them, Edwards and his team shortlisted Jan Shakti, Janta Kalyan Party, Jan Awaaz and Hamro Party.
 Edwards' call for people's participation has been overwhelming.
 "Till now we have received 23,000 comments," Edwards said around 1pm on Friday. "Many are also suggesting that the word Gorkha should be included and we are open to feedback."
Comments and the choice of name can be sent till November 24.
 "On November 25, we will make public from Mirik the name that people have chosen for the party. Out of the four, I like one name (the most) but now the name of our party depends on the people's choice," said Edwards.
The party's flag will also be unveiled before the public that day.
However, the party will not be launched on November 25, the hill leader said.
"Our steering committee will decide the date of our party's launch," said Edwards.
The launch of the party would be through a medical camp for workers of the closed Peshok tea garden, about 30km from Darjeeling.
"We will launch the party while doing social work. We have also decided that we will not come up with a fancy flag. The money needed to print such flags can be used to help the poor," said Edwards.
Edwards' team is looking at coming up with a flag which one can make at one's own home.
Edwards, despite being actively involved with the Gorkha National Liberation Front for the last few years, is known for his philanthropy and has managed to create a strong base of well-wishers in the region.
The former GNLF Darjeeling branch committee president quit the party after alleging that his childhood friend and GNLF president Mann Ghisingh had betrayed him after using him.
The decision of Edwards resigning from the GNLF, which is also an ally of the BJP, hit the regional party hard.
An exodus of leaders from the GNLF followed with many pledging their support to Edwards. Many said that they had joined the party because they were impressed by Edwards and his social work.