Everybody (almost) forgot foundation day of Kalyani
Satellite town had been conceived by Dr BC Roy on the site of what had been US air base Roosevelt Town in World War II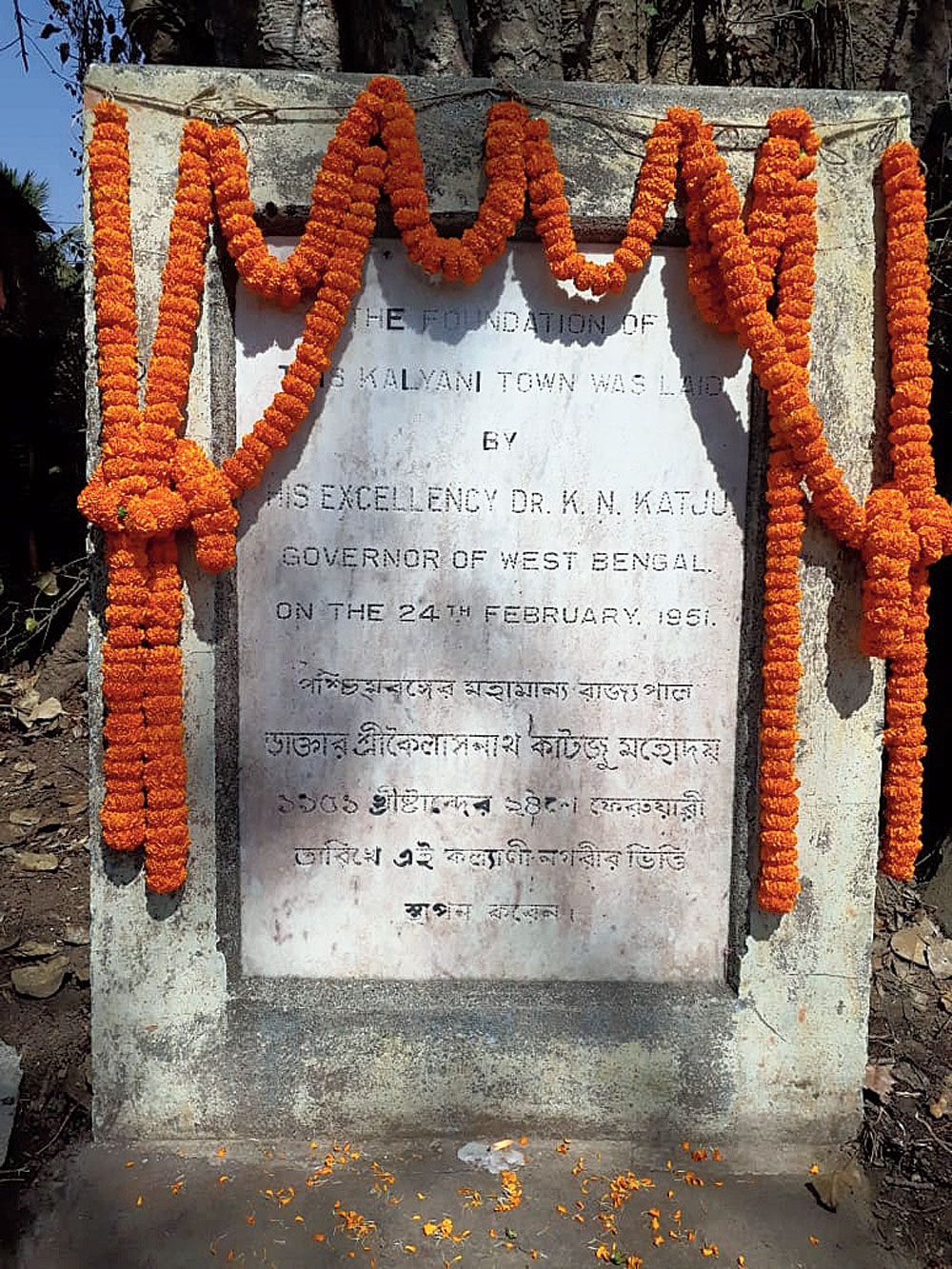 ---
---
A section of residents of Kalyani town in Nadia has demanded that its foundation day be celebrated every year.
The town had been founded on February 24, 1951, and Kalyani still boasts a plaque announcing its establishment by then Bengal governor Kailash Nath Katju on that day.
The 68th foundation day of Kalyani town passed off silently on Sunday, except for a garland put on the plaque by the local councillor.
Banani Mridha Majumder, a senior teacher at Kalyani University Experimental School, said it was unfortunate that despite knowing the specific date of the town's foundation, there had never been any initiative by the district administration or the municipal authorities to observe the day.
The town had actually been conceived by then chief minister Bidhan Chandra Roy. During World War 2, Kalyani was the site of a US air base known as Roosevelt Town or Roosevelt Nagar.
Several Kalyani residents this correspondent spoke to said they were ignorant about the existence of such a plaque.
"About a year ago, someone took a picture of the plaque that was gathering dust in the vacant area of a PWD store facility in the town and posted it on the social media. The post went viral and people then came to know about the foundation day of Kalyani. From then on, many residents wanted that the foundation day of Kalyani be observed properly," said another Kalyani resident and a businessman Sambitpriya Saha.
Chairman of the Trinamul-run Kalyani municipality Sushil Talukdar admitted that there was a need to observe the foundation day as demanded by many residents in the town.
"We could find the foundation stone only last year. We initially planned to bring it out from its shabby location for preservation and celebration. But we changed our mind as it might not be a right step from the point of history. So, we wrote to PWD authorities in December to allow us space inside the store facility so that we could preserve the plaque and hold functions there."
Talukdar said the PWD was yet to respond.
A PWD official in Krishnagar said they had received a communication from the Kalyani municipality and sent it to Purta Bhavan in Salt Lake.