Didi nails package 'lies'
Mamata derides inaugural announcements by Sitharaman as 'oshwodimbo' (an equine egg — commonly used in Bengali to mean 'zilch')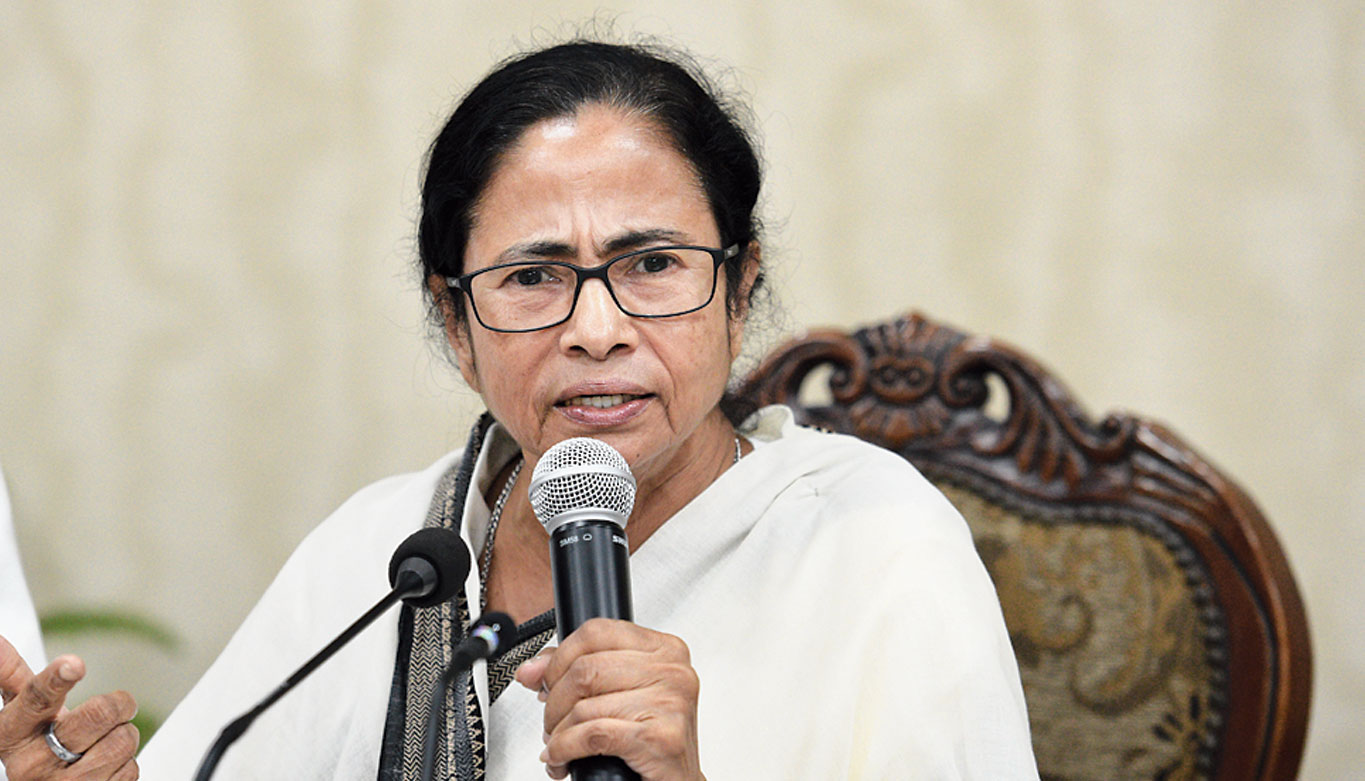 Mamata Banerjee
(Gautam Bose)
---
Calcutta
|
Published 18.05.20, 10:49 PM
|
---
Mamata Banerjee on Monday reacted with ridicule to what Bengal got in the grandiose Covid-19 "package" announced by Prime Minister Narendra Modi and lambasted the Centre over alleged assault on the federal structure because of the conditions for the raised borrowing limit for states.
The Bengal chief minister held her first news conference since Wednesday, when she had derided the inaugural announcements by Union finance minister Nirmala Sitharaman as "oshwodimbo (an equine egg — commonly used in Bengali to mean 'zilch')".
On Monday, she summed up Sitharaman's announcements over the next four days as: "Yet another oshwodimbo."
"Four more days, four more big zeroes. Kichhu nai (There is nothing). No rajbhog, no rasogolla, no jilipi, only knachkola (green plantain, also commonly used in Bengali to mean 'nothing'). That is my opinion. Whatever has been said on these things, totaltai mithyey (totally lies)."
Mamata went on to elaborate how the Bengal government found the strings attached to the raised borrowing limit — from 3 per cent of the annual ceiling permitted now, according to the FRBM Act, to 5 per cent of their GDP — unacceptable.
"For all states, they claimed, the FRBM Act's borrowing ceiling was being raised from 3 to 5 per cent. Let me tell you now, actually we will get only 0.5 per cent. What about the remaining 1.5 per cent? There are conditions laid out for that," said the chief minister.
According to the formula laid down by Sitharaman, states need to undertake reforms in four areas and take actions as per central requirement to unlock 1 per cent additional borrowing over and above 3.5 per cent allowed unconditionally.
The sectors mentioned by the Union finance minister
include a "one nation one ration card", ease of doing business at the district level, reforms with power distribution companies and the revenue generation of urban local
bodies.
"Those conditions, if I adhere to them, then my state's federal system is as good as gone. If we don't accept them, we will not get the relaxation. I think it is better not to bow our heads and carry on… Chitto jetha bhayshunyo (Where the mind is without fear)," said Mamata, citing Rabindranath Tagore's famous poem. "Unnecessary interference in the work of the state government, at this time."
An additional 2 per cent borrowing headroom would have brought Rs 24,000 crore extra loan to Bengal, which has generated only 13 percent of own revenue in April.
On Sunday, reacting to Sitharaman's announcements, Bengal finance minister Amit Mitra had attacked the conditional approval and pointed out reforms demanded to be undertaken by the Centre had no link to the extraordinary situation emerging out of Covid-19. He also said the conditional approvals were extraneous as states anyway needed NOC from the Centre every time they borrowed.
On Monday, the Trinamul Congress chief said amid the lockdown's economic fallout, many states have taken drastic measures, which her government has not.
"Many other states have increased taxes on petrol and diesel, we haven't. Many states — even those ruled by the ones giving lofty bhashan — have cut 25-50 per cent salaries of government employees. Dearness allowances, frozen. In some places, one month's salary being cut in the year. We are not taking any such step, nothing anti-people," said Mamata.
"Despite that, if they say they will take the control of our power sector here, nothing will remain with the state. I will say: 'Cannot do it'. I don't want such money. If I am told, I must increase taxes, more taxation for the urban centres… Calcutta, Howrah, all civic areas. I will say: 'Cannot do it'. If I am told I have to give data, so that they can send things with their symbol and photographs, so that they can also make us give away the public distribution system. I will say: 'Cannot do it'," she added.
Mamata lambasted the media for allegedly not "exposing the litany of lies" at the Sitharaman news conferences.
"The biggest problem is the media in this country no longer upholds the truth, because everything is controlled, especially for the national outlets…. So many of you present as the truth, what is nothing but lies, to the people," she said.
"The truth, I hereby state, is that to mitigate the Covid-19 calamity, we got absolutely nothing," added the chief minister.