Durgapur barrage repair delay impacts people, industry
Durgapur Projects Limited had to shut down power generation over insufficient water supply triggering power cuts in the town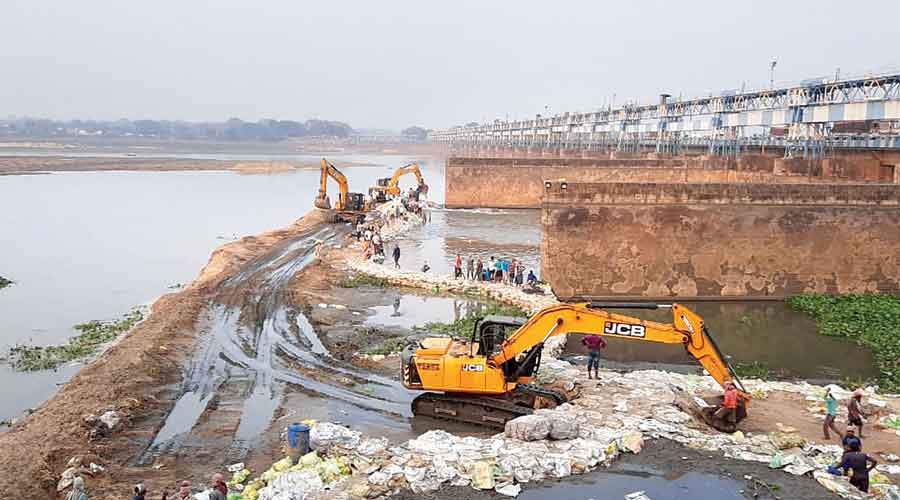 ---
Durgapur
|
Published 04.11.20, 01:12 AM
|
---
The delay in repairing the damaged sluice gate of Damodar Barrage caused the state-run Durgapur Projects Limited (DPL) to shut down power generation from Tuesday morning over insufficient water supply, triggering power cuts in the town reeling from water crisis ever since the bent gate was spotted on Saturday.
Officials of the power utility said they had exhausted its stored water on Tuesday and had to shut down the 300MW seventh unit.
"At present, two of our units — 300MW seventh unit and 250MW eighth unit – generate power. The eighth unit was stopped for maintenance for a couple of days and today (Tuesday) we had to shut down our seventh unit in the absence of water," said Swagata Mitra, a DPL spokesperson.
DPL, merged with West Bengal State Electricity Distribution Company Limited two years ago, supplies power to domestic and bulk consumers in and around Durgapur town. "Durgapur's daily power requirement is 250MW," said a plant official.
Mitra claimed there would not be any powr shortage in Durgapur as the WBSEDCL would route power to the region from other grids.
However, some residents questioned Mitra's claim as several parts of Durgapur started to witness power cuts.
"Power went off twice for 30 minutes on Tuesday morning. We are already suffering from water scarcity and now power crisis has added to our woes," said Vishnu Khaitan, a factory owner in Durgapur.
The barrage crisis caused the Mejia Thermal Power Station of Damodar Valley Corporation in Bankura to drop power generation to 1,210MW from its capacity of 2,340MW. The plant shut two of its eight units and stopped supplying water to its township."We urged rural body functionaries to ensure water supply through tankers to our township," said an MTPS official.
The plant supplies power to Indian Railways, Coal India, factories in West Burdwan, Bankura and Purulia and exports power to Bangladesh. The plant also supplies power to Jharkhand, Madhya Pradesh and Kerala. "We stopped supplying power to the three states," the official added.
Most small and medium scale industries in the region have reduced or stopped production since Monday.
Tanker relief
In Durgapur and Bankura, officials of PHE and civic authorities in the two towns supplied water for domestic use in around 400 tankers on Tuesday.
"We are supplying water in 80 tankers in three shifts from Tuesday in Durgapur town. We are also supplying water pouches from mobile treatment units in various areas. There is scarcity of water at the moment," said Dilip Agasty, Durgapur mayor.
Durgapur town usually requires around 200 gallons of water per day.
In Bankura, the civic body authorities supplied water in tankers and pouches.
Despite Agasty's claim, the CPM and the BJP blamed the "inefficiency of the Mamata Banerjee government" for the present crisis.
"It is a manmade crisis. The government is spending money in organising religious festivals but cannot arrange money to overhaul the barrage. They also did not take lessons from the 2017 incident in which another gate was damaged," said Pankaj Roy Sarkar, CPM West Burdwan district secretariat member.
BJP state vice-president Raju Banerjee said: "The state government has money to spend on donations to clubs and puja committees but for public service they expect funds from the Narendra Modi government."