Barrage crisis awaits long-term solution
Bengal govt to marshal its resources to supply water to residents in Durgapur and Bankura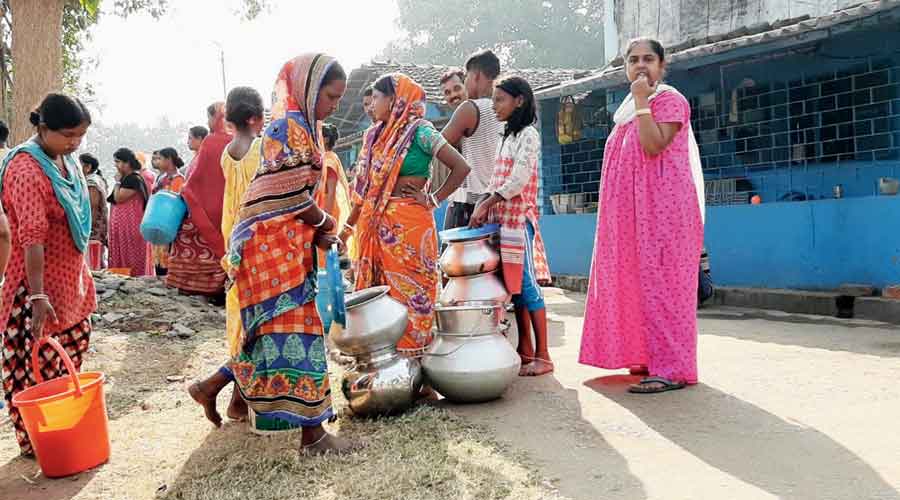 ---
Durgapur
|
Published 03.11.20, 03:09 AM
|
---
Damage to one of the 34 sluice gates of the Durgapur Barrage on Damodar river on Saturday has triggered a water crisis in the region, prompting the Bengal government on Monday to marshal its resources to supply water to residents in Durgapur and Bankura.
Around 25 lakh people have been affected with the upper catchment area going dry following the damage to gate number 31 of the Durgapur barrage.
The manner in which the Mamata Banerjee government swung into action made it clear that it was trying its best to avert a repeat of the 2017 water crisis that had triggered people's unrest.
Aware of the political consequences if the crisis lingers and memories of the 2017 unrest still fresh in the minds of many, sources in the administration said chief minister Mamata Banerjee instructed the public health engineering (PHE) department, civic bodies and gram panchayats to ensure sufficient water supply in the region before Union home minister Amit Shah's proposed two-day visit to Durgapur and Bankura from November 5.
Starting Monday, the state PHE department supplied 2 lakh drinking water pouches to the civic authorities of Durgapur and Bankura for distribution among the residents to handle the drinking water crisis. PHE officials said seven mobile water treatment units that produce 20,000 water pouches per hour had been sent to the districts of West Burdwan (where Durgapur is located) and Bankura.
"We have also sent 36 tankers in various blocks of Bankura, including the town, to supply water to the people. Around 2 lakh water pouches have been distributed in Durgapur and Bankura on Monday and the number (of pouches) will be increased from Tuesday," said a PHE official in Durgapur.
Durgapur civic authorities said they were supplying water through 65 tankers in various areas of the town.
"We have already distributed one lakh water pouches that we received from the PHE so far. The situation is under control. We are expecting an improvement by Wednesday," said Pabitra Chatterjee, mayoral council member (who is in charge of water supply), Durgapur.
People made a beeline in front of the tankers when they arrived in their localities. But the actual supply remains far short of the demand.
Many residents of Durgapur and Bankura complained of water scarcity.
"I had to wait for 90 minutes to get a bucket of water. I need at least 10 more buckets," said Ramkrishna Samanta, 68, a retired Durgapur Steel Plant employee. "The civic body has sent only one tanker whereas we have around 450 families in the locality," said Bhadu Pal, another Durgapur resident.
The situation was no different in Bankura town. "We are forced to buy packaged drinking water for domestic use as we do not have other options. The cost of water per bottle has gone double," said Mrityunjoy Biswas, a resident.
The crisis that has not only affected households but also industries and power plants in the region that depend on the Damodar river for water.
Though domestic consumers in the region do not depend on Damodar Valley Corporation's Mejia Thermal Power Station in Bankura, officials at the plant feared that power supply to bulk consumers might get affected if the crisis persists on Tuesday.
"We will not be able to produce power from Tuesday evening if we do not get fresh water. We are running the plant with stored water but that will get exhausted on Tuesday," said an engineer at Bankura district's Mejia Thermal Power Station of the DVC. The plant generates around 2,350MW of power from its eight units and makes bulk supplies to Indian Railways, Coal India and to Bangladesh.