After two years, Hindu and Muslim families celebrate Puja together
Residents of Mominpara of Barrackpore's Jagaddal were able to bridge the rift following communal unrest fomented in the area by alleged outsiders in 2019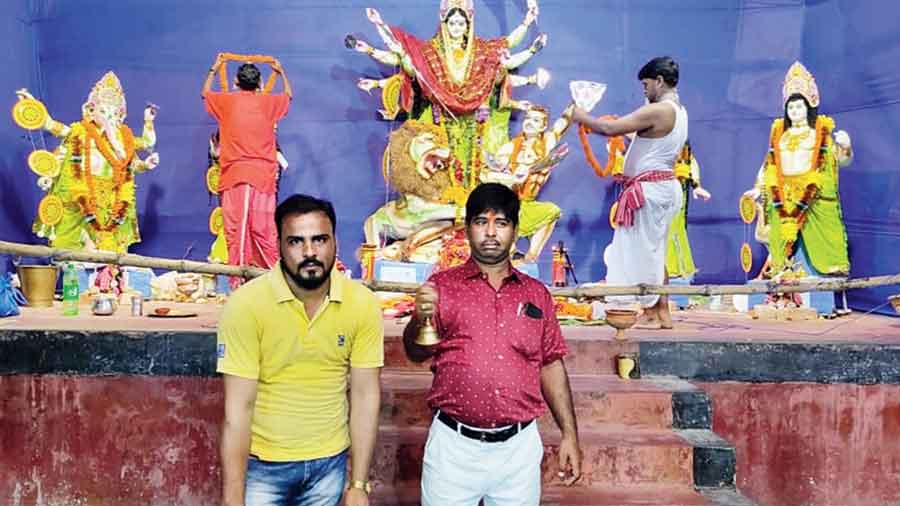 Puja committee secretary Mohammed Raja Ansari beats the dhaak and president Birju Prasad Lal rings the bell at the Mominpara pandal on Thursday.
Tapas Karmakar
---
Jagaddal
|
Published 15.10.21, 01:18 AM
|
---
After a two-year gap, some 300 Hindu and Muslim families have come together in Mominpara of Barrackpore's Jagaddal to celebrate the golden jubilee year of the local Sri Durga Sati Sangha puja.
This puja is special for them, because they were able to bridge the rift following communal unrest fomented in the area by alleged outsiders, in the wake of the victory of  BJP's Arjun Singh in the Lok Sabha polls of 2019.
Residents of Mominpara, in ward 17 of Bhatpara Municipality, which is Singh's backyard, have unanimously chosen private tutor Birju Prasad Lal, 47, as the president of the puja committee, and mechanic Mohammed Raja Ansari, 28, as its secretary.
"Hindus and Muslims have been living for ages here in harmony and peace. There was never any suspicion in either against the other. People here, for decades, have jointly organised Durga Puja and the Tazia of Muharram," said Ansari.
"Unfortunately, this pluralist ethos was disrupted two years ago when some outsiders attacked the area with vested political interests, which
rendered many from both communities homeless. Many people had to flee the area in fear. But people gradually understood that their neighbours were not their enemies," he added.
Bhatpara of Jagaddal, under the Barrackpore Lok Sabha seat, comprises pockets such as Kankinara, Titagarh, Kanchrapara, Garulia, Bijpur, and Amdanga, which had been volatile since May 23 of 2019, when the results of the general election came out.
At least seven lives were lost in a violent turf war between Trinamul and BJP, allegedly energised by MP Singh.
Puja committee president Lal said people have learnt to trust again. "People have understood that politicians had vested interests in keeping the Hindus and Muslims divided. It took some time, but the initial mistrust that marred the puja and Id celebrations of the past two years is now a thing of the past. Last year, Covid-19 was also a major factor (behind the muted celebrations)," said Lal. "Hence, people in the area, irrespective of faith, wanted to make this Durga Puja memorable while adhering to Covid-19 protocols."
On Thursday, Ansari was seen beating the dhaak while Lal was ringing the ceremonial bell, as members of both communities were busy preparing for Mahanavami rituals.
Around 1,500 people who live in the area are mostly daily wage earners. A large part of the population works in the jute mills of the area, some of which have suspended work. Many people of the area also work as construction workers and small-time traders. All have suffered serious losses in the pandemic.
"We had big plans for the celebrations this year. But, the economic impact of Covid-19 forced us to rationalise costs. People here do not have much spare money. So we had to scale down the celebrations with whatever small donations that people could give," said Ansari.
However, despite the modest pandal, people are happy, said Lal.
"For all of us, this is more of a reunion. Residents have vowed against getting influenced by others and are firm about resisting divisive attempts in the future," he said.