Durga Puja 2019: Excavators' tradition lives on
'Gourhari began the puja after Goddess Durga appeared in his dream with two big hands and four small hands'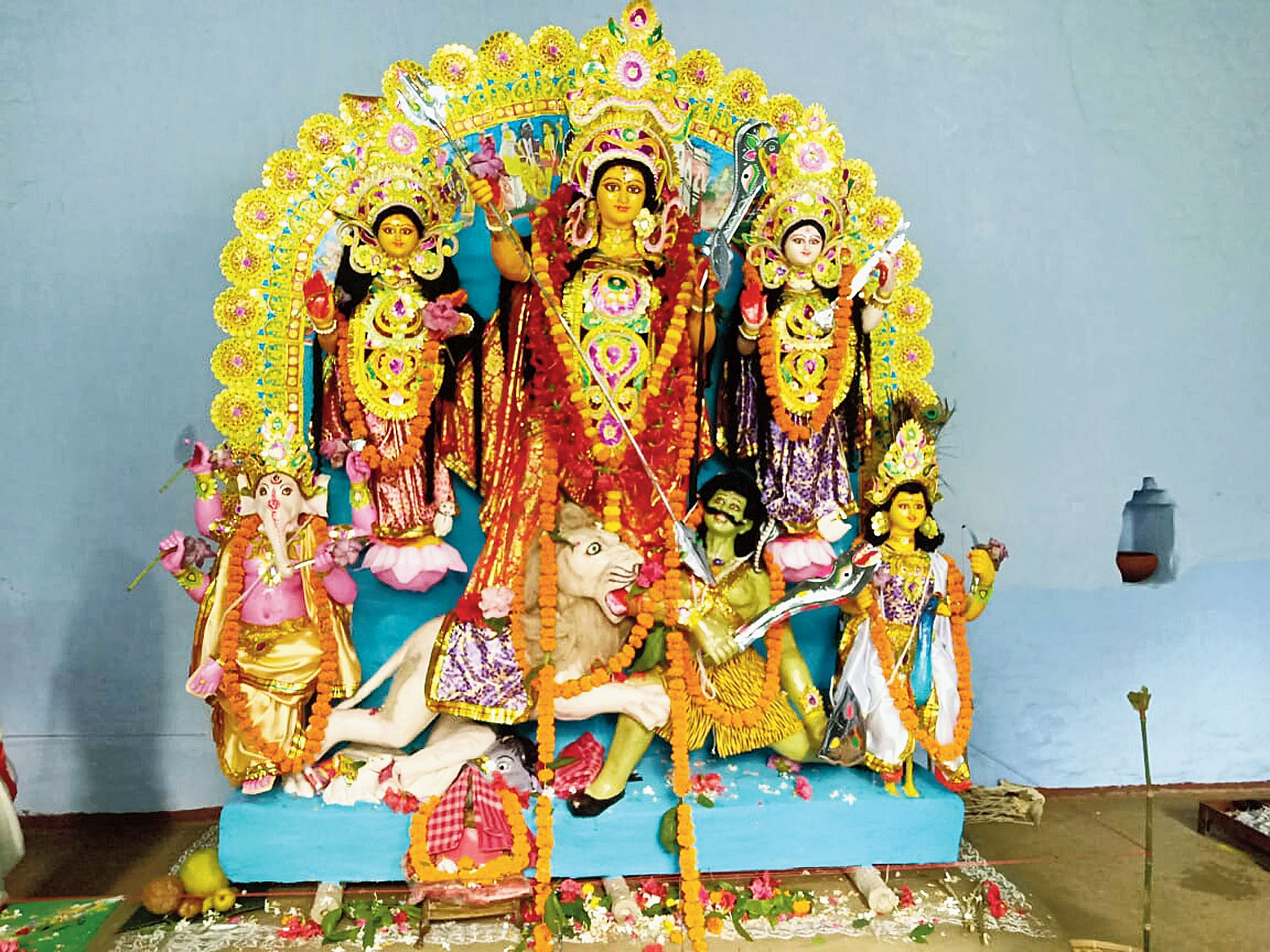 The Durga idol at Rakhaldas Bandopadhyay's puja.
Picture by Chanchal Pal
---
Petrapole
|
Published 08.10.19, 06:50 PM
|
---
Rakhaldas Bandopadhyay may have been a reputable archaeologist to the world who unearthed the ruins of Mohenjo-daro but to Chhoyghoria in Petrapole, North 24-Parganas, he was a humble village boy who religiously attended the family Durga puja that his great grandfather Gourhari had started.
One of the oldest pujas in North 24-Parganas, it is still celebrated with pomp and gaiety, and is a must see for those interested in historical nuggets.
This puja bears a unique identity for the different look of the deity as well as its association with the eminent archaeologist, who was born in Murshidabad's Behrampore, but Chhoyghoria in Petrapole was his second home. Lore has it that Bandopadhyay never missed the Durga puja at his ancestral home in the village, 3km from Bongaon town.
According to family legend, Gourhari began the puja after Goddess Durga appeared in his dream with two big hands and four small hands. This look has been retained. The other distinctive feature is that all the puja arrangements are done by the male members of the family.
Deb Bandopadhyay, a member of the present generation of the family, said: "While the two features are part of our family traditions since the beginning, the puja during the first part of the 20th century became synonymous as Rakhaldas Bandopadhyay's puja for his strong involvement in organising it."
Rakhaldas was a multifaceted character and apart from being an archaeologist, he was a museum expert, a historian and a teacher who authored many books such as Prehistoric, Ancient and Hindu India, An Indian City Five Thousand Years Ago and Mohenjo-daro.
"He never missed any Durga puja at our Chhoyghoria home despite his busy schedule. I have heard from our elders that family members and local people used to wait eagerly for his arrival during Puja," added Deb, a marketing executive of a multinational company in Calcutta.
Deb's mother Sobha Bhandopadhyay, 82, said: "As per the family tradition, the male members of our family organise the puja. All the work associated with the puja is done exclusively by the male members from the beginning. The tradition is still continuing even though the women now extend support. I have heard from my in-laws and other elders that Rakhaldas used to take a lead role among the male members to organise the puja."
"He was a liberal person and used to mingle with people from all walks of life. There were many people in our locality who were financially weak and used to feel isolated during Puja. It was Rakhaldas who took the opportunity to help these needy people and invited them to join the celebration. I have heard that during every Durga Puja he donated garments to these people and allowed them to leave only after reciting Chandi hymns and serving them prasad personally," she added.