DPS Megacity invokes goddess to celebrate togetherness
Creativity of 1600 students on show at pandal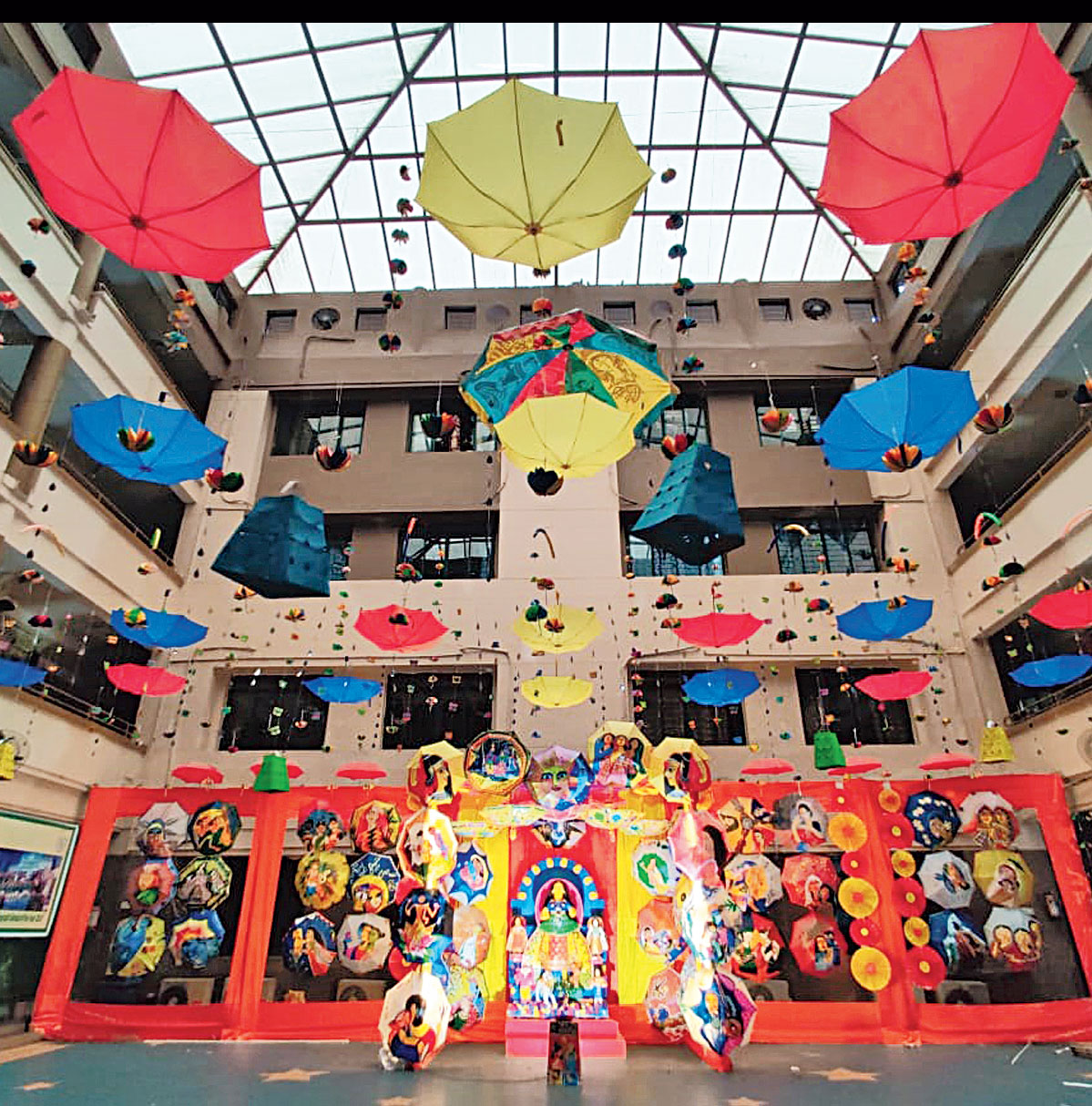 ---
|
Calcutta
|
Published 28.09.19, 08:10 PM
---
Goddess Durga and her children sits in a unique pandal that shows the creativity of students and teachers of a city school.
The pandal of Delhi Public School Megacity has been decorated with colourful paper umbrellas crafted by 1,600 primary students, with a few teachers and non-teaching staff also pitching in.
The school authorities say the Puja is not about performing rituals but to let children appreciate art and send across the message of "communal harmony" and "the spirit of togetherness".
DPS Megacity was awarded The Telegraph School of the Year at The Telegraph School Awards for Excellence 2019 held earlier this month.
"We are secular in our outlook. Irrespective of their religion or caste, we have involved the teachers, non-teaching staff and the children in the activity. It is a process where everybody is involved for doing something good and work towards communal harmony, which is the need of the hour. We are teaching children to realise that we are not separate. We must live together and share each other's happiness," said principal Indrani Sanyal.
The theme of the Puja, which will be inaugurated on Monday, is the invincible spirit of the goddess that protects all. The strength of the goddess is also being invoked to make students realise the need to stand up against social injustice.
"Those involved in the project is either a Christian, a Muslim or a Hindu and if we embrace other's religion we touch their hearts. When teachers see me so enthused, they give their best and similarly I see the same enthusiasm in them during the Christmas carnival," said Jude Baptist, the headmaster of the school.
While children from classes II to V have made the paper umbrellas, their teachers and non-teaching staff painted the original ones. "We made the umbrellas and during the parent-teacher meet last week, I showed the artwork to my parents. Our creativity is now part of the display," said Class V student Roopkatha Ghosh.
The decoration includes about 100 original umbrellas, several of which have been hand-painted in the tradition of kalamkari, Madhubani and patachitra. A few of these umbrellas will be distributed among the underprivileged people living in the school's vicinity, while the designer ones will be auctioned during the Christmas carnival. The proceeds will be used for charity, a school official said.
Interestingly, the idol has been made by a teacher over six months, while a group of teachers made the deity's ornaments.