Door snag trips Metro
Sources attributed the snag to a piece of cloth that got inserted into the door channel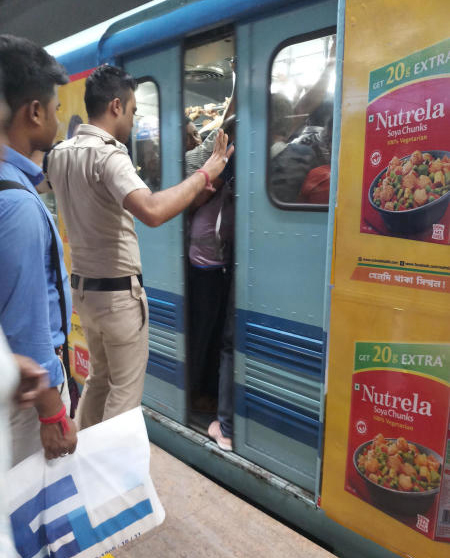 ---
|
Calcutta
|
Published 13.09.19, 09:35 PM
---
A non-AC Metro train had to be evacuated at Maidan station during office rush hour on Friday morning after one of the doors malfunctioned. The same train picked up passengers from Kalighat a few minutes later and continued with its journey towards New Garia.
Metro sources said the train had to be evacuated because the motorman could not isolate the affected door and shut it mechanically. A Metro engineer was eventually able to do it before it reached Kalighat.
The sources attributed the snag to a piece of cloth that got inserted into the door channel.
Door glitches have become the most common problem in the snag-prone fleet of Calcutta's transport lifeline. Metro officials said the newer AC rakes were more prone to door problems than the older rakes.
Since the July 13 death of Sajal Kumar Kanjilal, whose hand got trapped between the door flaps of a coach while he was trying to board it at the last moment, at least four door-related problems have disrupted Metro services.
On August 31, faulty doors had disrupted services three times within a span of two hours.
On Friday, the affected train had chugged into Maidan station around 9.50am. Before leaving, the motorman spotted on his panel that one of the doors in the second coach was not closing properly. An official said there was a mismatch in the door indicator lamp signals and the actual closing and opening of the doors.
"The motorman then tried to isolate the door from the system and shut it physically. But he could not do it properly and alerted the control room. It was then decided that the train would be emptied. An engineer inspected the door on the moving train and was successful in shutting the door mechanically," said the official.
"The empty train left Maidan at 10.10am. The problem was fixed and passengers boarded the train from Kalighat," Metro spokesperson Indrani Banerjee said.
An inspection of the door at the New Garia car shed revealed that a piece of cloth was trapped in the channel of the door. It was removed and the train put back in operation.A report by the commissioner of railway safety (Metro circle), who was probing the July 13 fatal accident at Park Street station, has said the carrier should replace the "overaged" trains.
The affected train is of NGF make and around two decades old. Some of the trains in the Metro fleet are three decades old. Metro authorities are banking on the newer lot of ICF and Dalian rakes to phase out the older trains in phases.
But when it comes to door problems, the older trains are better than the newer ones, said a section of Metro officials. "The older trains have developed problems after decades of service. But the newer AC trains are having door problems within a shorter span of time," said one of them.