Doctors in Calcutta hospital show how to protest by working
Outpatient departments remained shut at government hospitals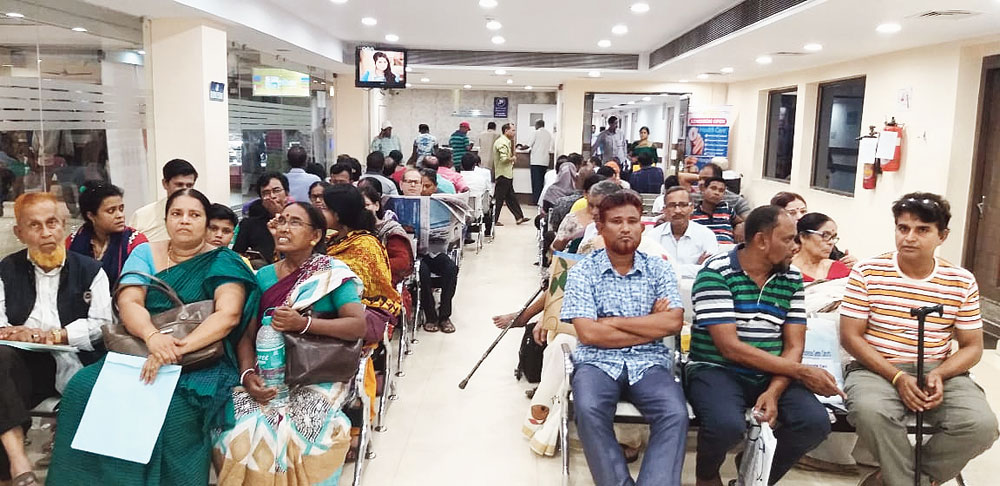 The outpatient department at Peerless Hospital on Wednesday morning
Picture sourced by The Telegraph
---
Calcutta
|
Published 13.06.19, 01:51 AM
|
---
In a city known for disruptive agitations, at least one private hospital in Calcutta on Wednesday showed how a protest could be registered without inconveniencing anyone — the ailing and most vulnerable, in this instance.
Outpatient departments remained shut at government hospitals in protest at Monday night's assault on two junior doctors at NRS Medical College and Hospital, and many doctors at private hospitals too skipped their OPDs in solidarity.
But at Peerless Hospital, some doctors decided to record their protest by attending the OPD and seeing patients for free. The management of the hospital, which collects a third of the doctors' fees, endorsed the move.
"To protest against one wrong, we cannot commit another wrong," said Sudipta Mitra, chief executive of Peerless Hospital.
"We private hospitals accept a fee from patients to treat them. Under no circumstance should we stop serving them. There are patients who come from Bangladesh — what impression will they have of our city?"
Mitra said that most of the 30-odd doctors on OPD duty did see patients. Some of them, who did not join the protest, accepted their fees but 10-odd of their colleagues did not charge the patients.
Such a mode of protest is not unknown. Over the past two years, protesting bus drivers in Okayama, Japan, and the Australian cities of Sydney and Brisbane had refused fares from passengers instead of striking work — though the move had presumably cost their employers alone.
At Peerless Hospital, the protesting doctors told the staff at the registration counters not to accept fees from their patients before directing them to their chambers.
"I myself had asked many of the patients to come and see me today," physician Chandramouli Bhattacharya said.
"Yes, I was protesting against the attack on my junior colleagues at NRS, but many patients had advance bookings. One patient from Bangladesh had bought his return ticket for Thursday. How could I have refused them?"
Bhattacharya said the patients normally have to pay a fee while registering themselves, when they are handed a formatted prescription that states a registration number and the patient's age and other details. The doctor writes his or her medical advice on this sheet.
"Today, some of my colleagues and I wrote our prescriptions on the pages of hospital pads," Bhattacharya said.
Critical care specialist and pulmonologist Ajoy Sarkar said he had asked his patients to come to the hospital's emergency department where he "informally" saw them.
"Several patients had made advance bookings. I had asked the registration counter not to formally register them," Sarkar said.
He said one of the patients objected to being treated free of charge and offered to pay. "I explained to him that I was protesting against an attack on doctors and this was my way of protest."
A doctor said: "The hospital takes a third of our fees. So it lost money but the authorities appreciated our gesture."