Doctors give blood to tide over shortage
Government hospitals in Calcutta is running short of blood as donation camps cannot be organised because of the Lok Sabha elections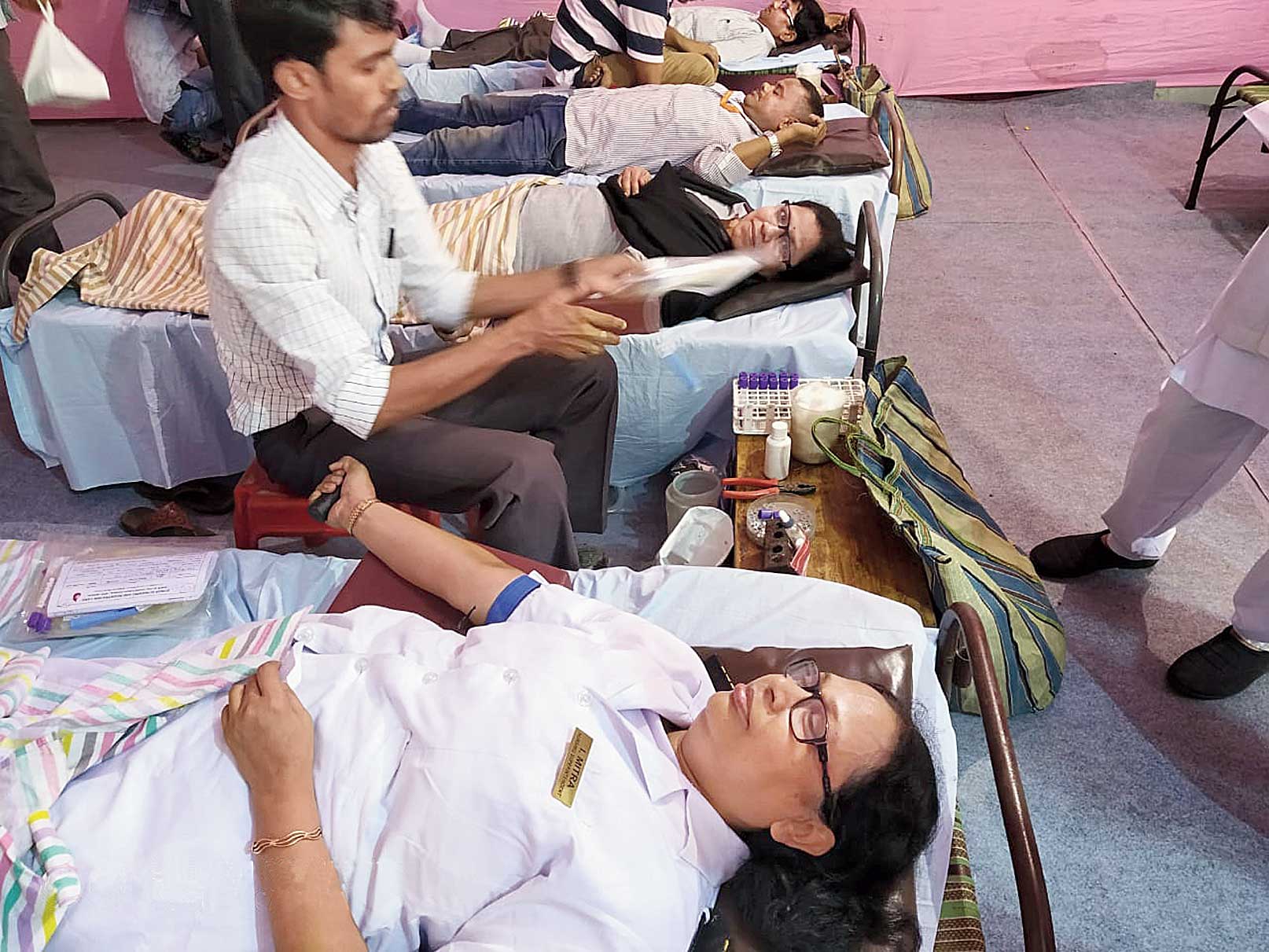 ---
|
Calcutta
|
Published 25.04.19, 08:12 PM
---
Doctors, nurses, students and employees of SSKM Hospital donated blood on Thursday to replenish the stock of their blood bank.
SSKM and other government hospitals in Calcutta is running short of blood as donation camps cannot be organised because of the Lok Sabha elections, a hospital official said.
The situation has been "bad" for the past two weeks and patients have been suffering. Which is why the hospital organised the camp on Thursday, the official said.
Pratik Dey, the blood bank in-charge at SSKM, said there were several occasions recently when the hospital could not provide blood to relatives of patients.
The blood donation started at 9.30am on the hospital premises on Thursday and by the time the camp was wrapped up around 5pm, 678 people, including MBBS students, junior doctors, professors, nurses and other employees, had donated blood, Dey said.
Relatives of some patients wanted to donate blood but Thursday's camp was restricted to hospital employees.
"There is a deficit at all the blood banks in the state; so, we sent 150 of the 678 units collected to the Central Blood Bank at Maniktala," said Dey.
At times during shortage, negative blood groups are hard to get but this time the problem is so severe acute that even positive blood groups are not available, a Belle Vue Clinic official said.
"Often relatives of patients are not being able to procure blood from other blood banks as well. We are asking them to donate blood and separating the components to give platelet, plasma or RBC according to requirement," the official said. "But the entire process takes around four hours."
Those who donate in camps where government banks collect blood get a donor card, which makes them entitled to an unit of blood when they need it. Even they are being refused now, according to employees of various blood banks.
Calcutta Medical College and Hospital is going out in mobile vans to collect blood to tide over the crisis, a hospital official said.
The number of camps goes down by about 30 per cent during summer but this time it has dipped further because of the elections, a blood bank official said.
Also, the number of people turning up at camps is dismal — 10 or 12 at times. "We have somehow scraped through April but we are worried what will happen in May," an employee of a government blood bank said.