Diversity an asset: Mamata Banerjee
She was speaking at a programme at Deshapriya Park to mark the International Mother Language Day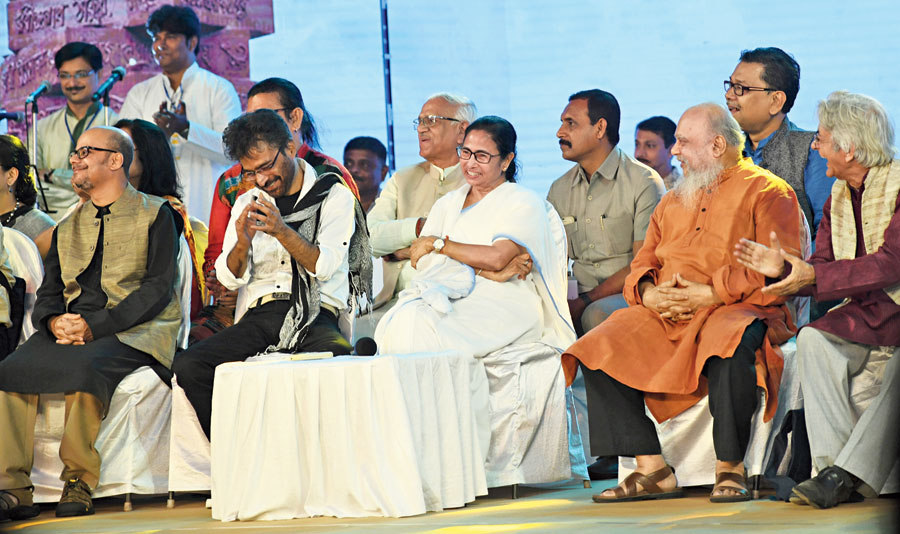 ---
|
Calcutta
|
Published 21.02.20, 08:51 PM
---
Chief minister Mamata Banerjee on Friday spoke of the plurality of languages in the country and underlined the importance of that diversity for a united India.
She was speaking at a programme at Deshapriya Park in south Calcutta to mark Ekushe February, the International Mother Language Day.
"Today, we have to resolve that 'nana bhasha, nana desh, nana paridhan, bibidher majhe dekho milano mahan' (the lines, penned by poet Atul Prasad Sen, mean India is a country that celebrates its unity amid diversities). I want to speak in my spoken language that our International Mother Language Day will be truly successful if we can keep India united…. We want to respect all languages, as Tagore had said. Unity in diversity is the biggest asset we have," the chief minister said.
Suranjan Das, professor of history and vice-chancellor of Jadavpur University, said India embodied the largest living language diversity in the world today.
Unesco had in 1999 declared that February 21 would be celebrated as International Mother Language Day.
Mamata in her speech quoted Kazi Nazrul Islam to underscore the linguistic and religious diversities in India.
"I want to say these touching lines of poet Kazi Nazrul Islam. Quran, Puran, Ved, Vedanta, Bible, Tripitok, Granth Sahib, Zend Avesta, pore jao jato shakh. India is made up of all religions, all races, all castes. The country is like mother and mother keeps all united. You cannot love your mother by tearing her apart. So, we all should come under the fold of mother and resolve in unison that we want to see a united India and all the communities must fight this battle of keeping India united, no matter how difficult the fight is," Mamata said.
Swaraj India leader Yogendra Yadav, who was present on the occasion, criticised those who claim Hindi is India's national language.
"Those who speak Hindi say that Hindi is our national language. Even as I am speaking in Hindi, I want to say this repeatedly... that India does not have any national language. Tamil is my national language, Kannada is my national language, Bangla is my national language, Hindi is my national language...," Yadav said.
After Yadav ended his speech, Mamata stood up and said: "I want to tell Yogendraji, we don't consider Hindi any less a language. It's a great language.... We love all languages."
The chief minister paid tribute at Bhasha Sahid Memorial at the park before delivering her speech. The memorial has been set up to honour the martyrs of the Language Movement in Bangladesh.