Bid to bring back dropouts to schools in South 24-Parganas
Kulpi block officials aided by a social organisation have begun mapping out such regions and motivating children and their parents to resume school activities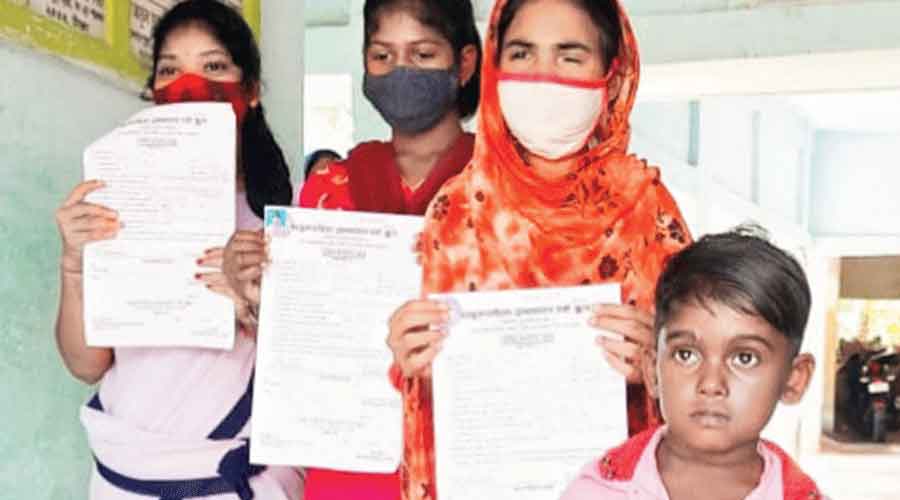 Some of the dropout students after their readmission.
Mehaboob Gazi
---
Calcutta
|
Published 25.10.21, 01:40 AM
|
---
The South 24-Parganas district administration has launched an endeavour to bring back children who were compelled to leave studies for financial reasons back to school, in a move that will be amalgamated with the state's pre-existing Kanyashree endeavour for adolescent girls.
Kulpi block officials aided by a social organisation have begun mapping out such regions and motivating children and their parents to resume school activities. The 'Kanyashree Prakalpa' and 'Scheme for Adolescent Girls' (SAG), with the support of individuals and social organisations like 'Child In Need Institute' (CINI), which work for poor children in India, are jointly behind the effort.
"Since poverty is one of the prime causes behind such drop outs, the district administration wants to ensure that the parents of such children are covered by suitable welfare schemes as per their eligibility," said an official.
The local administration last month re-admitted at least 12 such drop outs, including a girl who left for an underage marriage and also a special needs child who stopped going to school for peer abuse and bullying.
Jhuma Das, 15, Sanchita Purkait, 14, Saheba Khatun, and Azhar Mollah, 12 will once again be attending regular classes at the Gumuk Beria Braja Mohan High School in Gajipur once the pandemic restrictions are lifted.
At 13, Jhuma had to stop her studies in order to get married. She, however, escaped from her in laws' home in the wake of alleged physical and mental torture. She was spotted by SAG-KP facilitators during a door-to-door Covid awareness programme. She has been admitted to Class IX. "I am eagerly waiting to visit the classroom again," Jhuma said.
Sanchita had begun working as domestic aid in Calcutta with her mother two years ago to keep the family afloat. Her ailing father, a tricycle paddler, expressed his inability to continue paying for her studies. She was also spotted during a Covid awareness initiative.
Madhumita Halder, a facilitator under the SAG-KP programme said, "During door to door Covid and health awareness programmes for girls, we noticed many girls and boys had stopped their studies primarily in the absence of smart phones as they could not attend online classes and also owing to financial reasons in most cases. At the same time, we found some other students who stopped going to school even before the pandemic situation began. We talked to them and their families and later appraised the district administration so as to get them back to school."
"We tried to solve their problems which convinced them to resume studies. CINI provided all support including organising counselling sessions for the children since they had difficult past," Madhumita said, further adding that since these children are disconnected with studies they would soon be brought under special free coaching arranged by the block administration.
An official of CINI added, "Our sole objective is to prevent drop outs and to develop a conducive atmosphere for education. Our front-line workers in association with administrative authorities engage in dialogues with families of dropped out students or those at risk to highlight how the benefits of education would in long term benefit them. To prevent drop outs, we also offer supplementary education support and other possible means in consultation with the administration".
Kulpi's joint BDO Tarif Islam told The Telegraph, "Bringing back dropout students to school is a continuing process. But bringing back dropouts after over two years is a unique initiative which we have launched under the SAG-KP convergence scheme. We have taken the support of social organisations like CINI in this endeavour. Not just CINI, we are at the same time involved with other organisations and individuals so that the mapping of such students can be done on a wider level so as to get them back to school again."